24 Dec

Chocolate Peppermint Cupcakes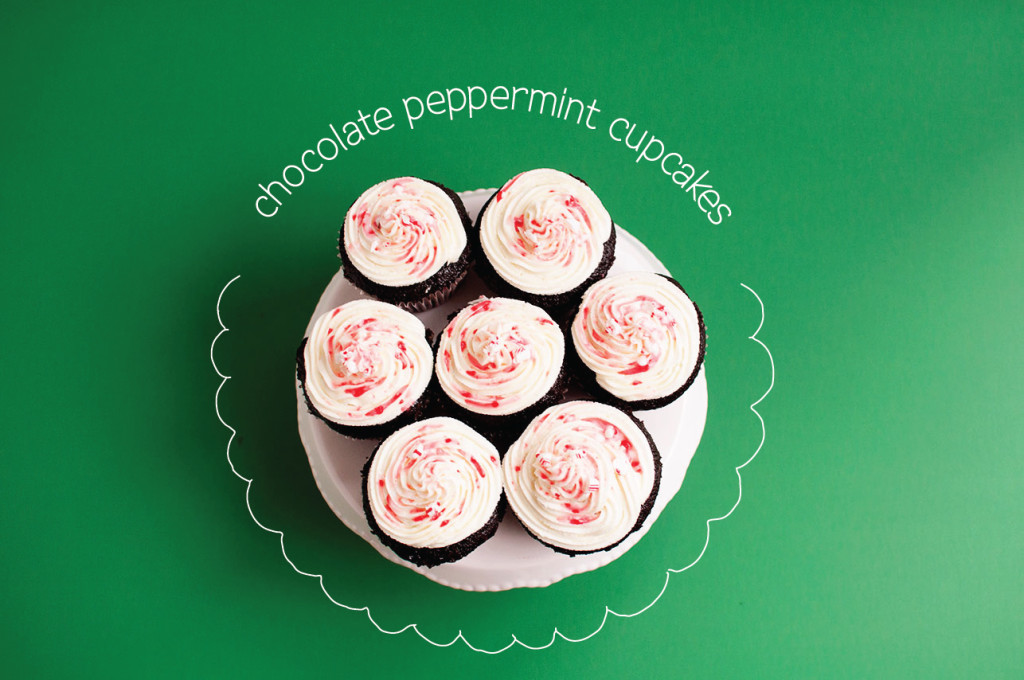 Christmas time to me means tons of baking and entertaining. Of course I wanted to get festive by creating something that incorporates candy canes. It's also been a while since I've made cupcakes and so I set out to find an extremely moist chocolate cupcake recipe. I then added some peppermint extract and crushed candy canes to give them a festive edge. This recipe was inspired by the deliciously moist chocolate cupcakes from Add a Pinch. Makes 12 cupcakes.
Ingredients for cupcakes:
1 cup all purpose flour
1 cup granulated sugar
1/2 cup cocoa
1 teaspoon baking powder
1/2 teaspoon baking soda
1/2 teaspoon salt
1/2 cup whole milk
1/4 cup vegetable oil
1 egg
1/2 teaspoon peppermint extract
1/2 cup boiling water
Ingredients for peppermint buttercream:
8 tbls butter, softened
2 cups confectioner's sugar
1/4 teaspoon peppermint extract
2 coarsely crushed candy canes
Directions:
Preheat oven to 325 degrees F.
In the bowl of a standing mixer, combine flour, sugar, cocoa powder, baking powder, baking soda, and salt. Stir on low speed until ingredients are well combined. Add in milk, vegetable oil, eggs, and peppermint extract. Increase speed to medium. Stir on medium for 2-3 minutes or until well combined. Reduce speed and add in boiling water. Beat on high for 1 minute.
Line cupcake pan with 12 cupcake liners. Evenly distribute batter. Each cupcake liner should be 3/4 full. Bake in oven for 12-15 minutes or until a toothpick inserted in the center comes out clean.
To make the buttercream frosting, place softened butter into the bowl of a standing mixer. Cream the butter on medium speed for about 4-5 minutes. Slowly add in confectioners sugar in 3 batch. In between each addition, turn the speed up to high and let the confectioners sugar incorporate. Add in the peppermint extract. Turn the speed back to high and let frosting whip on high speed for about 7 minutes or until desired consistency. Pipe frosting onto cooled cupcakes and top with crushed candy canes.
Enjoy!