04 Mar

Mighty Quinn's Barbeque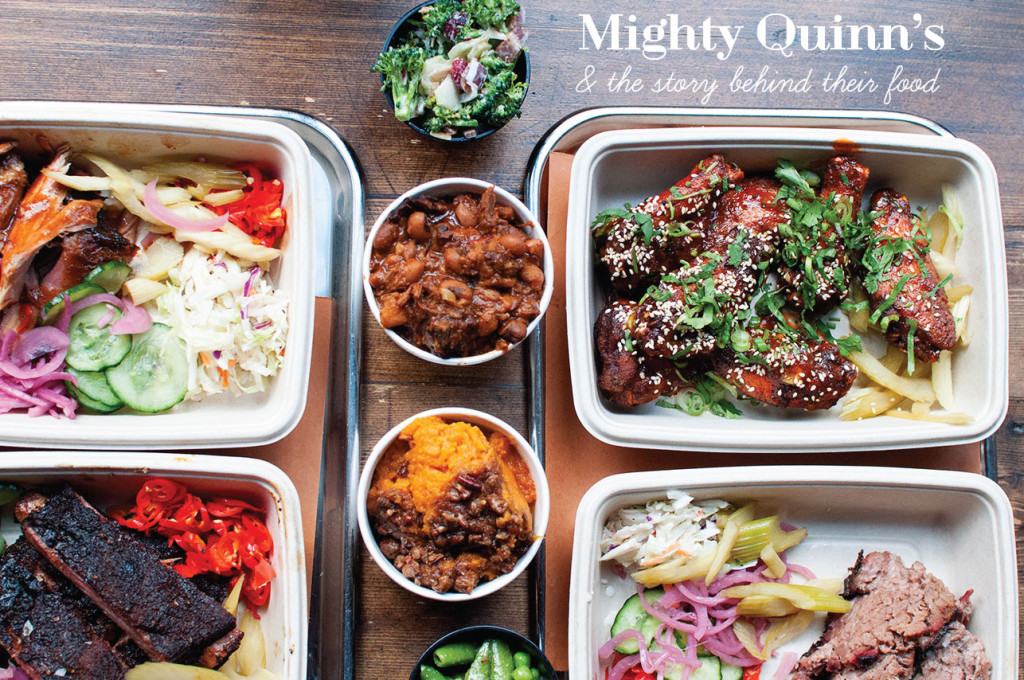 The one thing I love about New York is how each neighborhood truly has it's own unique character. This past weekend I sat down with Hugh Mangum, the pit master behind Mighty Quinn's Barbeque in the East Village to find out a little more about the restaurant. On my way to the restaurant I easily passed 10-15 neighborhood joints with large front windows and patio space for seats outside. Each restaurant was unique in its own way. Mighty Quinn's was no exception. The front of the restaurant has a large glass garage door that is opened during the warmer months and the interior is designed in a way that no other barbecue joint in NY is.
You won't find any dancing pink pig pictures or condiment lined counters. Instead you'll find a clean and elegant interior with heavy wood tables and white tiled walls. Hugh wanted to bring an element of fine dinning to fast cuisine and that he did. When walking into the place you really feel like you're in a "New York" establishment but the food still doesn't lose its southern roots.
Hugh calls it "Texalina" and the story behind it is even cuter than the name. A part of Hugh's cooking style comes from his dad's Texan roots which you give the "Tex" portion of the name. Hugh grew up perfecting brisket and spare ribs but he knew nothing about pulled pork until he met his wife who was from North Carolina. In an attempt to swoon over her and her family he began to learn their style of cuisine. The first attempt at what he calls "marrying" the two cultures together was through his dad's sauce. As a culinary student at the time, he began changing up the proportions of the recipe until he found something that truly connected the two.
Hugh does a great job of bringing these southern styles to NY. The restaurant uses oak to smoke the meats and requires someone to stay onsite 24/7 to man the smoker. As Hugh mentions, "Seasoning is important but the patience of time and technique is key". The menu is limited but for good reason. Since the restaurant is line style (think Chipotle where your food is to order in a quick manner) keeping the menu limited helps keep up the quality of the food. A full menu is listed on the Mighty Quinn's website.
The wings may not be your first choice when looking at the menu but I must say these wings are worth a try. After asking Hugh how he came up with the sauce, he led me through the story of how he was working under chef Michael Symon and was inspired by a sauce that Michael was using. The wings are smoked and then fried and without giving away the specifics of the sauce he dropped a few words such as sriracha, honey, lime and vinegar.
The sides are a must try as well, the sweet potato casserole can essentially be described as "Thanksgiving in a cup". It's texture is smooth with just enough crunch from the pecans and a hint of sweetness from the maple. The broccoli side is also a must. The florets hold the buttermilk nicely and the added bacon and onions are a great mix.
The restaurant has been up and running for quite some time and there are plans to expand into new areas including one location in New Jersey. You can still also find them each year at Smorgasburg, where they originated. If you want to find out more on how the restaurant got up and running then head on over to Jones and B. There you will find an article I wrote that takes you through Hugh's journey.