26 Oct

Chorizo Mac & Jack
Macaroni & cheese has evolved immensely since my childhood days of stovetop Kraft. Each year I find myself discovering a new flavor pairing and style of macaroni & cheese. With places like S'MAC, Mac Bar, and Cafeteria offering fun inspiring mac and cheese dishes (think mac and cheese springrolls equipped with gouda dipping sauce) , there is no surprise that interesting macaroni & cheese combinations are being crafted in kitchens all over. This macaroni & cheese is a bit on the spicy side and decked out with chorizo sausage, 3 different cheese, and gets an extra spice kick from chili flakes. If you like spice, this mac is for you.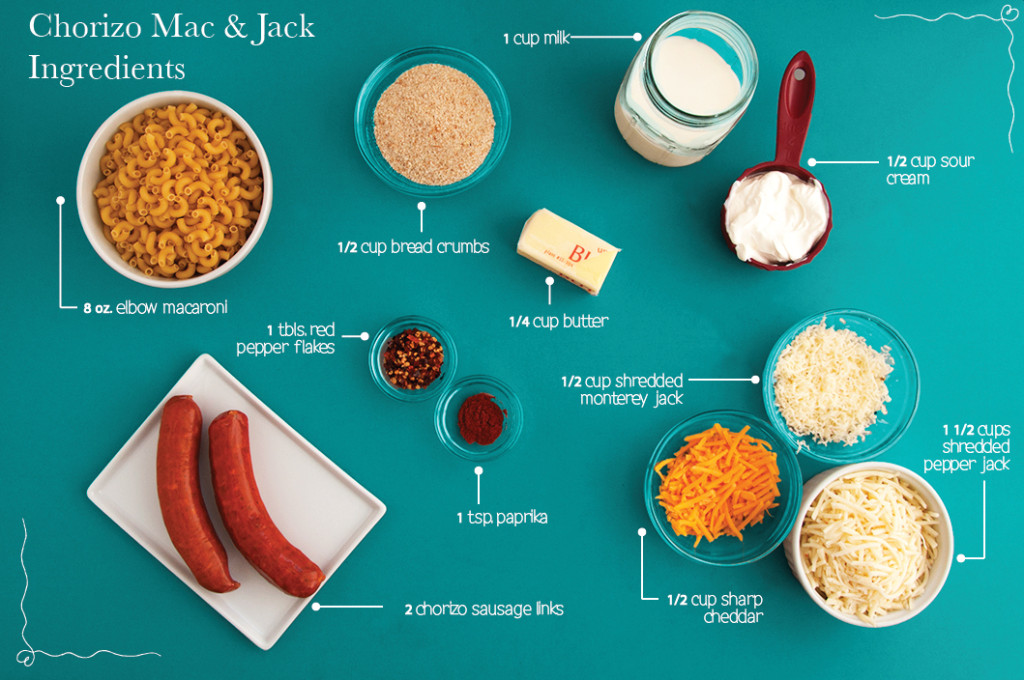 Ingredients:
8 oz. elbow macaroni
1 1/2 cups shredded pepper jack cheese
1/2 cup sharp cheddar cheese
1/2 cup shredded monterey jack cheese
1/2 cup sour cream
1 cup milk
1/4 cup butter
1/2 cup bread crumbs
1 tsp. paprika
2 links chorizo sausage
1 tbls. red pepper chili flakes
Bakeware:
6 (12 oz.) oven safe ramekins
Directions:
Bring a large pot of water to a boil. Add pasta and cook until al dente. While the pasta is cooking, remove casing from sausage, finely chop and cook in a skillet until brown. Drain the pasta and set both the pasta and sausage aside.
Preheat oven to 350 degrees F.
In a medium saucepan, add butter, milk, cheese, and sour cream. Cook over medium heat for 5-6 minutes or until the cheese starts to melt and is well combined (don't worry if the cheese is not fully melted through as it will melt when baked). Remove from heat. Pour the cheese mixture over the pasta. Mix in the paprika, chili flakes and sausage. Make sure all is combined, scoop into 6 small 12 oz. oven safe ramekins and place ramekins on a baking sheet. Spread breadcrumbs evenly over the top of each ramekin. Place in oven for 10-15 minutes or until the breadcrumbs are golden brown. Remove from oven, let cool slightly and enjoy!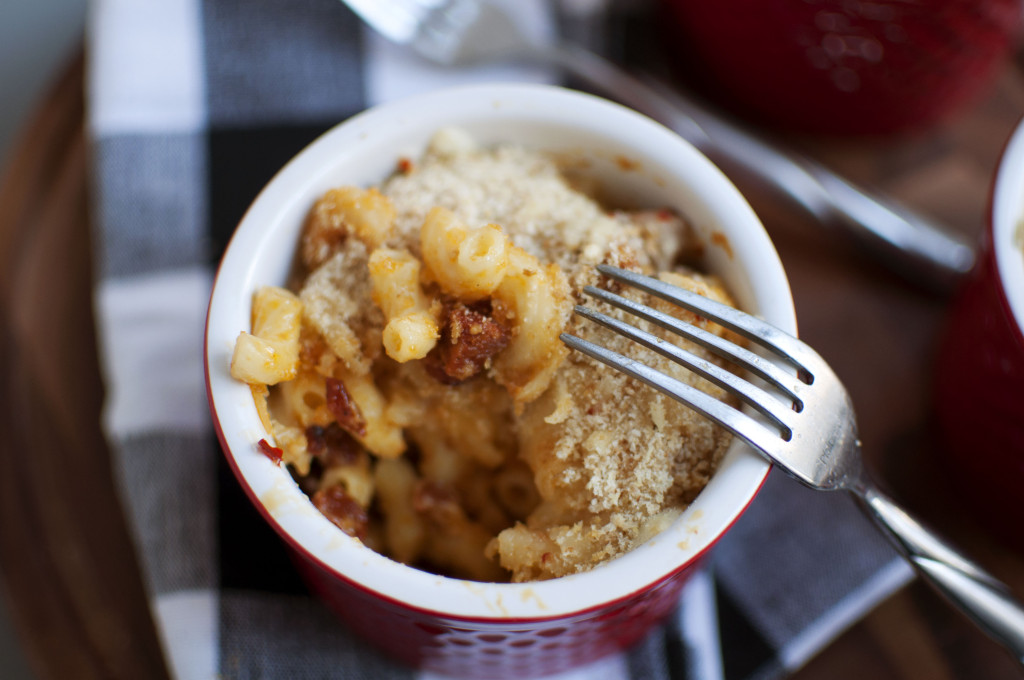 Macaroni & cheese combinations are endless, what are you favorite things to add to macaroni & cheese?