14 Jan

Pork Meatballs with Apricot Jalapeño Jam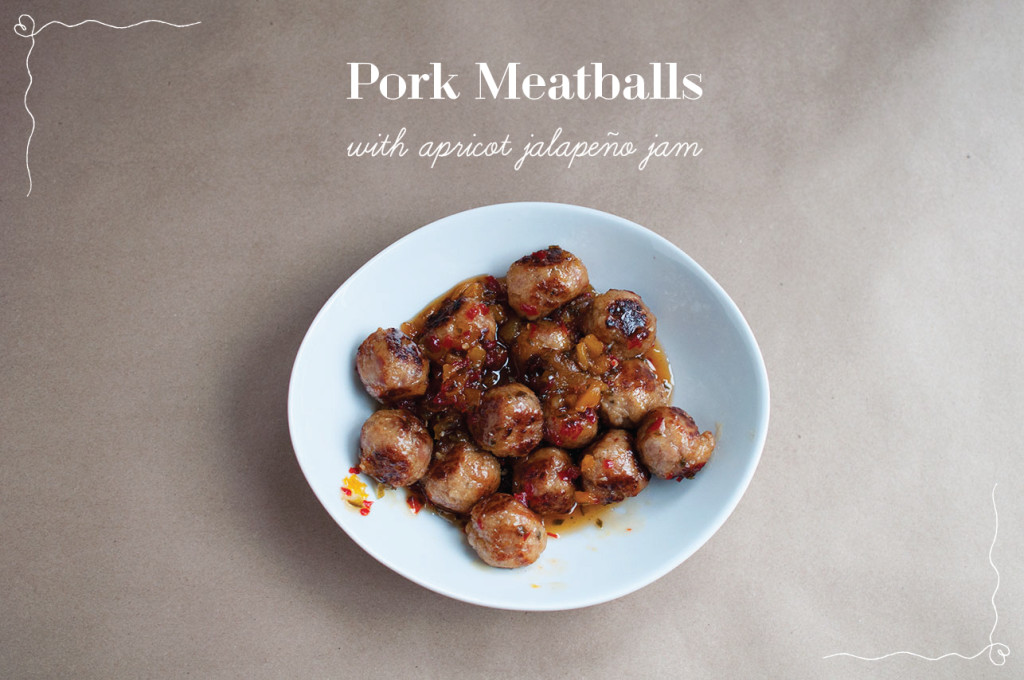 These pork meatballs topped with apricot jalapeno jam are a nice combination of  sweet and spicy. If you plan on entertaining in the near future, it's great to stick toothpicks in them and serve them individually. Or if you're not about to host a soirée, they're just as great to eat by the bowlful for a hearty dinner.
Ingredients:
½ lb ground pork
1 egg
½ cup grated parmesan cheese
1 ¼ tsps. Onion powder
1 tsp dried parsley
½ tsp salt
½ cup bread crumbs
2 tbls olive oil
¼ cup apricot jalapeno jam
Directions:
In a medium bowl, mix the pork, egg, grated parmesan cheese, onion powder, parsley, and salt until well incorporated. Add in bread crumbs and mix again. Form mixture into 12 meatballs.
Preheat oven to 350 degrees F.
Heat olive oil in a skillet over medium heat. Cook meatballs in oil until they begin to turn golden brown (about 3-5 minutes). Transfer meatball to a baking sheet and place in oven for 15 minutes or until the meat is fully cooked through. Slice open one of the meatballs before consuming to ensure the meat has been cooked through.
Place the apricot jalapeno jam in a small saucepan over medium heat. Warm up the jam until the consistency loosens and becomes that of a sauce. Once the meatballs have finished baking in the oven, remove and top with jam. Enjoy!