20 Nov

Beet & Goat Cheese Crostini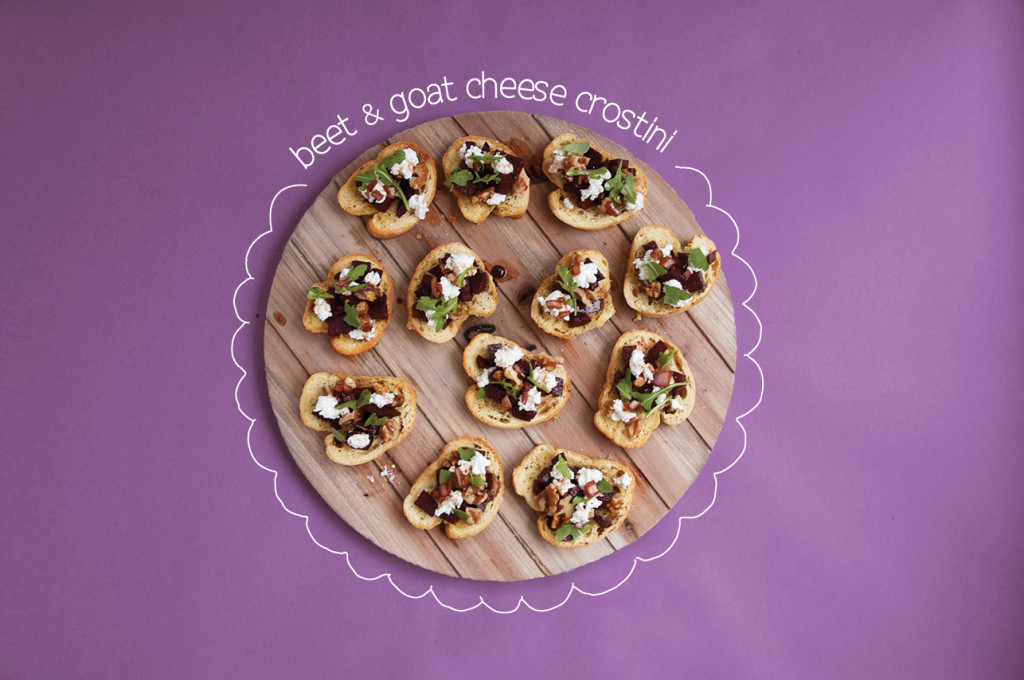 There is something about the deep purple color of beets that is so mesmerizing. In this recipe, the juice of the beets seeps onto the goat cheese and forms a vibrant magenta pigment which makes these little crostinis feel almost like a piece of beautiful art! Not to mention, the earthy flavor of the beets makes this the perfect appetizer for the fall and any upcoming holiday get togethers.
Ingredients:
1/2 cup balsamic vinegar
1/2 shallot, minced
1 tbls. honey
1/2 cup olive oil + 2 tbls
salt + pepper
6 beets, peeled and chopped
1/2 cup walnuts, chopped
3 oz. goat cheese crumbled
handful of arugula
1 loaf italian bread
Directions:
Heat oven to 450 degrees F.
In a medium bowl, combine balsamic, shallot, honey, 1/2 cup olive oil, and salt and pepper to taste. Whisk until well combined. Reserve 1/2 cup of the mixture and put aside, this will be poured on top later. Chop up the beets until they are small bite sized cubes (about the size of chopped tomatoes in a bruschetta). Place them in the bowl with the vinaigrette mixture. Toss until the beets are well coated. Spread the beats on a small baking sheet and pour remaining liquid on top. Place in oven and bake for 10 minutes.
While the beets are baking, slice italian bread to form little toasts. Place on a baking sheet and drizzle with 2 tbls olive oil and salt and pepper. Chop up walnuts and arugula, separately, and set aside.
When the beet mixture is finished baking, remove from oven and set aside. Place the toasts into the oven and bake for 10 minutes. Strain the beets and place in a medium bowl. When the toasts are finished, remove from oven and allow them cool enough to be handled.
Place the little toasts onto a serving plate. Top with a heaping of beats, goat cheese, walnuts, and a few pieces of arugula. Drizzle a teaspoon of the reserved vinaigrette. Serve and enjoy!