06 Feb

Cozy Lounging & Home Essentials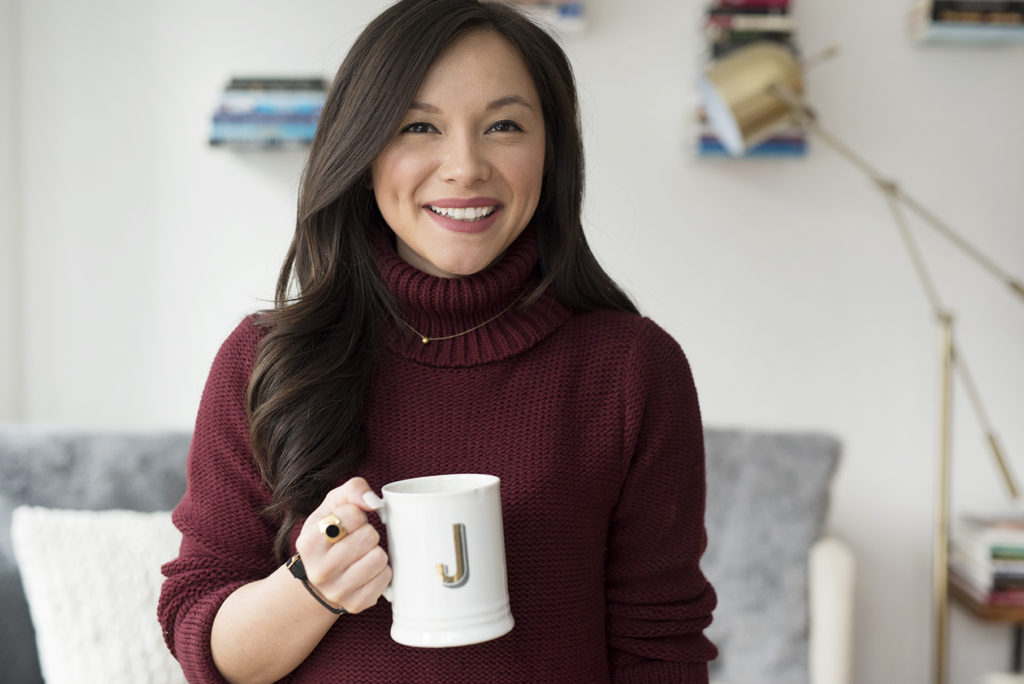 The great thing about NYC is that there is always something to do. I do enjoy keeping a full social calendar and exploring new places but sometimes you just need a break from all the chaos! When I'm feeling overwhelmed or stressed out, I'll dedicate a full day on the weekend to R&R. That includes lounging around in comfort while I nosh on a homemade brunch or freshly baked sweets.
I have a few "essentials" at my apartment that helps make an R&R day just perfect. The first essential I have to start with is a giant coffee mug. The one you see in the photos here was a birthday gift form my bestie a few years back. I love the gold foil initial and the size is a bit larger than a traditional mug. I'm a caffeine fiend so my go to drink is a double shot latte and sometimes on R&R days I might just give it a little spike too ;).
Comfort is key so the second essential that I have in abundance here would be comfy sweaters! The sweater dress I'm wearing here is an oversized knit from Tobi. It is THE perfect sweater dress to lounge around in. It is a bit roomy which makes it extra comfortable and I love that it is a turtleneck which keeps me warm when I want to snuggle on the couch!
My go to meal on an R&R day would be a giant stack of fluffy pancakes, fresh fruit, and a big ol' glass of OJ. I could talk all day about my favorite housewares but the ones you see here are definitely key when you want to have a breakfast in bed. My Tiny Print serving tray comes in handy all the time. I also love that they have the option to add your name to it to make it more personalized!
I have tons and tons of small serving bowls all around my apartment. Whenever I am traveling, I like to check around hte markets for neat finds that I can take home. Sometimes I don't have a ton of room in my suitcase so I tend to gravitate to smaller houseware items. The marbled bowl you see here is by Habitat and it was one I picked up when I was in Melbourne, Australia.
Another favorite in my collection would be my soda can glasses from Crate & Barrel! I love the unique shape of the glasses and they are the perfect size for a tall glass of juice or a bright colorful morning smoothie.
What are your essentials for an R&R day?
xo Jus