16 Nov

Love List 11/16/16: Bite Sized Friendsgiving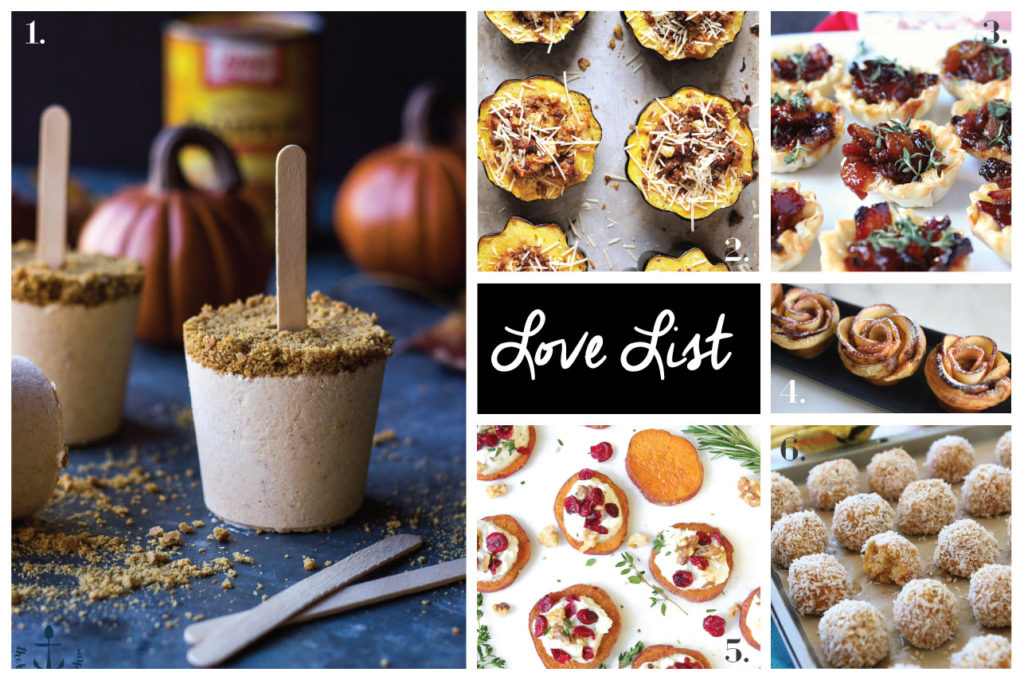 Whenever I host any type of party, I have to make it an appetizer/cocktail party because space in New York is limited and almost impossible to host a sit down dinner for a large group of people! I unfortunately haven't had the chance to host a Friendsgiving for about two years now because schedules/traveling but the last Friendsgiving I did host, I chose a handful of "bite sized" dishes packed with all the delicious Thanksgiving flavors. This way guests could nibble on what they wanted and I didn't have to put out any formal dinnerware! This weekend is pretty popular for Friendsgiving get togethers so I wanted to do a roundup of easy recipes that could be used for appetizers or are perfect for those looking to host the party cocktail style!
1. Pumpkin Cheesecake Popsicles, The Beach House Kitchen
2. Sage and Apple Stuffed Acorn Squash,  Cherished Bliss
3. Baked Brie & Bacon Jam Phyllo Cups, Wry Toast
4. Apple Roses, My Recession Kitchen
5. Sweet Potato Rounds with Ricotta, Walnuts, Cranberries & Fresh Herbs, Coffee & Crayons
6. Butternut Squash Cheesy Croquettes, Buona Pappa
Anyone out there hosting Friendsgiving or Thanksgiving and have some great recipes to share? Feel free to chime in with the comments below!
xo Jus