28 Oct

DIY Halloween Candy Corn Cake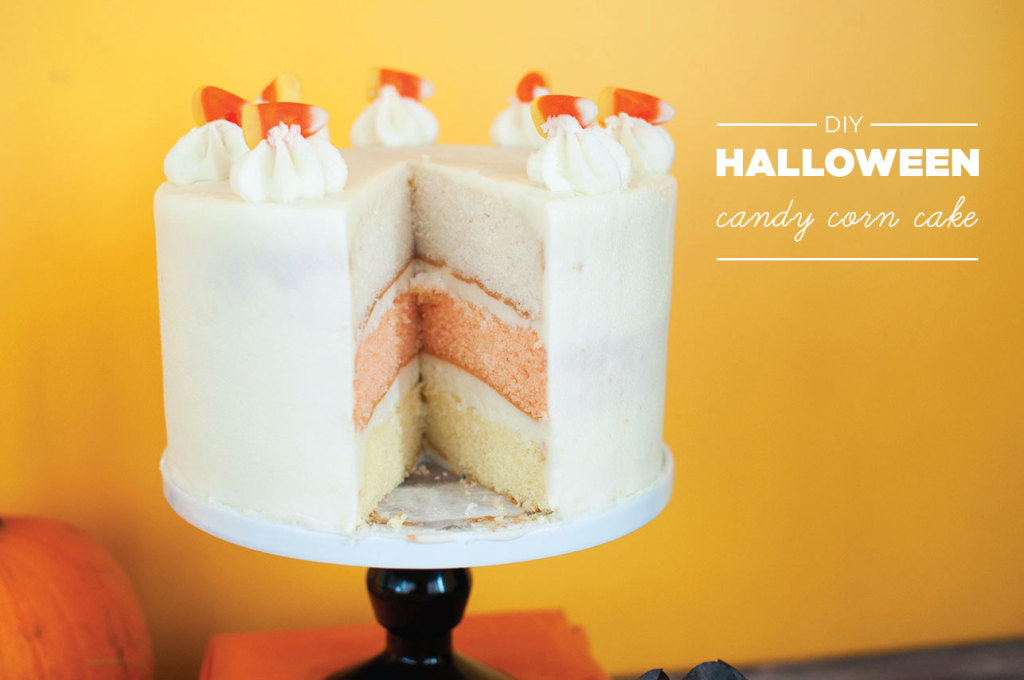 What better way to celebrate Halloween than with a cake that resembles candy corn! This simple vanilla cake with vanilla buttercream is made a little festive with some food coloring and topped with candy corn pieces. The flavors aren't too complex making it fairly easy to make. The cake recipe I used is also super fluffy making the cake look sky high (I love when cakes come out tall!).
Materials:
1 batch of white cake mix (I used the white cake recipe from Desserts by Juliette)
3 cakes pans (6″x3″)
orange food coloring
yellow food coloring
6 cups vanilla buttercream ( I doubled Edna's Recipe)
1 pastry bag with coupler and large star attachment
bench scrapper or baker's spatula
candy corn for decorations
Directions:
Prepare the white cake mix according to the directions. I used the white cake recipe from Desserts by Juliette. Her recipe was designed for two larger cake pans however, I used three 6″ cake pans instead. Once you've prepared the batter, split it evenly into three separate bowls. Mix orange food coloring into one, yellow food coloring into the second, and leave the last white. Transfer the batter into three separate pans and bake according to the directions.
Remove the cakes from the oven and remove from their pans. Place the cakes on wire racks and let cool completely. While the cakes are cooling, make your buttercream.
Once the cakes have cooled, start with the yellow layer on the bottom. Fill your pastry bag with your buttercream. For this, I only attached the coupler and did not use the star tip. Start at the edge of the cake and fill the entire top with buttercream. Place the orange cake centered on top of the yellow cake and frost the top of this cake as well. Finally, place the white cake at the very top. Now you will want to "crumb coat" your cake by evenly spreading a thin a layer of frosting around the entire cake. Once the cake is completely covered, transfer it to the refrigerator and let it chill for at least one hour. This helps to keep all of the crumbs locked in so you have a smooth finish.
After the cake has chilled, remove it from the refrigerator and frost it with a second coat of frosting. Use your large star tip to add decorative swirls to the top of the cake. Decorate with candy corn if desired and enjoy!