20 Oct

How to Host a Halloween Candy Bash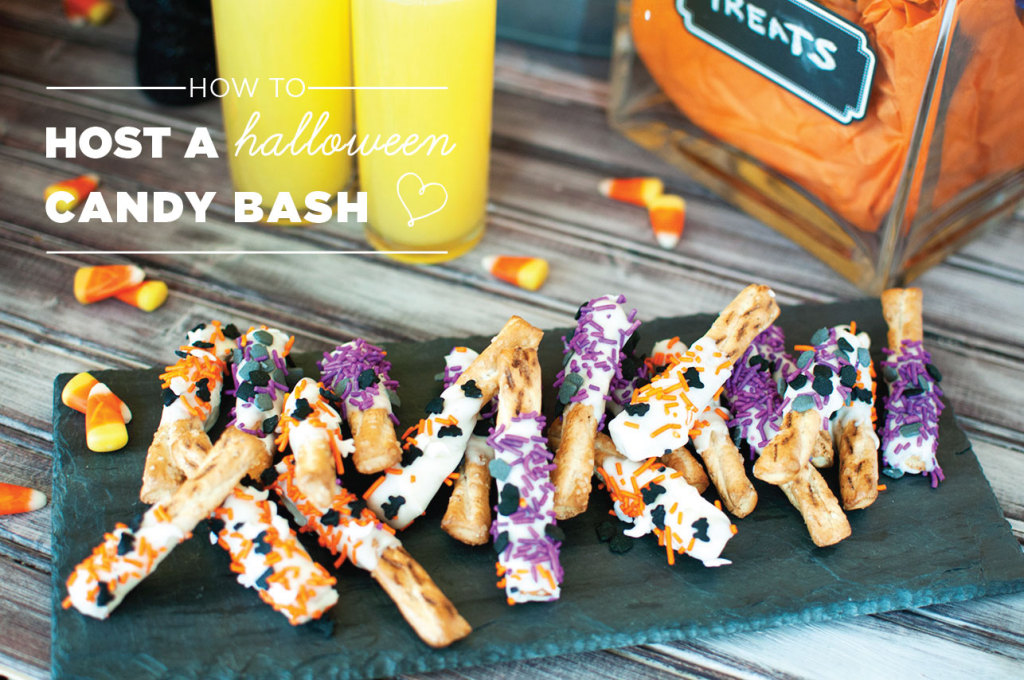 I love Halloween because it's the one time of year where it's socially acceptable to eat lots of TREATS! Holidays are fun but they can also become stressful when you're the one hosting. For this candy bash, I kept it simple. Here are 5 simple tips to follow if you plan on hosting your own candy bash:
1. Plan Ahead
Pinterest is your friend! Make sure you give yourself enough time to go through all those pinboards and pick out all of the crafts you want to do. Anything that doesn't require food I try to make at least a week in advance. For this candy bash, I decided to make a tissue paper pom pom wreath (I'll be coming out with the tutorial soon). I also made little treat pouches using candy bash stickers from Tiny Prints.
2. Pick a Color Scheme and Stick with It
It's easy to carried away with buying lots of decorations, if you pick 2-3 colors and stick with those the party will look more cohesive. For this candy bash I went with the traditional black and orange then also added some yellow. Keep these as your main colors and then you can add in subtle accent colors such as the purple sprinkles on the chocolate covered pretzels.
3. Make it Extra Special with Snail Mail Invites
Everyone uses facebook or email to send out their invites for parties which is very convenient and easy for people to RSVP but in addition to a facebook invite, I'll be sending out these adorable Candy Bash invites thanks to Tiny Prints! I chose these invites because I am absolutely in love with scalloped edges and also love how bright and fun the imagery is. It will be a nice little unexpected surprise for all of your guests to receive something in the mail.
4. Repurpose Normal Household Items as Serve-ware 
You don't have to go out and buy super fancy new serve-ware to display everything, repurpose what you already have. For example, the treat container is actually an old square glass flower vase. I put an inexpensive chalkboard sticker on the front and layered some tissue paper and candy inside. I used a slate cheese board to serve the pretzels as well as old hot dog tin containers to hold the treat pouches.
5. Make One Special Food Item and Keep the Rest Simple
Not everything has to be over the top and extraordinary, choose one fancy food item and keep the rest simple. For this setup, I made an awesome layered cake that's meant to resemble the colors of candy corn (more tips on that coming soon) and then kept everything easy and simple. I made easy orange spritzers, chocolate covered pretzels, and the rest can be purchased from a store!
Above all, the most important thing is to have fun! Hope these tips will help with your next candy bash :).
xo Justine