18 May

Oleanders Brooklyn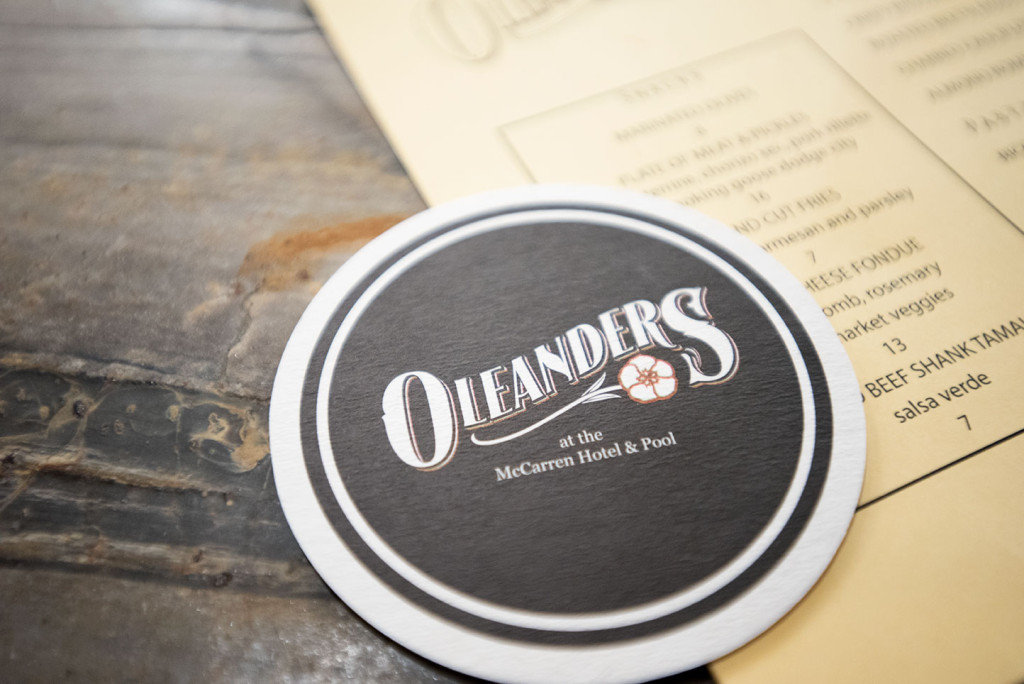 When I want to explore and hangout in Brooklyn I usually head to Downtown Brooklyn because of how easy it is for me to get there. I don't make it out to Williamsburg often but when I do it's usually for something food related. I do have to say that Williamsburg's food scene is pretty on point. A few weekends back Sami and I went to go check out the restaurant Oleanders at the McCarren Hotel & Pool. It's located in the heart of Williamsburg so it was pretty easy to get to from the L train.
To get to the restaurant you enter through the hotel lobby and down a set of stairs off to the right. The subterranean restaurant's soaring ceilings make the place feel very spacious. Heather Maloney of Definition:Design created a warm and cozy atmosphere by decking the walls with evergreen shrubs to complement the copper clad bar and checkerboard floor.
My favorite part about this restaurant is the open kitchen. Sami and I chose to sit at the long bar that peers into the open kitchen which gave us front row seats to the magic and also a chance to speak with Executive Chef Kevin Chojnowski.
We started out our meal with a goat cheese fondue that came with fresh, crisp veggies for dipping. I could not get enough of the cheesy goodness. Learned a tip while I was there – if you happen to have any cheese leftover (which is unlikely but worth mentioning) save it for your meal! It goes great with the risotto cakes if you're ordering the scallops and also is perfect for dipping fries in.
Going back to the risotto cakes, this was the first time I have even seen or tried this. I had ordered the scallop dish which came with three hearty and fresh scallops that sat on top this crispy bites of deliciousness. Sitting front row to the kitchen and being speaking distance from the chef came in handy here as I was able to ask him how these were made.
His response:
"To make the risotto cakes, we start by making French onion soup, then we make the risotto. Start by sweating onions in butter, then toast arborio rice and add wine and cook it out. Next, you would normally use a stock to cook the rice, instead we use French onion soup. When making a dish of risotto, you want it nice and creamy, so you would add butter and cheese and a little extra stock so that it's creamy and velvety. In this case, we don't add the butter and we add less stock and spread it out over a baking tray lined with parchment paper and let it set up overnight.

The following day, once it's cooled off and the starch from the rice has set up, we use a ring cutter to cut out the cakes. After they're cut, they're lightly dusted in flour and fried until crispy on the outside, but the inside is nice and creamy.

I've done a handful of risotto cakes before. They ranged from being flavored with oxtail, another had fontina mixed in and we cut them out into smaller cakes and served them like tater tots. One day I was going through old menus and saw a sirloin dish I had done before that had a creamy French onion soup risotto on it. So the next day I made some French onion soup, made batch of risotto and let it sit overnight. The next day I fried them up and they were delicious!"
I am not the best risotto maker out there but I am seriously considering brushing up on my skills just so I can try making these at home!
An other dish that impressed us was the burger. When we originally looked at the menu we were hesitant to order the burger because we thought it would be just that – a simple burger we could get anywhere. We were SHOCKED by how good this burger was. After the meal, we discussed in length how necessary it is to take another trip back just for the burger. The burger patty is brushed in bone marrow butter and topped with sweet onion relish. You can also opt to have a sunny side egg on top which of course we went for.
Finally, we rounded the meal out with a little sweet treat – milk chocolate pudding with toasted marshmallows and banana fritters.
Not only was the food and atmosphere perfect but I also learned that the McCarren Hotel has a pool and rooftop that is open during the summer months. If this place isn't enough reason to visit Williamsburg more often then I don't know what is!
xo Jus