09 Aug

What, Wear, When: Weekend Brunch at Marketa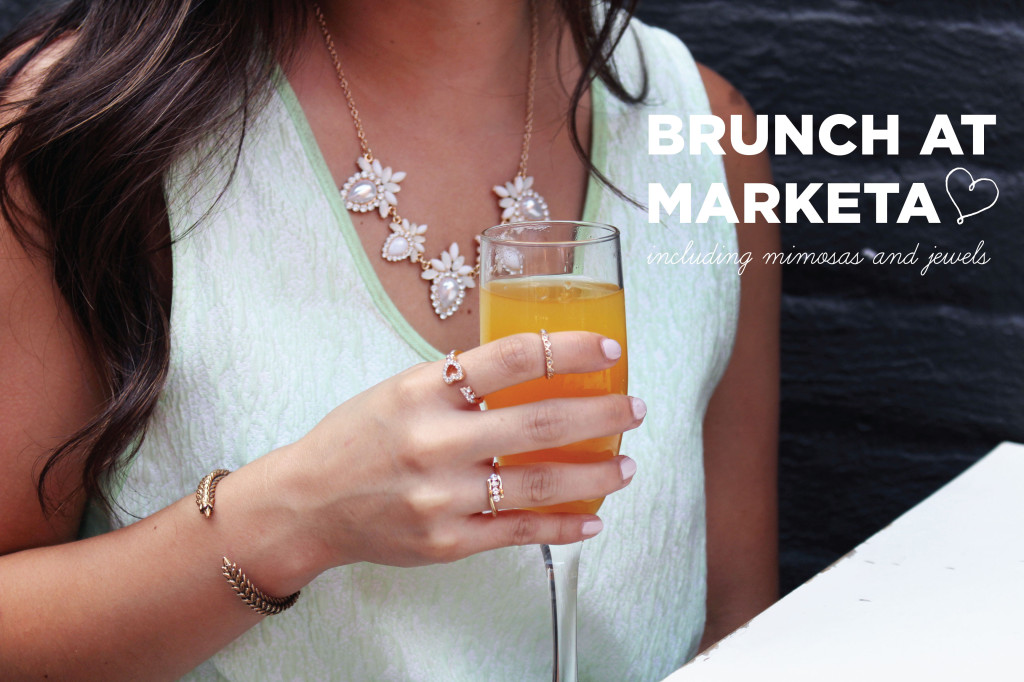 Brunch is one of my favorite meals. I used to make it a habit to do brunch at least once a week with a group of friends and it was usually the "bottomless brunch" where restaurants set a standard price and the mimosas were unlimited! Part of the reason why brunch is one of my favorite meals is because it's more of an event then just a quick bite. It requires gathering of the troops, careful consideration of which place offers the type of Eggs Benedict your currently craving, and most importantly what you're going to wear!
My friend recently introduced me to this cool brunch spot called Marketa. It's located in Astoria and has a great patio area in the back that is really nice if you like eating al fresco. Since brunch is more of a fun occasion to me than just a quick bite, I like to incorporate fun and fancy pieces into my brunch wardrobe. The top from Zara is in a cute mint green and the back is made of faux leather which adds a little edge to my look. I also went all jeweled up in an assortment of pieces from Shinymix and J. Crew. To finish it off I used a bright lip from Sephora's bite collection!
As for the food at Marketa, I went for the crab benedict and I will say the entire plate was wiped clean. My favorite part about eggs benedict is being able to slice into the eggs and watching the vibrant yellow yolk ooze out. The eggs were cooked just perfectly as was the crab. Somtimes hollandaise sauces can get a bit tangy but this one was just right! I paired my plate with a delicious mimosa (or two).  Not to mention we lucked out and had a perfectly sunny day to enjoy all of this!
WHAT: Weekend brunch with your friends
WEAR: Top, Zara | Shorts, Forever 21 (similar) | Cuff, J. Crew (similar) | Bracelets, c/o Shinymix | Rings, c/o Shinymix | Necklace, c/o Shinymix | Sunglasses, TedBaker (similar) | Lipstick, Sephora