19 Sep

What, Wear, When: Coffee at Brooklyn Roasting Company + a Giveaway from Kalaki Riot!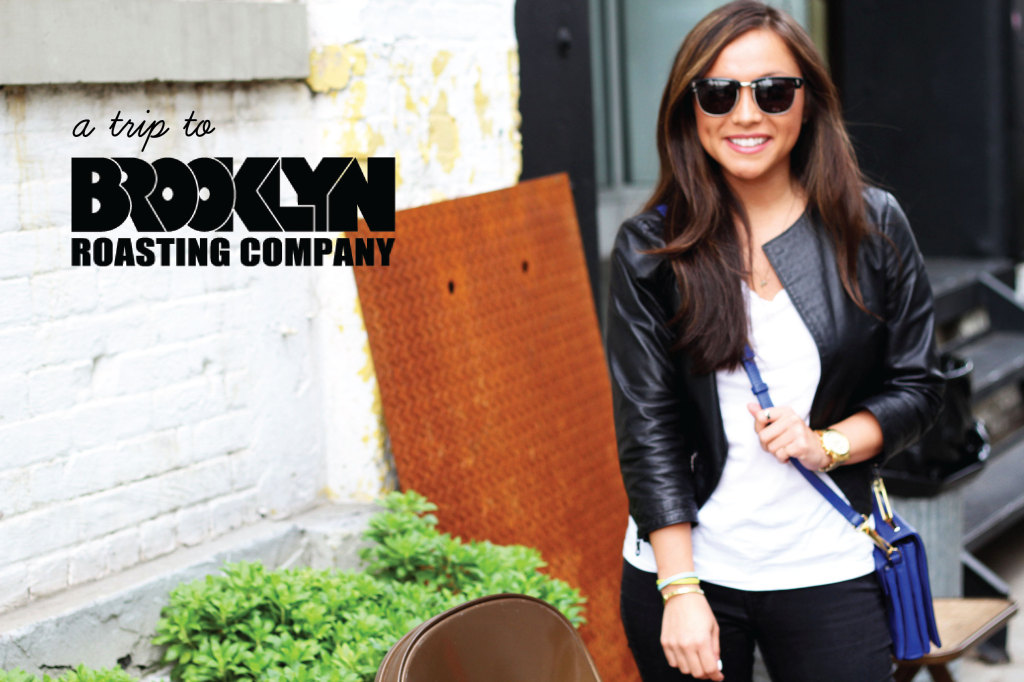 I would say about 80% of my time is spent at coffee shops. I do have my regular spots in the city but I also love exploring and finding new ones. If this were two years ago, I would say most of the coffee shops I would visit would be located in Manhattan as I used to keep to my comfort zone and never really ventured to the other boroughs. However, now that my brother and his girlfriend moved to Brooklyn, I find myself venturing that way at least a few times a week and I love it!
One of the spots we love to meet up at is Brooklyn Roasting Company in Dumbo. It is right on the water and the interior is spacious giving us ample room to find a seat either inside or outside. Nick and Mary recently gave me the trEATs book as a gift for my birthday and as a thank you, I made them the Neapolitan sandwich cookies featured in the book. We decided to meet up at Brooklyn Roasting Company so I could deliver the goods and also to catch up over a cup of coffee.
When I'm going to a coffee shop I like to wear something comfortable because I never know how long I will end up staying there. For the outfit featured here, I was in a black, white, and gold mood. The temperature is also starting to cool down and feel like fall so I broke out my favorite leather jacket and a pair of jeans. Under my leather jacket, I kept it simple with a plain white tee. I incorporated gold by wearing my new "good vibes" bracelet compliments of Kalaki Riot as well as my Eco Drive Citizen watch. My jeans from Zara also have gold studded details at the bottom. As you may know, my life revolves around color and it would be very hard for me to wear an outfit that was completely void of color so I added a bright blue Pour La Victoire bag and layered up on colored leather bracelets from BCBG.
As for food and coffee, I went for the Guatemalan blend with no cream or sugar. Mary went for the Ecuadorean blend and also purchased one of the cool "I got mugged in Brooklyn" mugs. They have a deal where if you buy the mug for $5 you also get a free cup of coffee! We munched on falafel salads and some delicious flaky homemade poptarts.
It was warm enough that we were able to spend some time sitting outside. I definitely will miss being able to sit outside once winter rolls around!
P.S. as I mentioned in the title, I teamed up with Kalaki Riot for an awesome giveaway! You can win your very own "good vibes" bracelet that you see featured in this post. More details on the contest will be posted later this afternoon and will run through 9/24. Be sure to check back for more details on how to enter!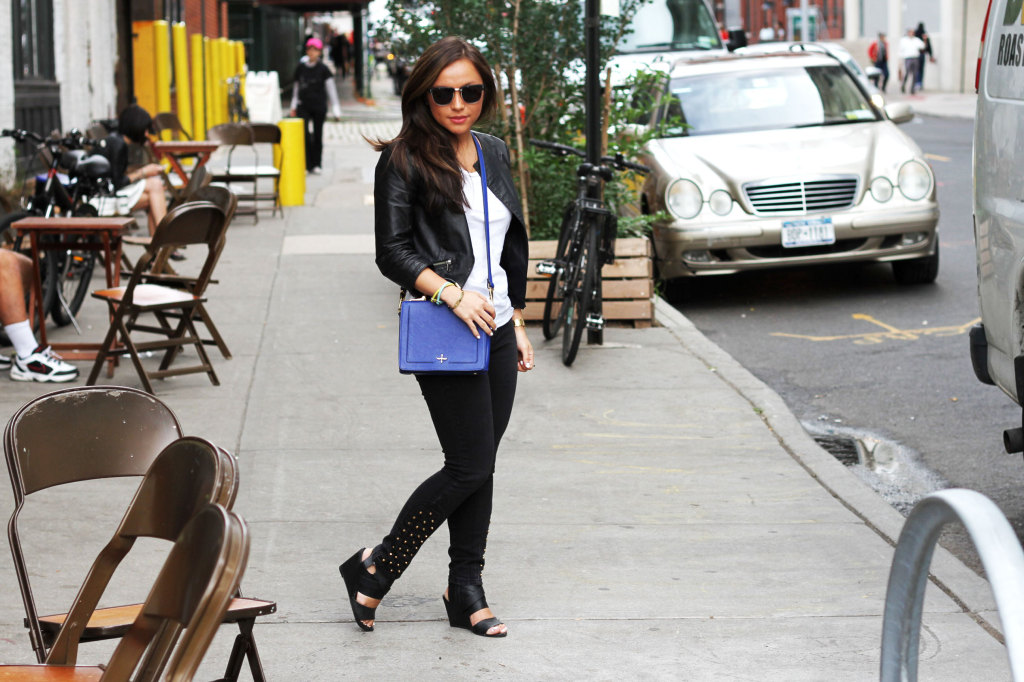 WHAT: Catching up at a coffee shop
WEAR: Jacket, Truth & Pride | Jeans, Zara ( old but simple black jeans here) | Sunglasses, Ashbury Eyewear | Colored Leather Bracelets,  BCBG | "Good Vibes" bracelet, c/o Kalaki Riot (not yet available but check back for a giveaway!) | Shoes, Forever 21 (similar) | Bag, Pour La Victoire | Ring, Madewell (similar)
WHEN: Anytime