10 Dec

Salted Caramel Pretzel Cookies
This post is sponsored by Cans Get You Cooking. All opinions are my own.
One of my favorite things about the holidays is getting creative in the kitchen with all sorts of cookies! I love baking cookies around the holidays because they typically transport easily in to-go containers and make great gifts for friends and family. And, with the help of canned ingredients, I have access to a variety of ready-to-use, shelf-stable items sitting in my pantry any time I want to make a tasty holiday treat!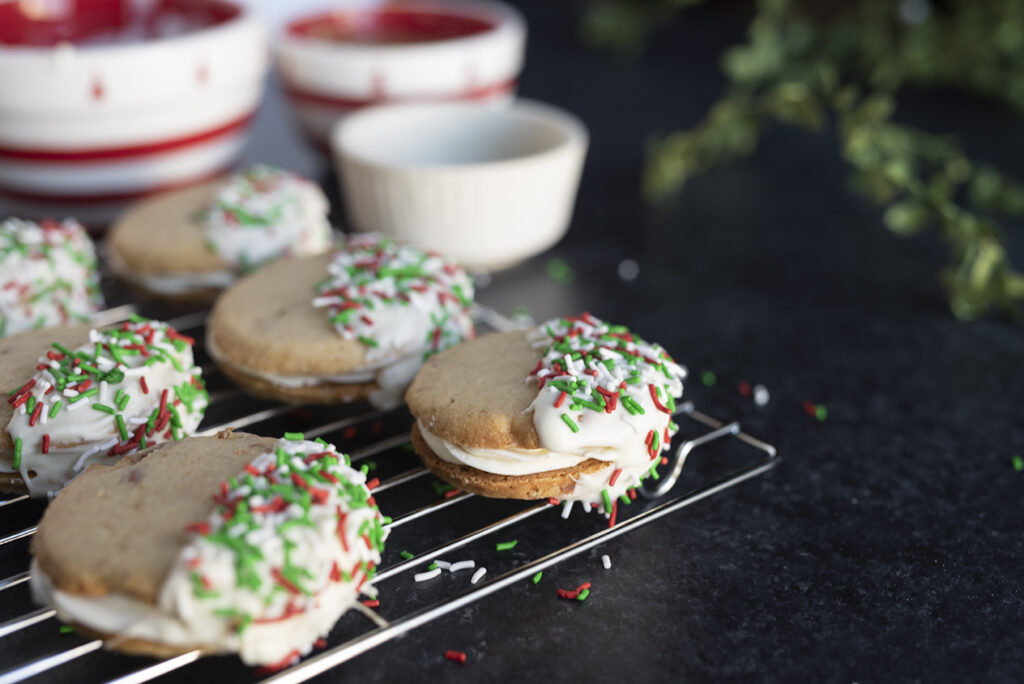 There are so many possibilities and endless options for cookie flavors and styles. When I'm craving something truly decadent, I'll lean towards creating something with dulce de leche. Dulce de leche has an extremely deep flavor and a rich caramel color. Its decadence would make you think it's really complicated to make, but it's actually REALLY easy! All it takes is one single can of sweetened condensed milk. That's it. One ingredient!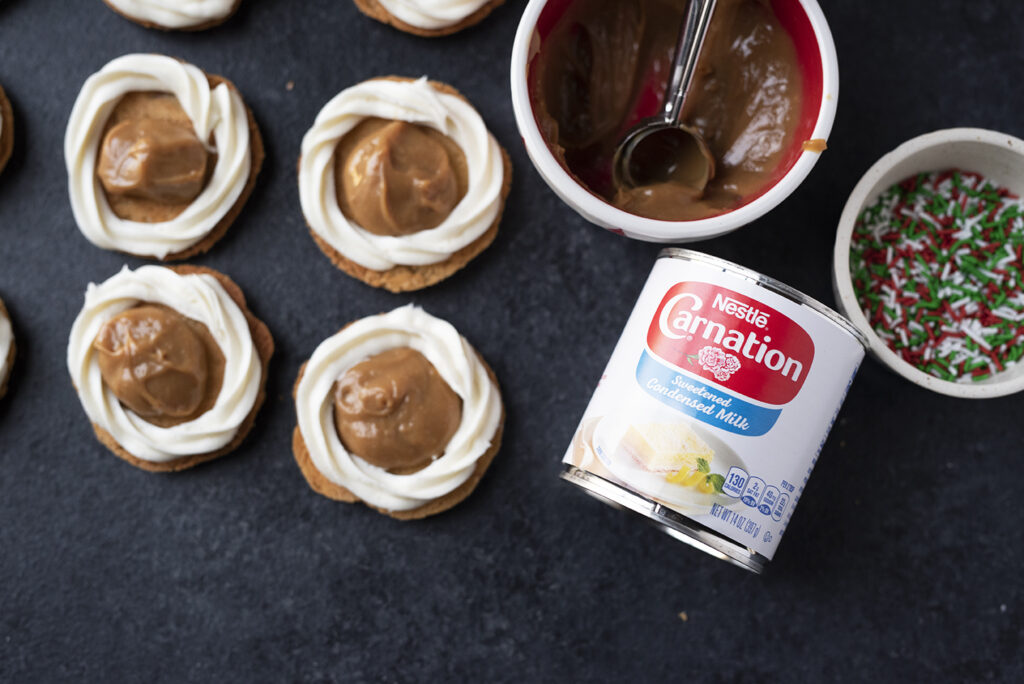 The best part is canned sweetened condensed milk is affordable, convenient, and stores well in your pantry. So, during these pandemic-era holidays, when there is no shortage of things to stress about, keep it fun and simple in the kitchen and keep go-to ingredients like canned sweetened condensed milk on hand for easy, comforting holiday treats.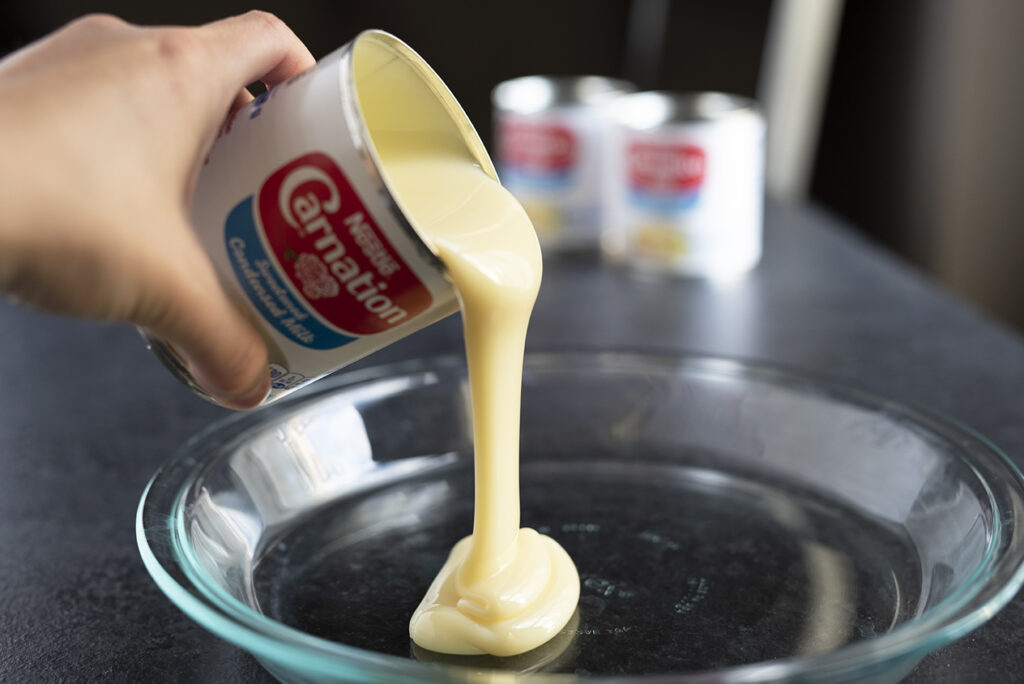 Another bonus to this recipe – it requires mostly inactive cooking time. All you have to do is pour the sweetened condensed milk into a baking dish, add that baking dish to a large pan, and put water in the pan. Pop that into the oven, sit back, relax and count down the minutes until the creamy goodness is ready to be taken out of the oven and whisked into a rich dulce de leche!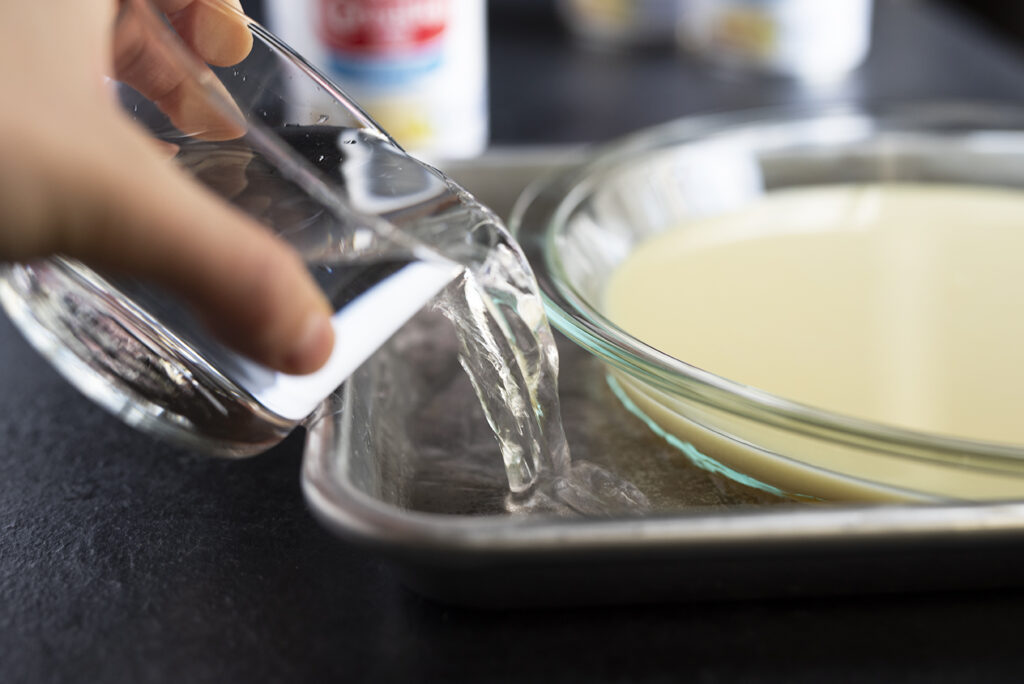 I also love dulce de leche because it can be made ahead of time and stored in the refrigerator until you're ready to use it. I've put together one of my favorite sandwich cookie recipes below that's perfect for this dulce de leche. Plus, it's so versatile. If you have extra dulce de leche left over, you can always use it as a topping for other recipes like cheesecakes, dessert bars or even just spoon it on to your ice cream for a quick and easy holiday dessert.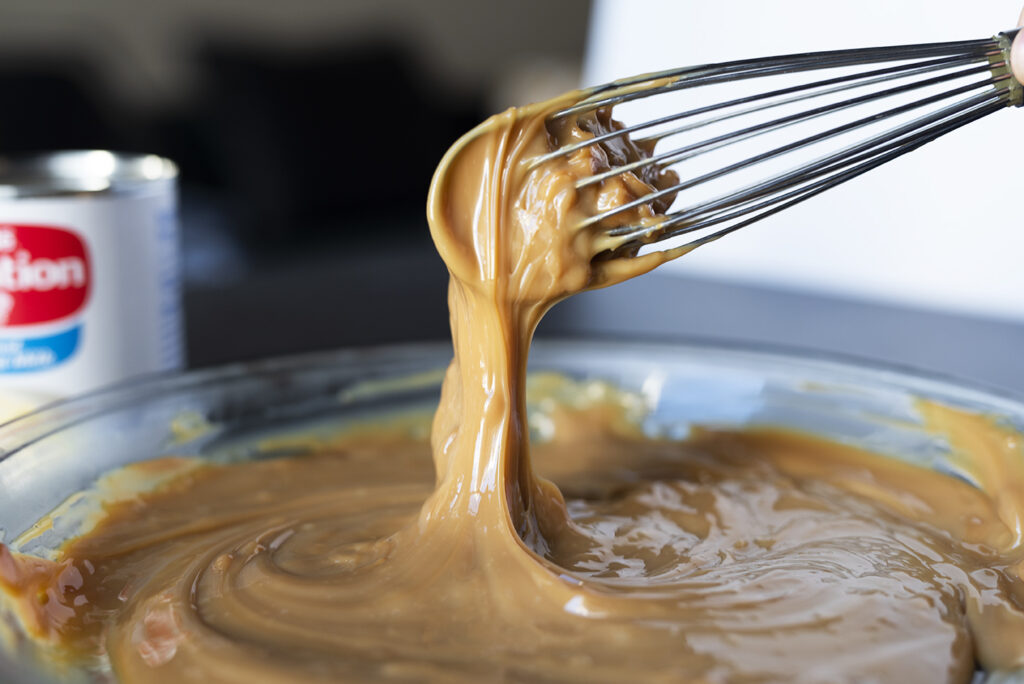 Once you have this go-to recipe in your repertoire, you'll never look back!
Enjoy!
Xo Jus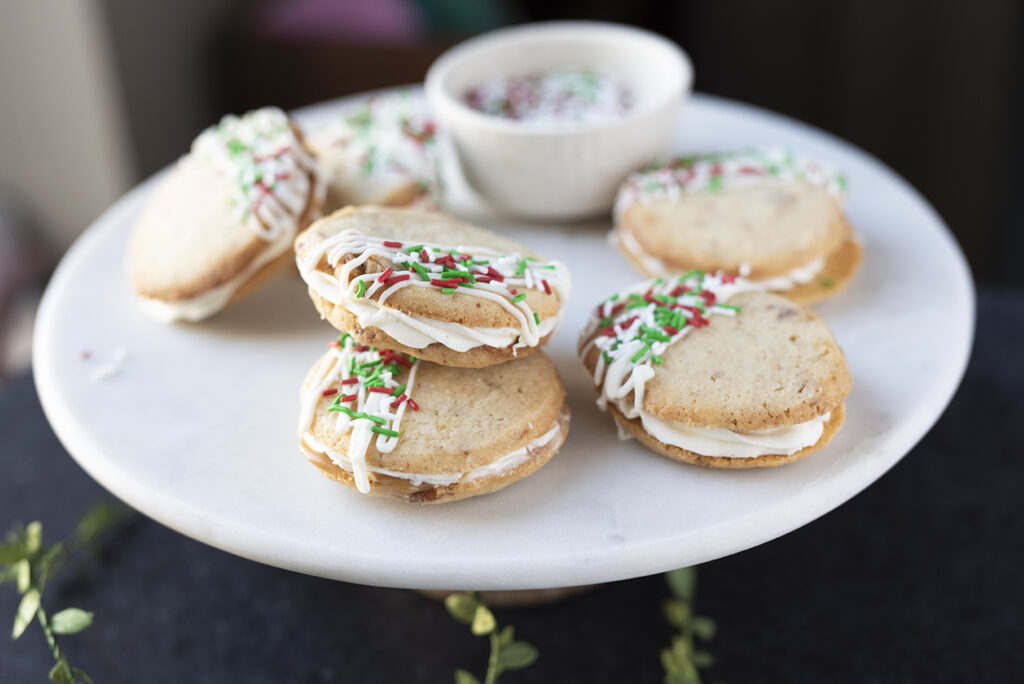 Salted Caramel Pretzel Cookies
Ingredients:
Dulce de Leche
14 oz. can sweetened condensed milk
Cookies
2 sticks unsalted butter
1 cup granulated sugar
1 large egg
1 teaspoon vanilla
½ teaspoon salt
2 cups all purpose flour
1 teaspoon baking powder
1 cup pretzels, crushed
Decoration
1 can vanilla frosting
1 cup white chocolate chips
Colorful sprinkles
Directions
Make the dulce de leche (this can be made ahead of time and stored in the refrigerator.
1. Preheat oven to 425 degrees F.
2. Open the can of sweetened condensed milk and pour into an oven safe baking dish (i.e. a pie dish). Cover the baking dish with tin foil and place inside another large pan (i.e. a roasting pan).
3. Fill the roasting pan with hot water. You want to fill it with enough water so that the goes about 1" up the sides of the dish holding the sweetened condensed milk. 
4. Place in the oven and bake for 3 hours. Be sure to check the water level throughout to ensure the water level remains the same. 
5. Remove from oven and let cool enough to handle. Remove tinfoil and whisk the dulce de leche until smooth and creamy. Transfer to a sealed container and place in the refrigerator for later use. 
Make the cookies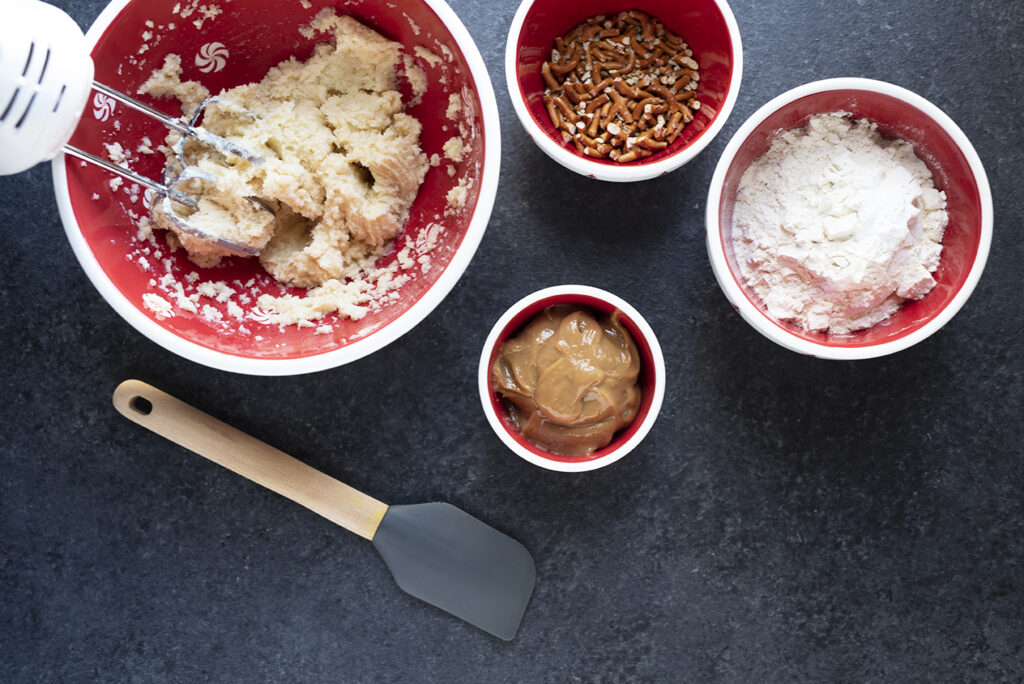 1. Add the butter, sugar, egg, and vanilla to a large mixing bowl. Using an electric mixer, beat on medium to high speed for about 3-4 minutes or until light and fluffy. 
2. In a separate bowl, sift together salt, flour, and baking powder. 
3. Use a spatula to fold the flour mixture into the butter mixture until it is combined. 
4. Fold in the crushed pretzels and 2 tablespoons of the dulce de leche. 
5. Transfer dough to plastic wrap, wrap tightly and let chill in the refrigerator until the dough stiffens (about 30 minutes). 
6. Pre-heat oven to 350 degree F. 
7. Remove dough from the refrigerator and roll until it is about ¾" thick. If the dough is sticking to the surface, sprinkle a bit of flour on the work surface as needed. 
8. Use a circular cookie cutter to cut out rounds. 
9. Place on a baking sheets and bake for 12-14 minutes or until the edges turn lightly brown.
Assemble the sandwich cookies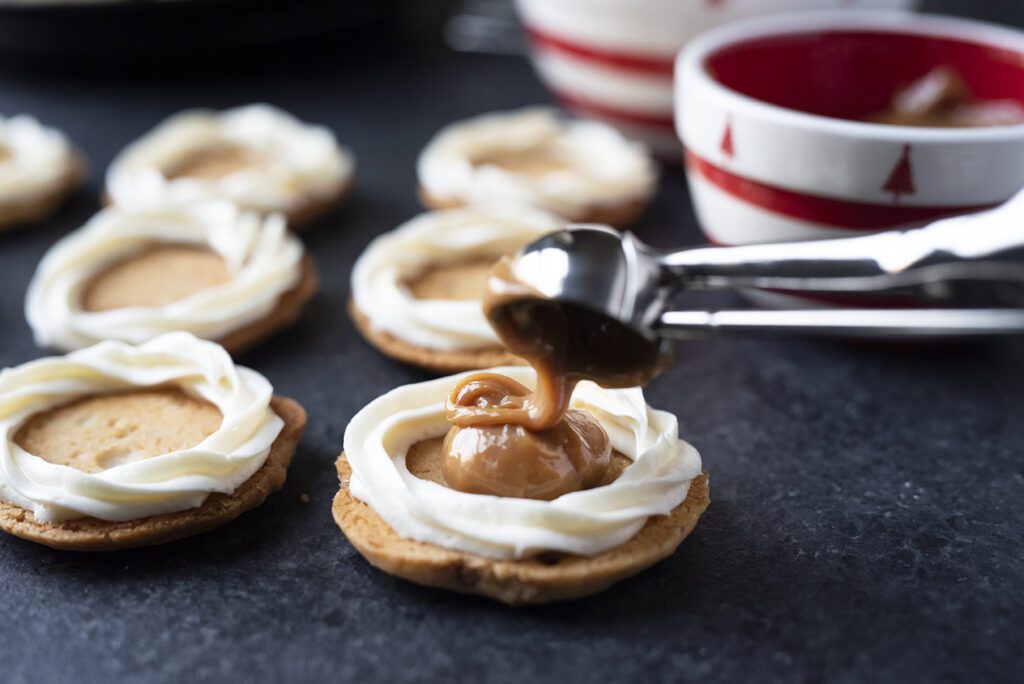 1. Place one cookie onto a flat working surface with the flat side of the cookie facing up. 
2. Fill a piping bag with frosting (or a ziplock bag with the corner cut), and squeeze out frosting so it lines the edge of the cookie and forms a "wreath" of frosting. 
3. Add a dollop of dulce de leche to the center. 
4. Place another cookie on top (flat side down) to form a sandwich
5. Optional –  melt 1 cup white chocolate chips in the microwave, dip half the cookie sandwich into the melted chocolate. Decorate with festive sprinkles. Enjoy!