30 Sep

Dinner at Gurney's Newport [Travel: Rhode Island]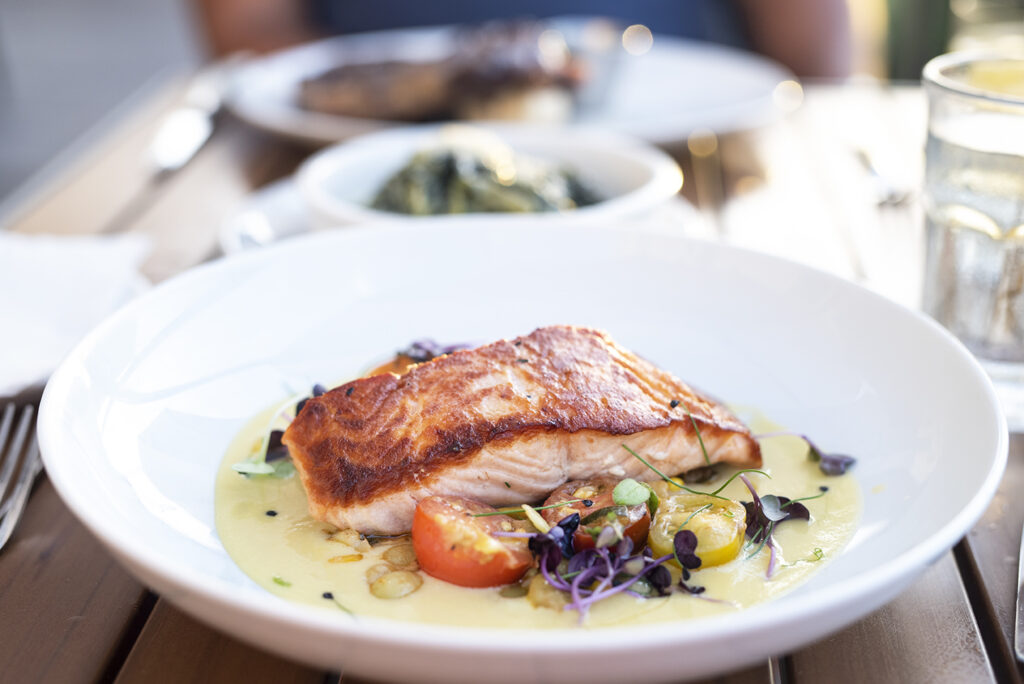 This last summer really really flew by! It was my first summer being back in New York after having spent the last few years living in California so I was really excited to be able to connect with old friends. It felt like there was something going on every weekend!
Towards the end of the summer, one of my favorite trips was when Peter and I went to Newport Rhode Island to celebrate my 30th birthday! I'm realizing now that, I've been so busy living I haven't had a chance to really update the blog lately and all the beautiful photos from Rhode Island have just been tucked away on my camera's memory card!
I want to get back into the swing of posting some of the photography I take so I'm going to start with one of the restaurants we had dinner at while in Newport. The entire weekend was filled with so many activities (think sailing, shopping, and lots of charcuterie boards) which I will include in another post. But for my actual birthday night dinner we went to the restaurant at Gurney's Resort and it was ahhhh-mazing!
I will say, if you plan on visiting Gurney's for food, take note that there are THREE different reservation options. We learned this after having to swap our initial reservation!
1. The pineapple room – this is a poolside, laid back snack and drink bar. They don't have a full dinner menu, I think of it as a place for hotel guests to go to when they are at the pool and want a quick bite. If you're just looking to relax by the water with a beautiful view and a glass of wine then this area is great! We started out here with a bottle of Rose (that my friend Krupa sent us!) while we waited for our table to be ready.
2. The fire pits – really nice ambience, they sit just a level below the actual restaurant. In the image below, it is the area under the string lights. No dinning tables, instead you are on comfy couches and low chairs that surround personal fire pits so I see this more as a shared bites + drink area. When we were there, we saw a few bachelorette parties with reserved fire pits so it does make a great option if you have a large group!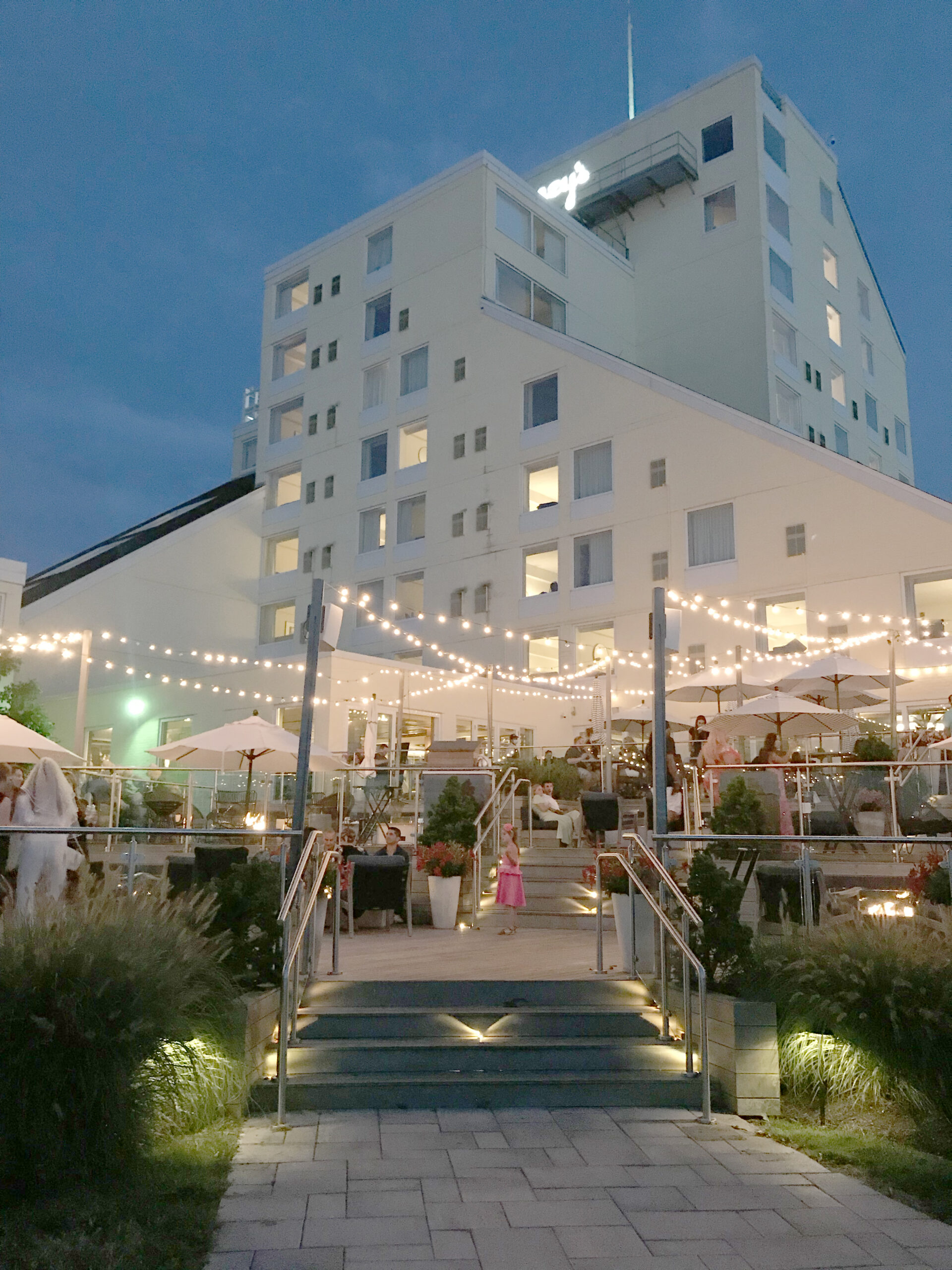 3. The restaurant – this is your standard indoor/outdoor full menu seating and the place we decided to go to! The dishes I'll be talking about below are all from the restaurant's menu.
Okay so on to the menu. Wow, just wow. We were really impressed with every single dish that came out. The restaurant is a bit on the pricier side but we were splurging for the special occasion and honestly every dish was worth it.
We asked our waitress for recommendations on starters and we ended up with the "angry lobster" and the tuna poke.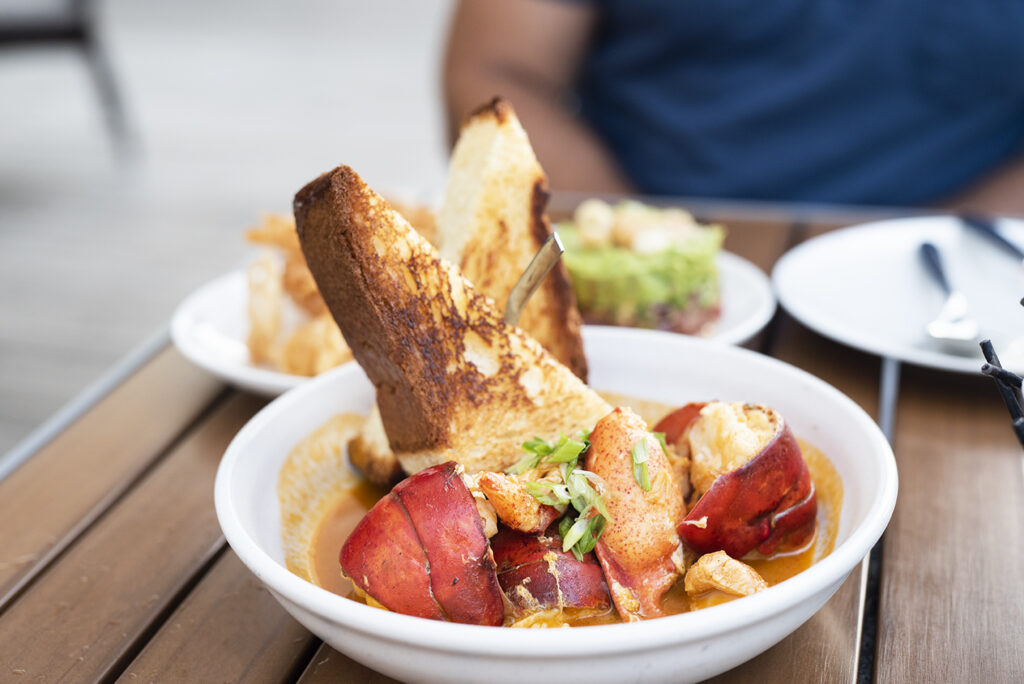 The angry lobster was SO good, I wish I knew how to recreate it at home. A generous portion of lobster sat in a bed of slightly creamy, slightly spicy sauce and was served with a side of pullman toast. The pullman toast is definitely necessary because you'll want to scoop up every last bit of the sauce that it comes with! This might honestly have been my favorite dish of the evening.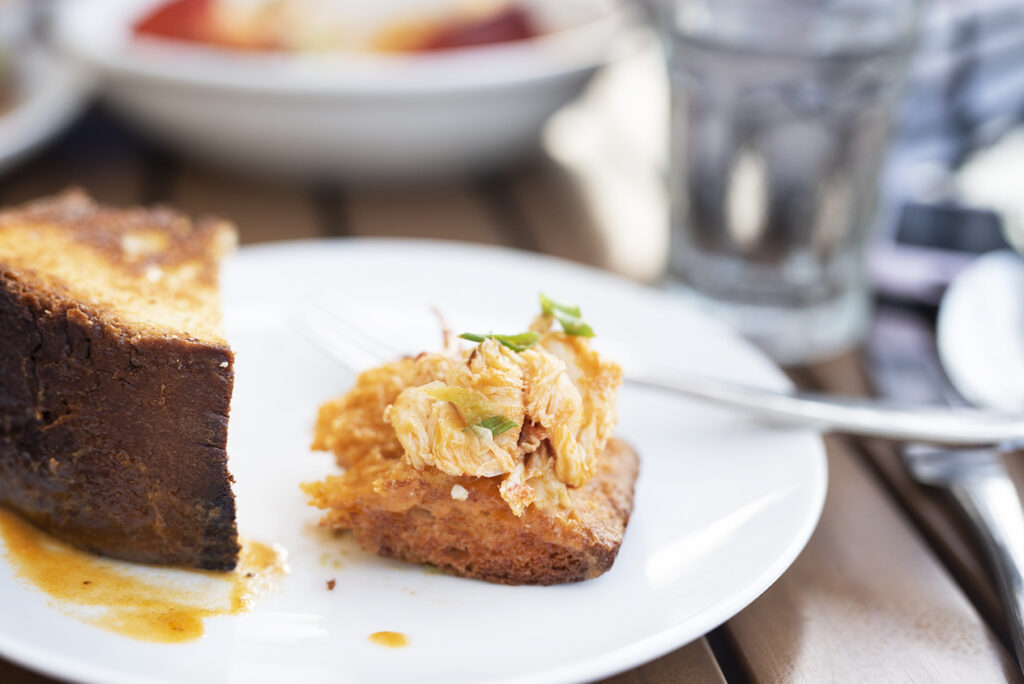 For the tuna poke, this was amazing too. The tuna was very fresh and served under a bed of creamy avocado. It also has a hint of spice form the jalapeño. Surprisingly, the macadamia nuts provided a wonderful "crunch" to the overall dish – something I never would have thought to add but it was delicious!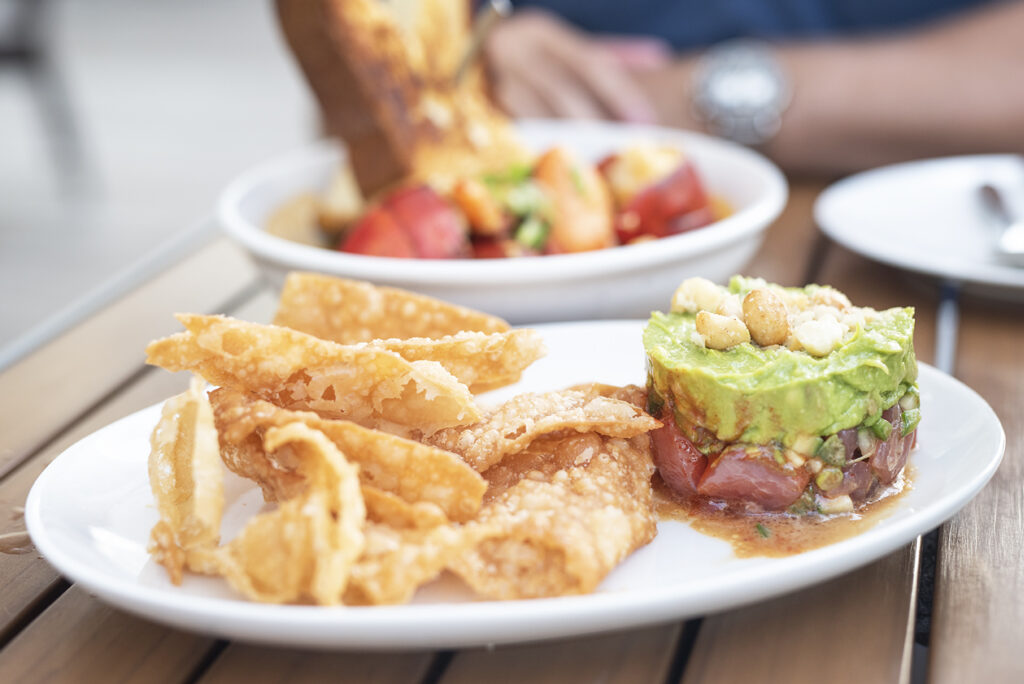 Before I jump into the main dishes, I want to quickly highlight the drinks (because they were that good)!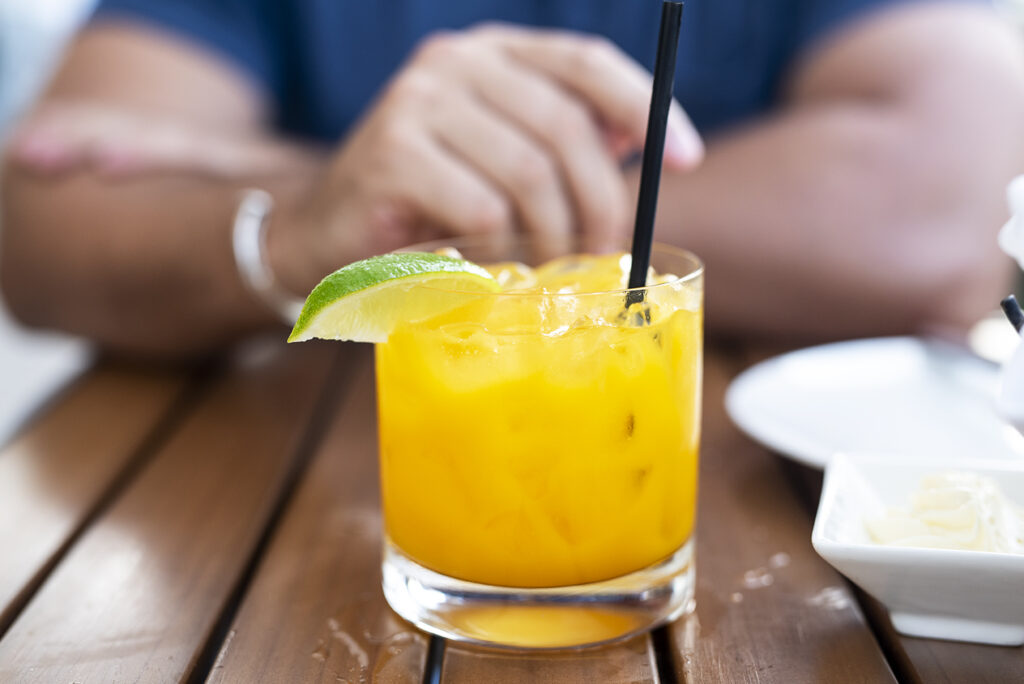 Peter went with a mango margarita and it was the freshest mango I've ever tasted in a drink. Even as I'm writing this he's in the background reminiscing how good it was and asking me to recreate it. Which I might honestly give it a whirl so stay tuned.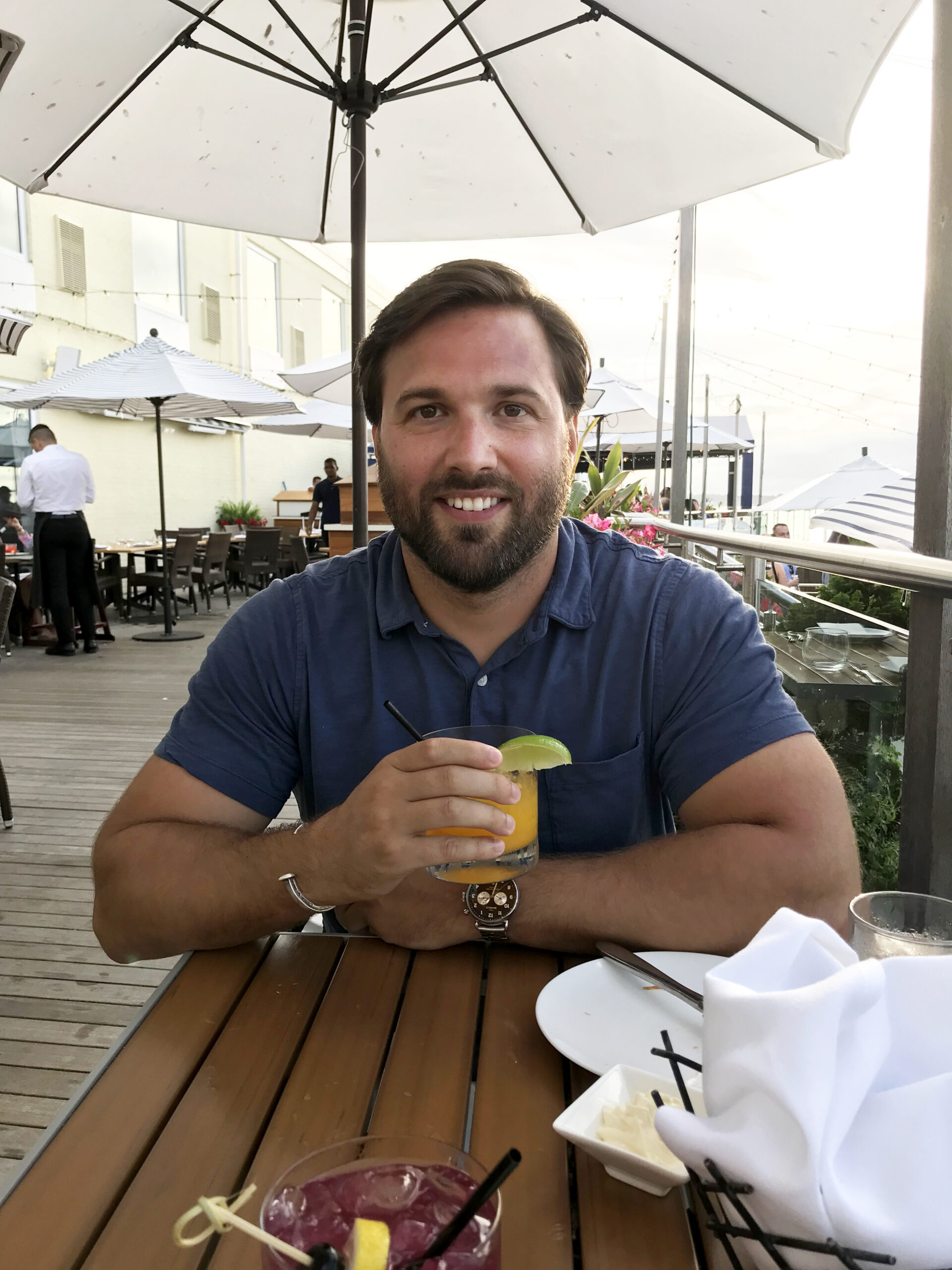 I went with the "Purple Astrum" which is vida mezcal, cointreau, ramazotti, and hibiscus. At the time, I was hesitant on having it with the mezcal (I love mezcal but it was a hot summer night and I wasn't in the mood for something smoky). The waitress swapped the mezcal with tequila for me – so keep that in mind if you're eyeing that drink but don't want the mezcal!
Now on to the mains. Peter went with the 30 Day Dry Aged Prime Ribeye which was very VERY large and very much to his liking. He also ordered a side of creamed spinach which was also a very generous portion.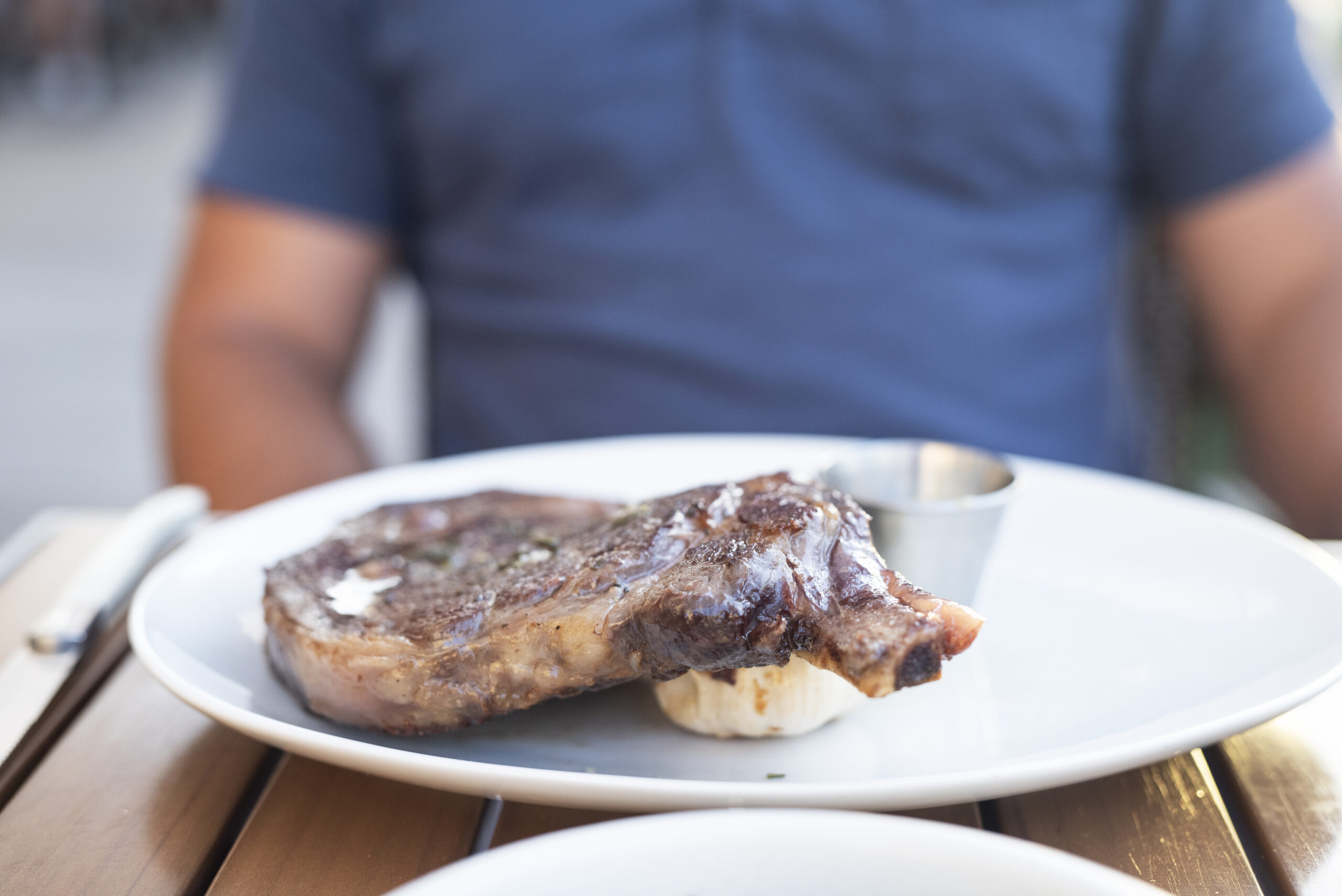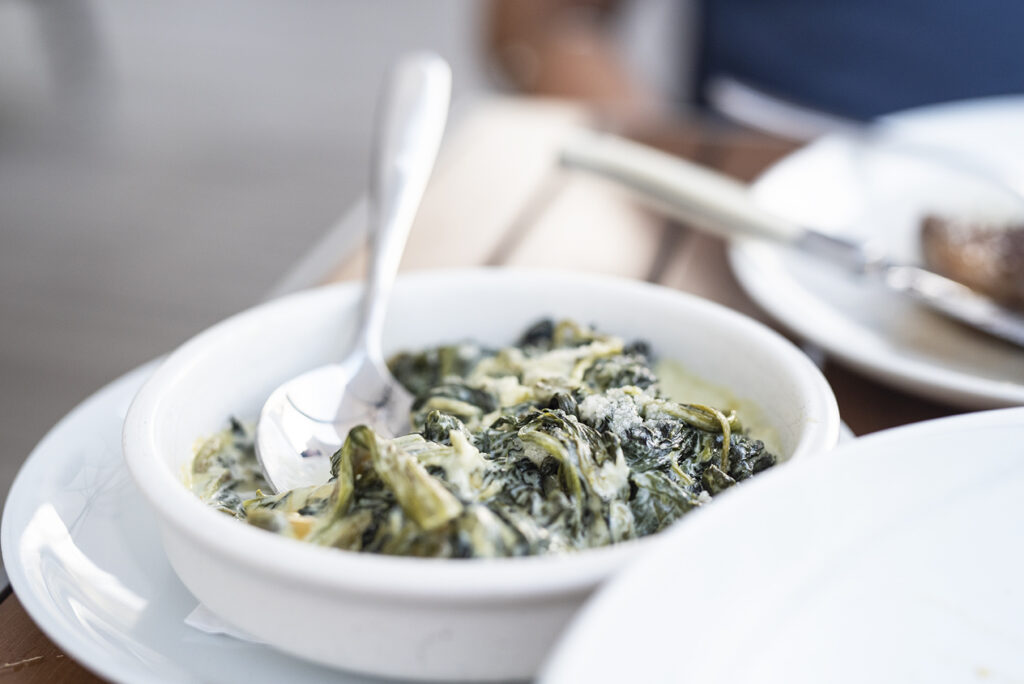 I went with the salmon which came on top of juicy cherry tomatoes and a pool of cream of corn. It was cooked just perfectly with a little crispiness on the outside and perfectly tender throughout.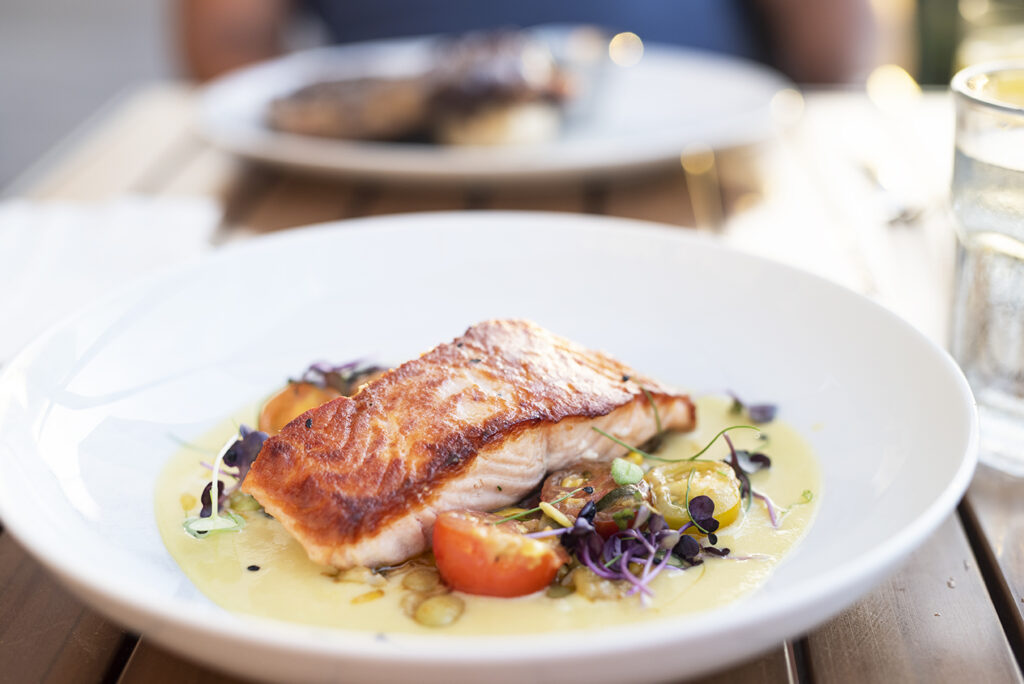 Then to finalize the night, Peter made the oh so classic move of telling the waitress it was my birthday when I stepped away from the table for a minute. They brought out a delicious cookie dough cake with a candle!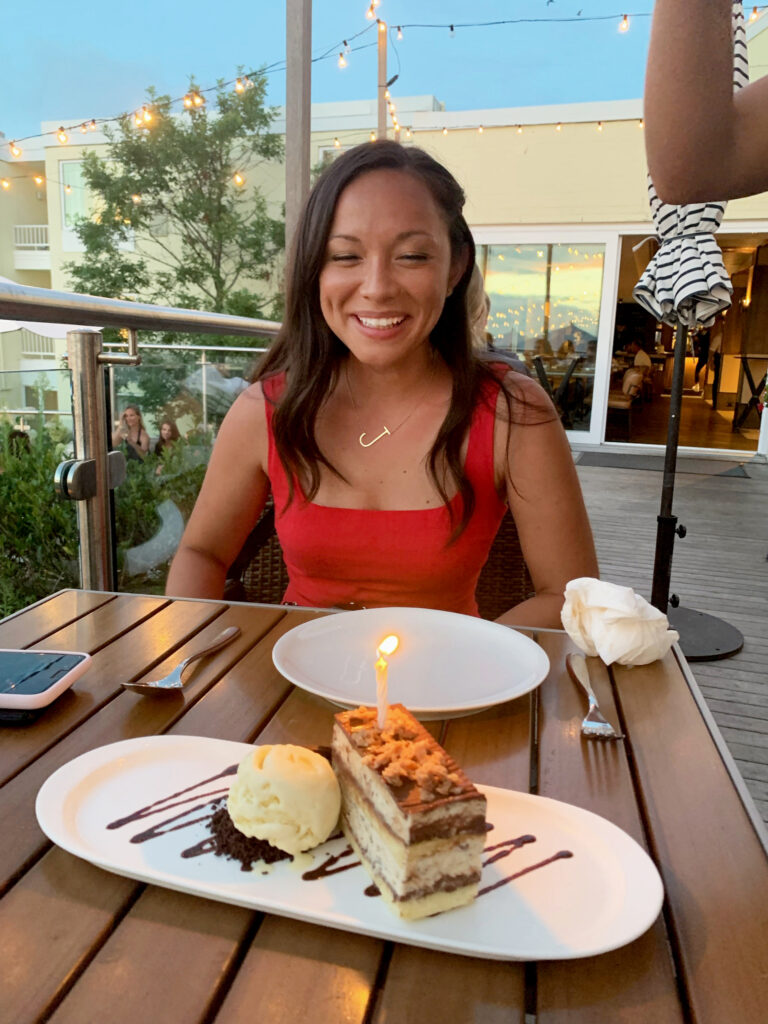 I was really impressed that they even had a chocolate "happy birthday" sign at the ready.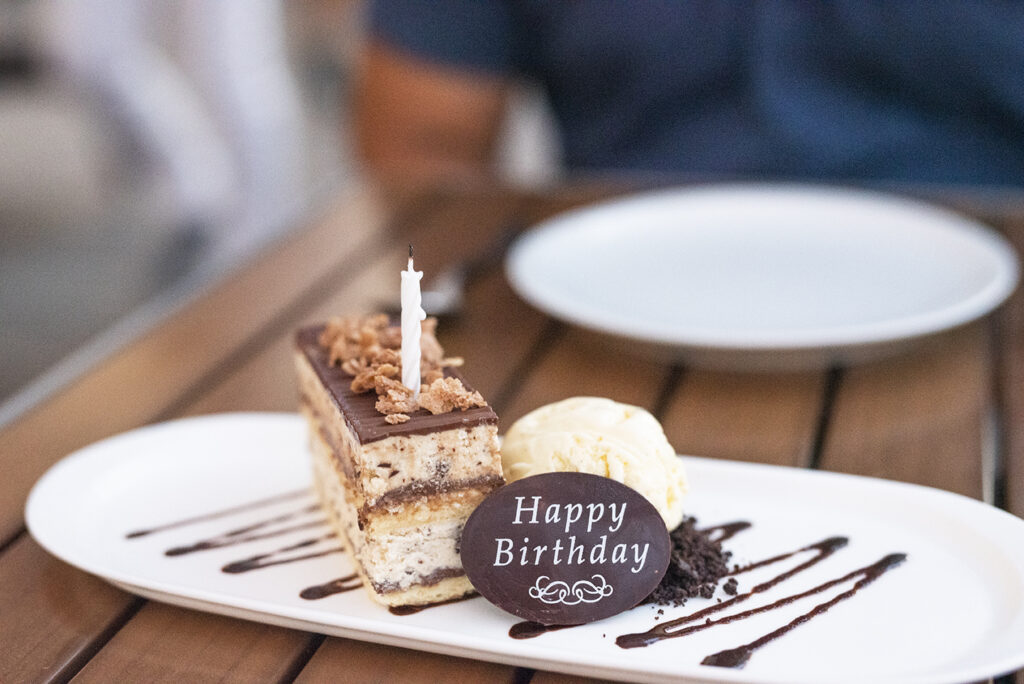 After dinner, we went sat in some of the Adirondack chairs that the resort lines along the water. There was even some live music playing in the background at the pineapple club that we could hear!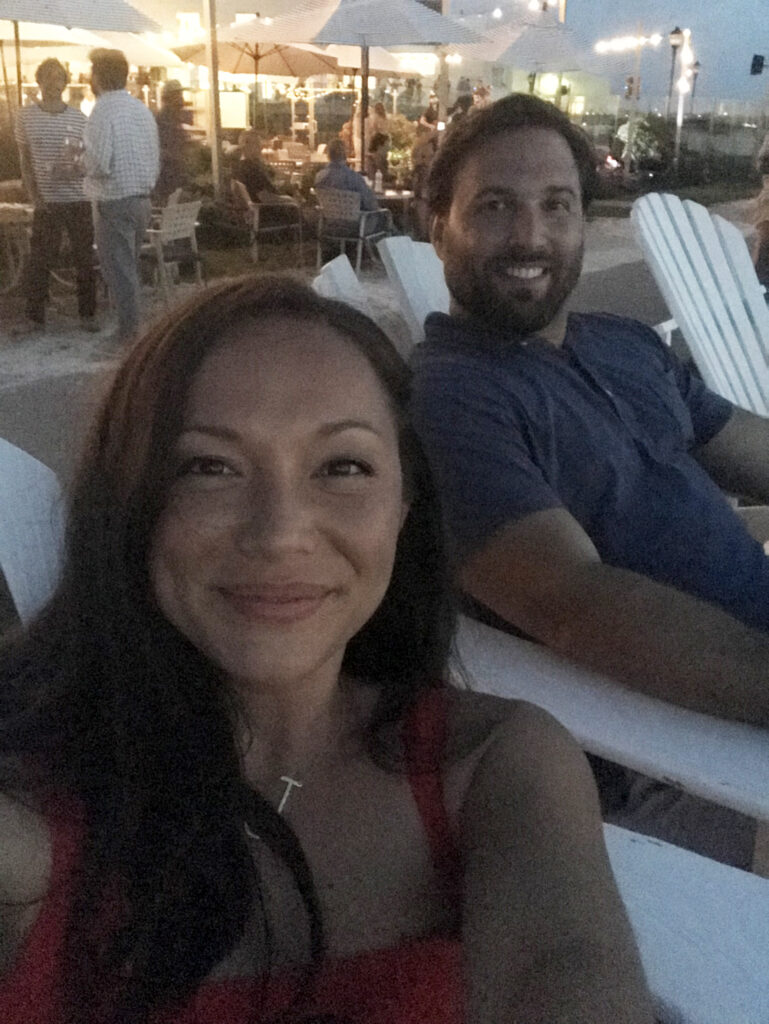 If you find yourself in Newport, RI – I definitely recommend swinging by Gurney's at least once. Make sure to make reservations because they do book up!
xo Jus