18 Dec

Holiday Cheer!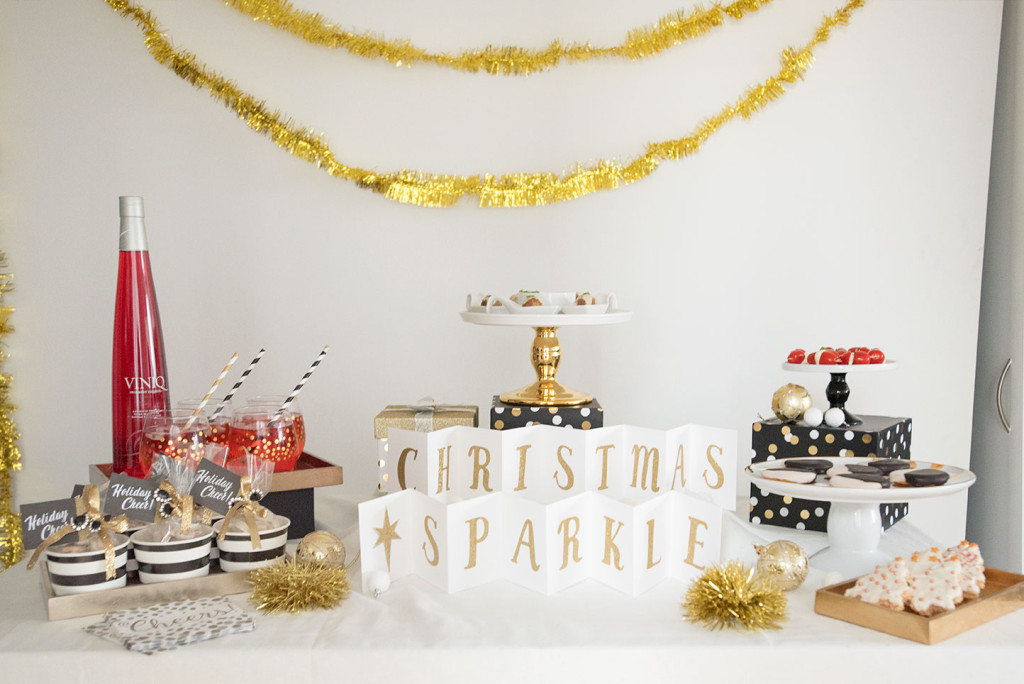 Christmas is only a few days away – when did that happen? I really don't even remember Halloween passing by and that pretty much sums up how this entire year has been going! 2015 brought on quite a few life changes for me which included moving from an apartment I spent years at! That was definitely a hard switch. I'll be recapping the year in another post just before the New Year approaches.
Regardless of how busy or hectic things get, it's important to always make time for friends, family, and loved ones. This past weekend I did just that by hosting a small get together with friends (first soiree in my new apartment, yippee)! With so much on my plate from work, I didn't have a ton of time to plan and I am sure there are many of you out there in a similar boat. No time but want to make things cute and "Instagram worthy" ;). Here are a few tips to help you put together a picture perfect holiday party in no time:
For attire, sticking with solid colors makes pairing pieces easier – when putting together my outfit, instead of going crazy with colors or glitter I decided to keep it simple with black and white. I made sure I still kept it fun by rocking a feather fringe top by Vince Camuto. I then added a layer of sparkle with a statement necklace from Shinymix. The best part about this outfit is that it's not so over the top that it has to be reserved for the holidays – I totally can (and will) wear this again!
For drinks, pick up a fun cocktail mixer – you can make a vodka soda or cranberry vodka any day. For this special occasion, try something new! There have been a ton of cool new drink mixers out on the shelves lately and the best part, no bar tending experience required. A lot of these mixers are packed with the perfect flavors and are as simple as mixing with alcohol and serving. I decided to try a new "shimmery" brand called Viniq and followed one of the recipes they provide on their site. It really did add an extra special touch to the party with little effort!
For treats, go no-bake – not every plate you put out has to take 3 hours to make. This year I went super simple with chocolate covered marshmallows and rice krispy "trees". Neither required oven time and I jazzed them up to match the décor by adding fun sprinkles and edible glitter.
For party favors, pack party cups with treats and gems – if you want to send your friends home with a gift, dress up left over party cups with delicious treats and sparkly accessories. The "holiday cheer" favors you see here were made by my friend at Shinymix! She took black and white cups, filled them with bags of chocolate covered pretzels and attached name tags with a sparkly gift – statement earrings!
Relax, enjoy, and most importantly – LAUGH! – Everything might not come out exactly as you imagined but the important thing is that you are surrounded by friends. So make sure you stop stressing over every little detail and enjoy yourself!
Hope everyone has a super sweet holiday season!
Xo Jus