27 Jan

Love List 1/27/16: Monkey Bread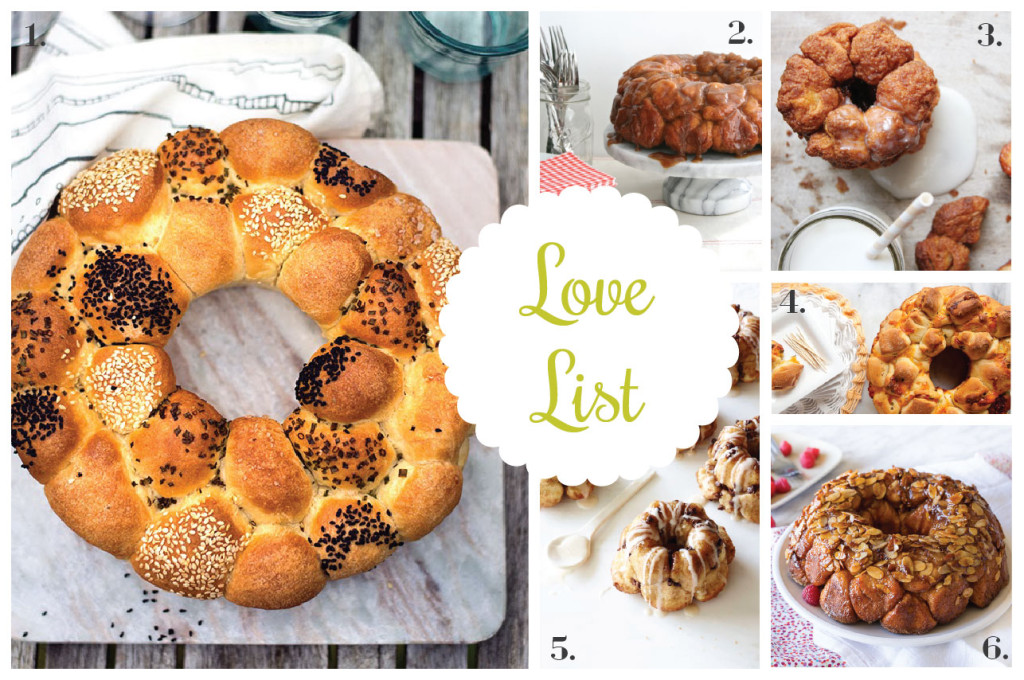 I am constantly browsing through online recipes and foodie sites looking for inspiration and new ideas. One recipe I've seen pop up recently in multiple variations is for "monkey bread". Believe it or not, I've never made or tried monkey bread before!
After seeing it pop up several times, I decided to do a little more research on it. So, what is "monkey bread"? According to Tori Avey, monkey bread originated in the 1940s and is basically a loaf formed from pieces of yeast dough dipped in butter. The dough is then baked in a bundt pan  which gives it a circular shape. Typically, monkey bread is known to be coated in sugar and cinnamon but over time recipes has evolved and include a ton of different flavor variations. Today, you can find monkey bread recipes that are both sweet and savory. See below for a round up of different monkey bread recipes to try!
1. Herby Tear and Share Potato Bread, Supergolden Bakes
2. Sticky Toffee Monkey Bread, EEP
3. Monkey Bread Doughnuts, Corner Blog
4. Cheesy Savory Monkey Bread, Macheesmo
5. Chocolate Chip Monkey Bread, Whats Gaby Cooking
6. Raspberry Cheesecake Monkey Bread, I Wash You Dry
What flavors would you incorporate if you were making monkey bread?
xo Jus