29 Jan

Valentine's Day S'mores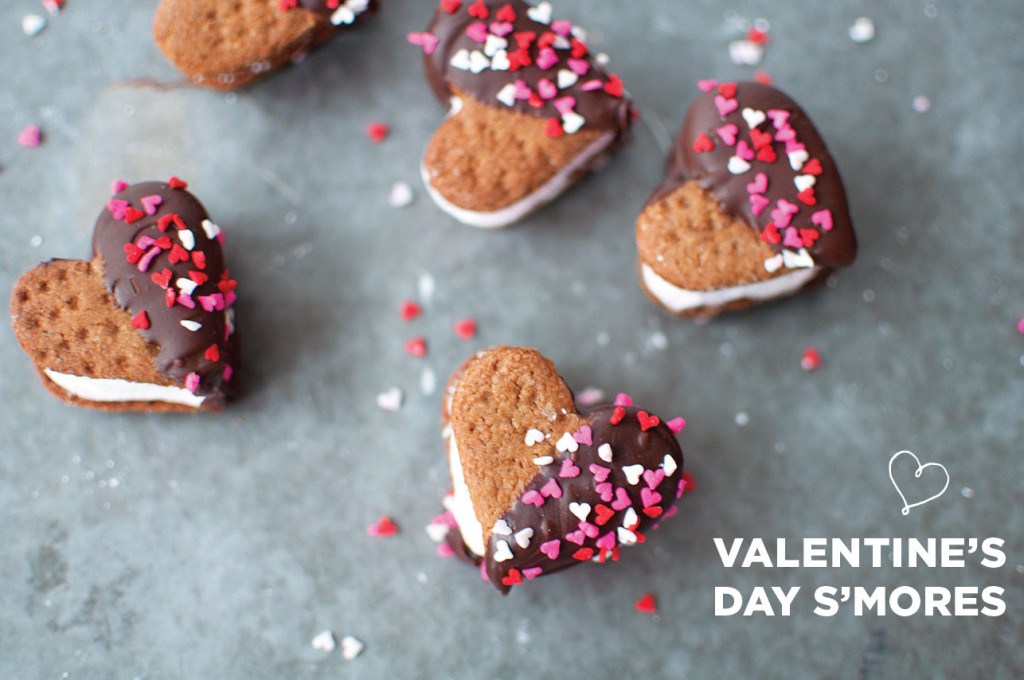 I cannot believe it is already the end of January. I owe you all a huge apology for being completely M.I.A. this month, the weeks flew by! After the new year, I decided to sign up for a few courses at ICE (Institute of Culinary Education) to brush up on my kitchen skills. So far, it's been great and I'm learning so many amazing techniques and tips. However, it's also made my schedule pretty darn full. My goal for this new year is to improve my recipe writing skills so that I can provide you all with better treats and inspiration!
Since Valentine's Day is approaching, I wanted to start things back up with an adorable sweet treat. These heart shaped s'mores are made with homemade marshmallows and graham crackers. It can be a time consuming task to make everything from scratch but it's definitely worth it!
You will need:
1 small heart cookie cutter
1 medium heart cookie cutter
1 batch homemade graham crackers (I used Alton Brown's recipe)
1 batch homemade marshmallows (I used Alton Brown's recipe)
strawberry extract (optional)
pink or red food coloring (optional)
8 oz bittersweet chocolate
8 oz white chocolate
colorful sprinkles (optional)
The great thing about this recipe is that although it is time consuming, each component can be made in advance. When I made these treats, my week was pretty busy so I made the graham crackers ahead of time and stored them in a container until I was ready to make the rest. If you know that your days are going to be hectic around Valentine's day then plan ahead and pre-make either the marshmallows or graham crackers, it will save you a lot of time!
To make the graham crackers, I followed Alton Brown's recipe fairly closely. When it came time to roll and cut the dough, instead of using a pizza cutter to cut squares I alternated between my small and medium heart shaped cookie cutters. I also baked them for less time than Alton's, I baked them for 15 minutes as opposed to the 25 minutes. Each home oven varies slightly with settings so keep an eye on the cookies while they are in the oven and once the edges start to darken remove them and let them cool.
Next, I made the marshmallows using another one of Alton Brown's recipes. I wanted to make two different flavors/colors for the marshmallows so instead of using the 13 inch by 9 inch baking pan, I used two smaller pans. I made the marshmallows according to the recipe then scooped half of the batter into one of the pans. For the remaining half, I returned it to the mixer, added in a few drops of red food coloring and strawberry extract. I mixed the batter just until the coloring was incorporated and then scooped it into the second pan.
I let the marshmallows set and once they were ready I cut them into heart shapes using the cookie cutters. The marshmallow can get sticky when cutting so I like to coat the cookie cutters in cornstarch and confectioners sugar, it helps the mallows slide off a little easier.
After the graham crackers and marshmallows are prepared, you will want to melt your chocolate. Place the white chocolate and bittersweet chocolate in separate bowls. Melt the chocolate by placing each bowl on top of a pot of simmering water (double boiler method).
Prepare a baking sheet by laying wax paper on top of it. Then assemble the cookies by sandwiching a marshmallow between two graham crackers and dipping half of the cookie in the chocolate. Lay the cookie on wax paper and add sprinkles. Repeat until all of the cookies and marshmallows are used up. Place the cookies in the refrigerator to allow the chocolate to harden.
Now the best part … enjoy! 🙂
xo Jus