11 Aug

Weekly Wind Down & Favorite Finds 8/11/17

I missed last week's wind down because the week just flew by way to quickly. I unfortunately didn't have a chance to catch my breath and regroup last week. Still have a lot on my mind so this week will be a little bit on the long side!

This week, I have the following question on my mind: Why do I blog?

This question has been lingering in my head lately because I've been seeing a handful of articles floating around that feature successful Instagrammers. I love hearing about others' stories and their journeys to getting to where they are today. It's a major reason why I started the Industry Experts section on the blog.

Those Instagrammers were asked for advice on how to achieve success when you are just starting out and the responses had a bit of a range. Some of the responses included "focus on something you are extremely passionate about", "develop your own unique style", "just don't, it's oversaturated and tough", and "get a time machine". I think this question brings up a good discussion.

Instagram has created an entirely new category of celebrity status. It has become a vehicle for creating opportunities that never existed before. Over the past couple of years, the number of accounts has skyrocketed. I think it's great that it creates inspiration and motivation for people to follow their dreams and express their passions. So what would be good advice for someone just starting out?

For me, I would say, start this journey for the right reasons. Now, I'm nowhere near "celebrity status" and my presence in the community is really just a drop in a lake when you look at the larger picture. But I am proud of my work, I get excited by the community that surrounds me, and honestly it just makes me happy. It doesn't matter if you have 5 followers or 500,000 followers. What matters is if what you are doing excites you and brings you joy.

During the week, I work full time for a large tech marketing firm. I'm grateful for my experience there. Everyday I get to learn how to manage products, teams, and budgets on a very large scale. After work and on the weekends, I spend my time creating things I love (art, desserts, photography, more desserts, pottery, etc).  Maintaining a blog requires a lot of hours so make sure it's something you really enjoy. Starting Pretty in Pistachio was a natural extension for me. I was already doing the things I post about so why not share it with the world? It's my creative outlet.

I hope to one day own my own housewares company and I think this community has really helped me understand the industry as well as surround myself with like minded people. It's opened doors that never would have existed otherwise and has helped me generate ideas that I never would have envisioned prior. So, what I would I would say is, don't measure success on how many likes or how many followers you get. Take a step back and remember, it's just social media. At any point in time, Instagram could completely change or go away tomorrow. If you wake up everyday and devote just 5 minutes to something you love and your blog, Instagram, or whatever it might be, becomes your vehicle for sharing that 5 minutes of joy with the world then consider that a success.

For this week, I just have item on my list of "favorites". No products. No recipes. No DIYs. Just a simple quote.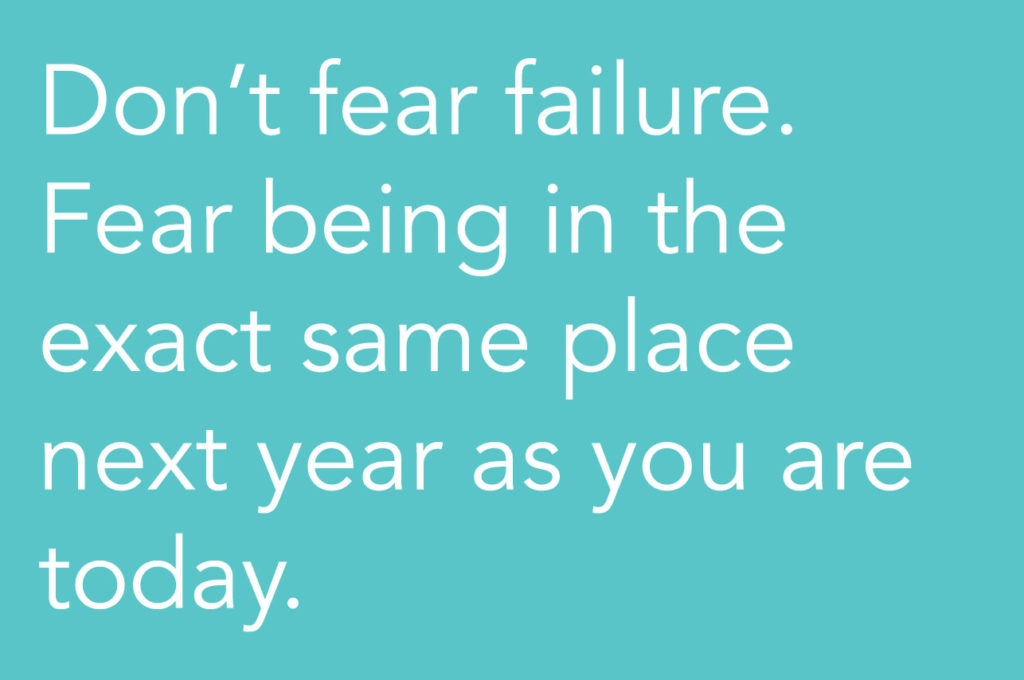 I stumbled on this quote while browsing Pinterest. It was on a page full of other motivational quotes. This one in particular felt very relatable. Sometimes I find myself pausing or holding myself back from doing things because I fear what others will think or I fear that I will fail. Maybe it won't come out as I hoped. But then I realize, progress is a good thing regardless if where you land is perfectly in sync with what you thought or not.
Every year, the blog has grown little by little. It's been anything but an over night success. It's been years of constant work and nonstop passion. I might not be as far along as I sometimes wish I was but every year I look back to where I was the previous year and if I can smile at the progress I made then I know I spent my year well.
This year, I have a lot of hopes, dreams, and goals. Things I've been putting off for months and years I'm finally going to take the next steps on (even if they are only baby steps).
If you have any motivational quotes, please share them with me<3. I'd love to read them!
Hope everyone has a great weekend!
xo Jus