30 Jan

Winter Storm Jonas + Photography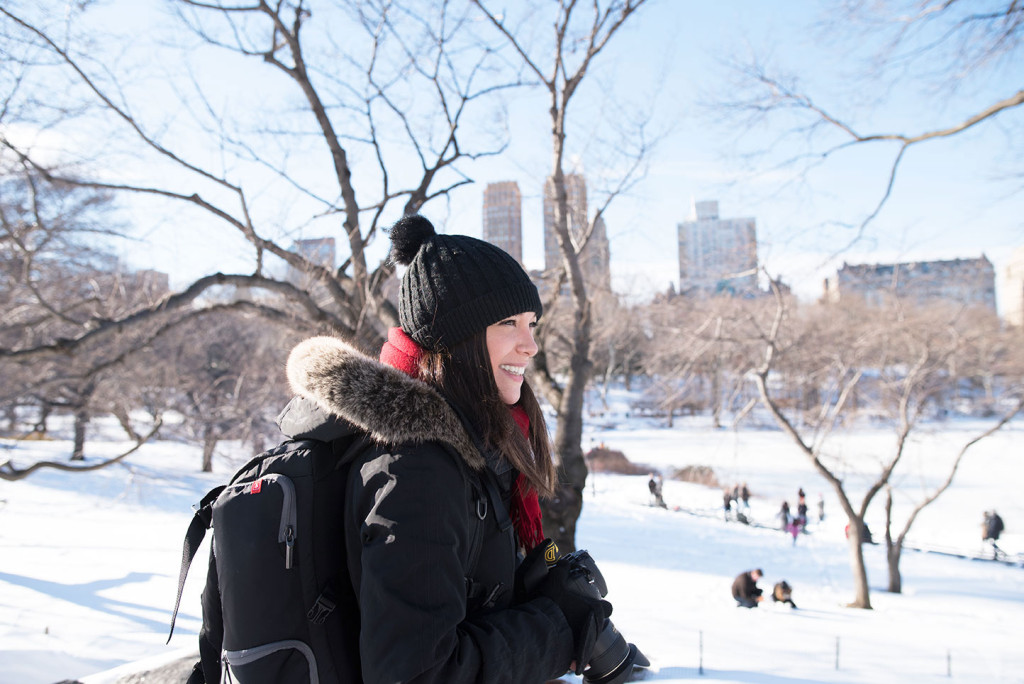 Last weekend we had a huge storm hit NYC – Winter Storm Jonas. Before the storm actually arrived there were various articles and comments going around about whether or not we'd even get any snow at all. When it finally hit that weekend, there was no shortage of snow, wind, or coldness!
When it comes to photography, I have been sticking to photographing food lately but when I do have a moment to get creative and go outside my element I take it. So Sami and I packed up some photo gear and hit the streets. We tried going out for a little on Saturday but the wind was brutal. I could barely step 5 feet without snow hitting my camera, we also weren't prepared with any protection for our cameras so we just used spare beanies to wrap the cameras which kinda worked.
I had been dying to try Eggshop and since it was snowy and freezing we figured no one would be out and we would be able to get a table pretty quick. We were dead wrong, the line was out the door – literally. Not willing to stand outside in the cold we took a few photos in the area and then stopped in Parm. We made it there just before they closed, thankfully!
After warming up inside parm with a hot eggplant parm sandwich and a cup of coffee we hopped on the 6 train and went up to Astor place. From Astor place we had grand plans of going up to central park but my hands were frozen and my gloves were soaked through. So we got as far as 14th street and headed back home.
We warmed up a little and dried off all our gear then decided to head out at night and take a few shots of the neighborhood. We even had a little fun with light painting by drawing hearts and city skylines in the photos.
By the next day the snow had stopped coming down so it was a little easier to navigate. That's when we decided to take a quick trip up to Central Park and snap a few photos of the wintery white blanket covering the park. Even though it wasn't snowing we still needed about 5 layers each to keep warm!
Although it was cold and uncomfortable at times it was still completely worth it. I grew up around photography and love it to this day. My dad was a fashion photographer and we even had a dark room in our basement! Throughout my teenage years I always carried a point and shoot with me but college was when I really started learning about cameras and photography.
My first class I was shooting with my dad's old Nikon F3 and developing the film in our school's dark room. Later when I started learning about digital I got my first DSLR: a Nikon D90. Once I got that camera I remember I would go out and shoot everything and anything I could!
Now I'm shooting with a Nikon D750 and I absolutely love it! I will say it is a little heavy for me to carry but the quality is amazing. I just started getting more into lenses and I recently picked up a Nikkor 17-35mm f /2.8 so that I could capture wide shots. In certain scenarios it is very helpful but I will say I have a lot to learn. I used it when I went out shooting for this trip and saw that at 17mm it does distort the image a bit – it's not quite a fisheye but you still get a little curvature on objects. I've been using this lens to shoot some interiors for restaurants but when it comes to shooting food I like to stick to my prime lenses.
For the snow filled trip, I packed all my gear into the Manfrotto backpack my parents got me for my birthday last year. I love this backpack because it has a compartment for everything and the padding helps keep your camera safe. It also has a drawstring pocket that perfectly fits manfrotto tripods. I use the compact carbon fiber Manfrotto tripod – it's lightweight and travels easily!
Overall the snow filled weekend was lots of fun but I think I got my fix and am ready for warmer weather!
xo Jus