04 Mar

Love list 3/4/15: Kitchen Containers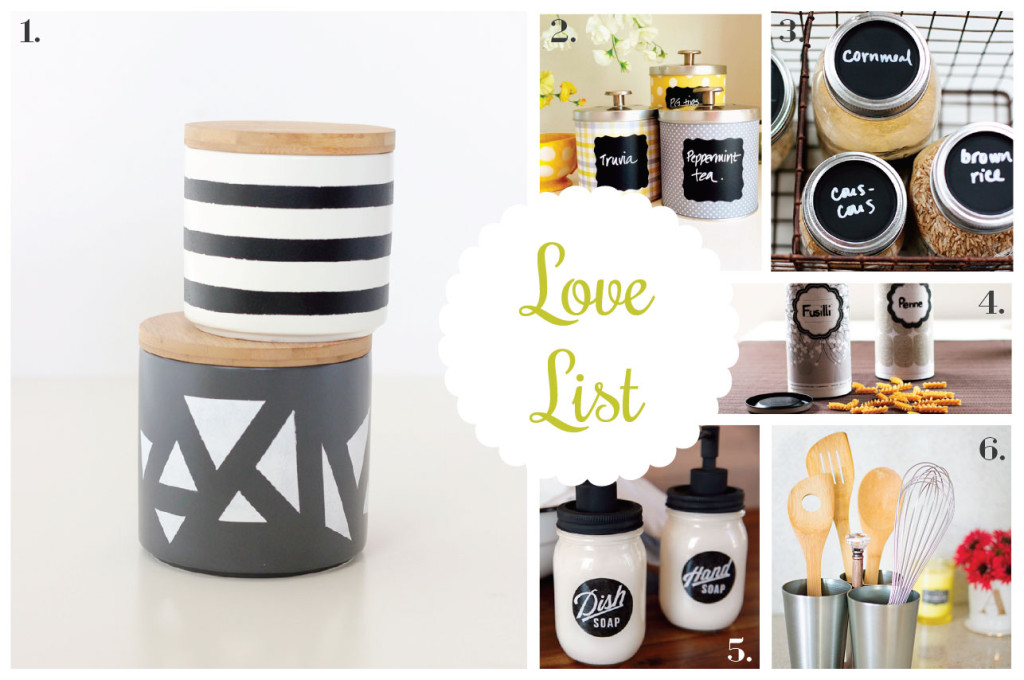 My kitchen cabinets are fully stocked with spices, dried pastas, etc. I like to keep a lot on hand because I cook and bake often and am constantly using different ingredients. I'm not a huge fan of the cardboard boxes and plastic containers that most items come in when I pick them up from the grocery store so I switch them out once I get home. Plus I have a little bit of OCD when it comes to things fitting perfectly next to each other and using containers of the same size allows for easy stacking.
Currently, I use OXO containers
 and add a chalkboard label to the front. After browsing online however, I noticed so many amazing DIY projects for kitchen containers that I am starting to get an itch to switch things up. Here are some of my favorites that I came across:
1. Simple Geometric Painted Treat Jars, Delia Creates
2. Upcycling Tin Cans with Scrapbooking Paper, Happy Happy Nester
3. Chalkboard Mason Jar Lids, Momtastic
4. Pasta e Basta, Look What I Made
5. Decoupage Soap Dispenser, Everyday Dishes & DIY
6. DIY Rotating Utensil Caddy, Homey Oh My!
Do you have any tips or tricks for storing kitchen ingredients and utensils?
xo Jus