19 Dec

Cream Sherry and Butternut Squash Crostini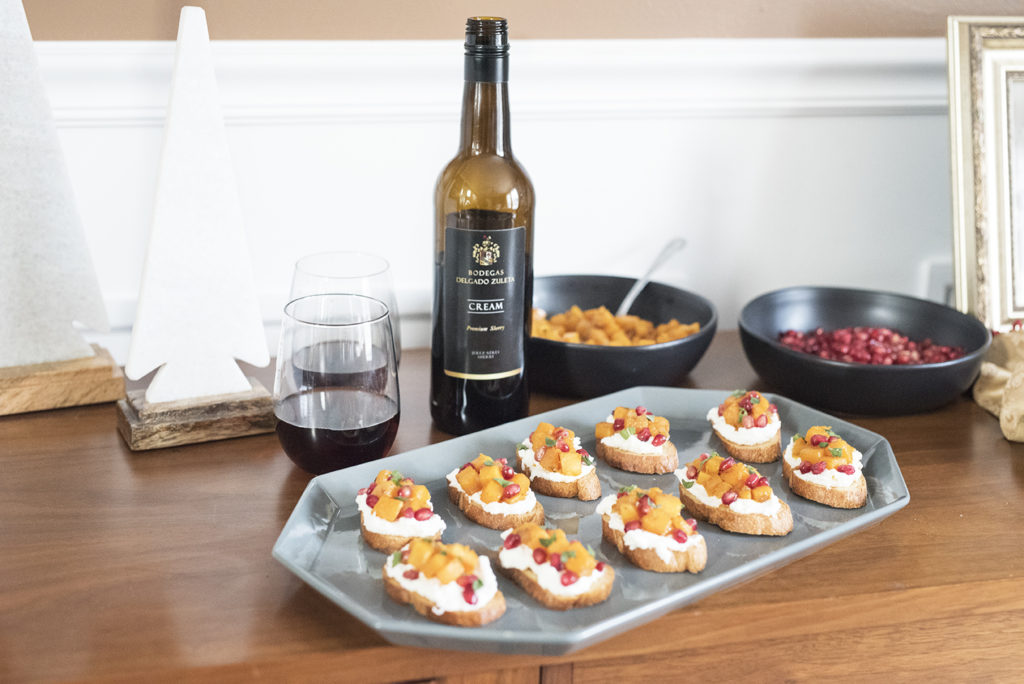 I love entertaining friendly dishes. When a host has out a plate of colorful appetizers and wine glasses filled, I know it is going to be a good evening!
My all time favorite appetizer to serve during the holidays is butternut squash on toast. The first time I tried this was at ABC kitchen in NYC when I had the chance to interview the head chef at that time, Dan Kluger.
I'll serve butternut squash on toast all the way from Thanksgiving to Christmas. This recipe was inspired by that dish but with my own spin.
Crostinis are great because they are two-bite appetizers and easy to carry around as you mix and mingle with guests. I added in mint leaves and pomegranate seeds to bring out the festive colors of the holiday season!
I like to pre-plate the crostinis but you could also create a crostini "bar" by placing out the toasts alongside bowls with the toppings. With this style, guests can add as much or as little as they like.
For drink pairing, I went with a Cream Sherry. Almost every party you go to you'll come across a standard wine selection but I like to switch things up a bit and encourage guests to try something new or something they might not have all the time.
Cream sherry is full bodied with the slightest hint of sweetness. I think it makes a great wine choice to serve alongside appetizers and light bites but it also transfers nicely to dessert too! Serve chilled in a white wine glass or in a rock glass.
Do you have any go-to appetizers you'll be placing out this holiday season?
xo Jus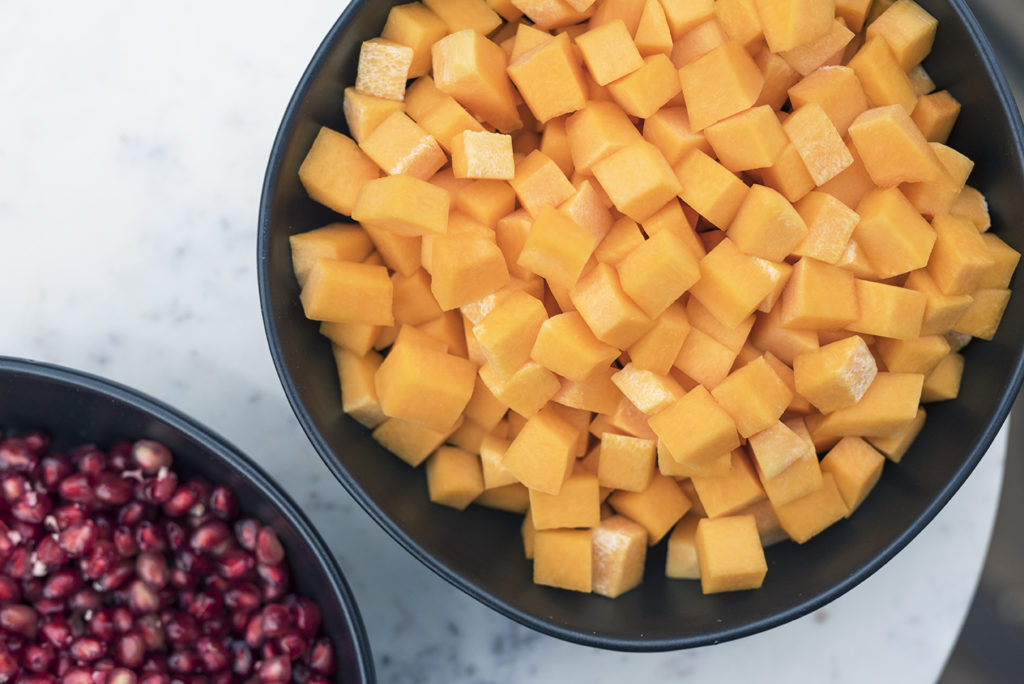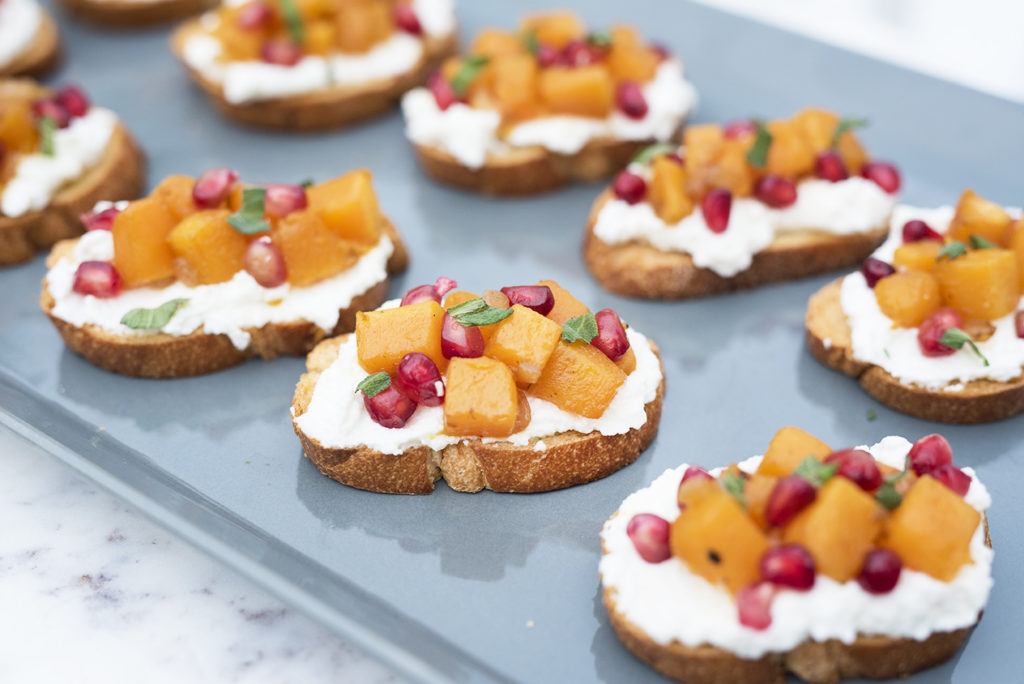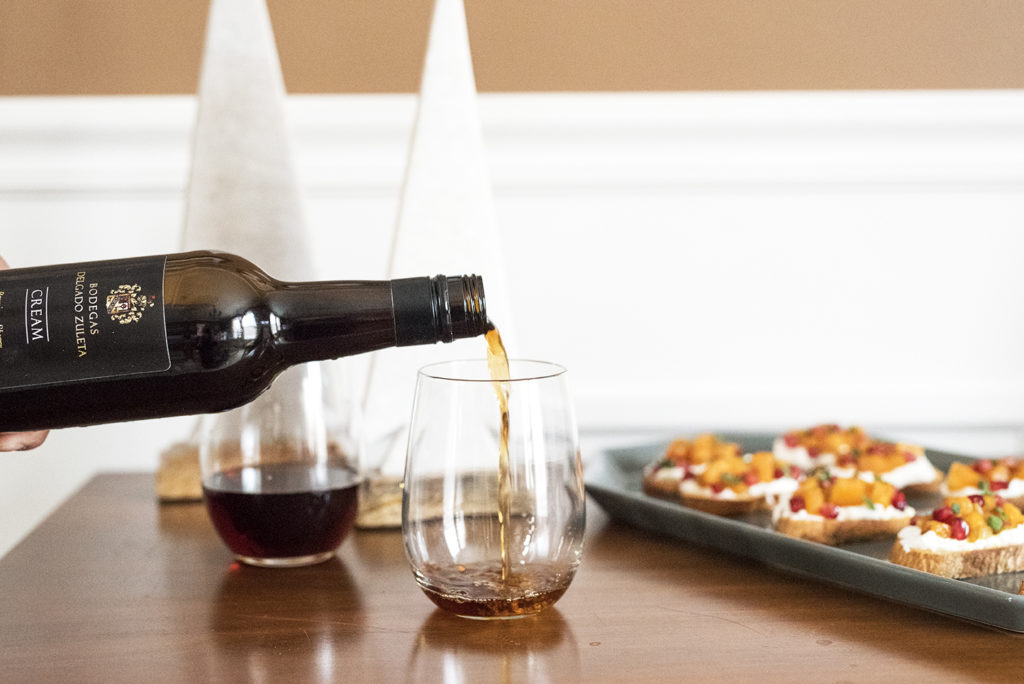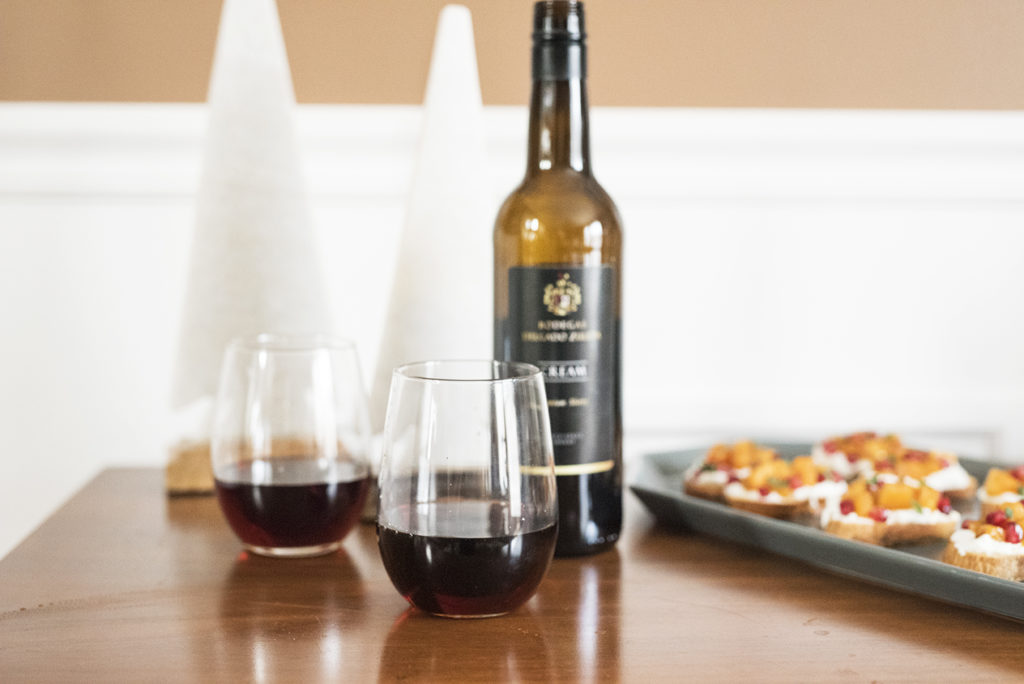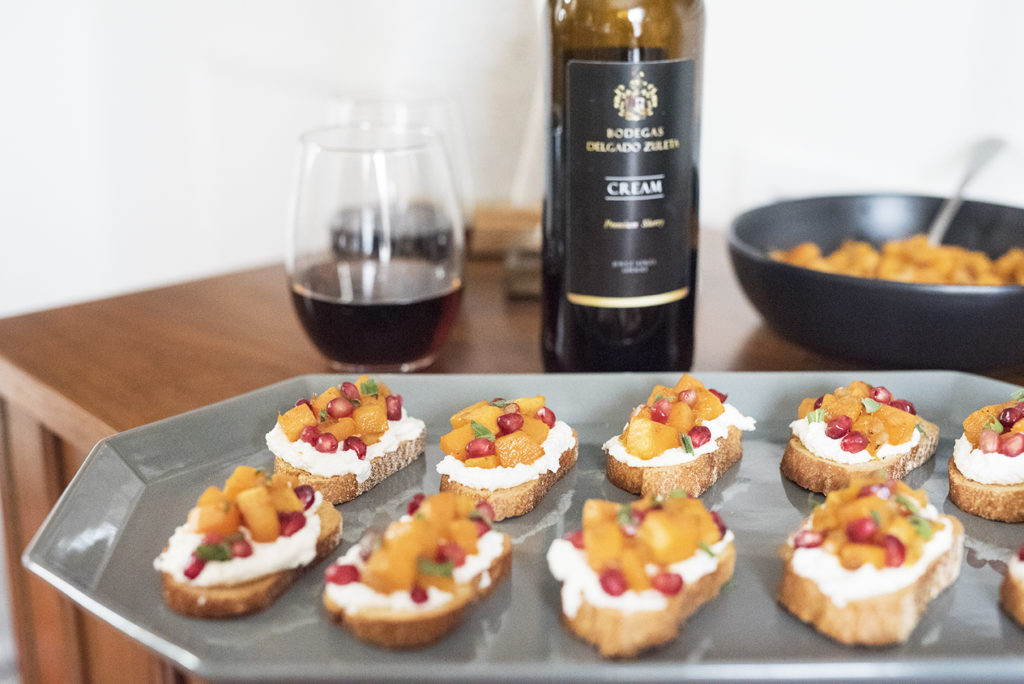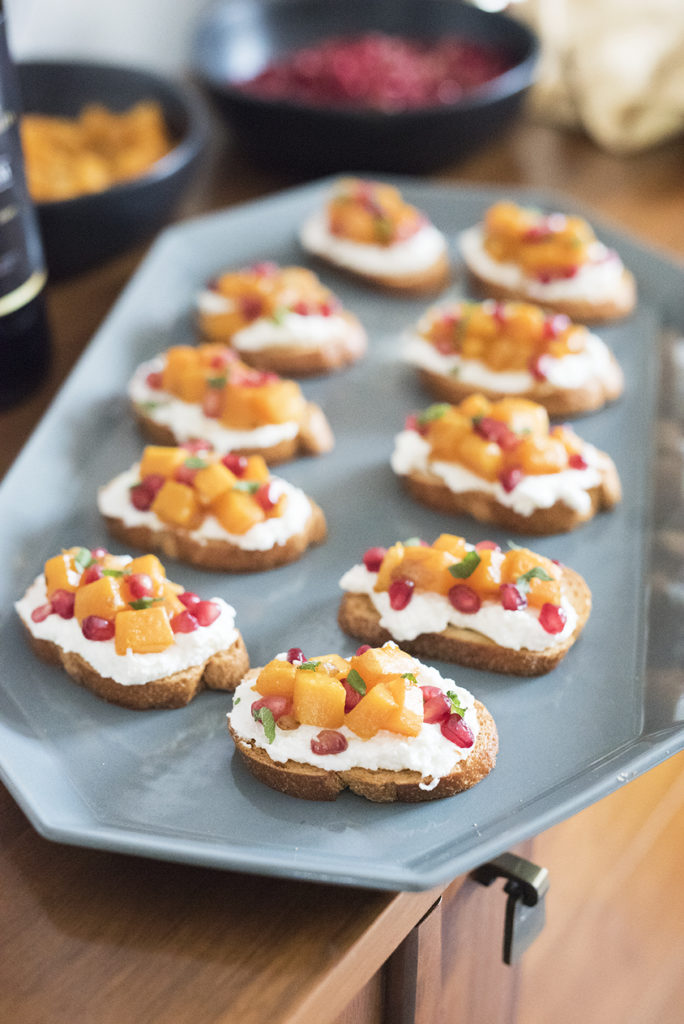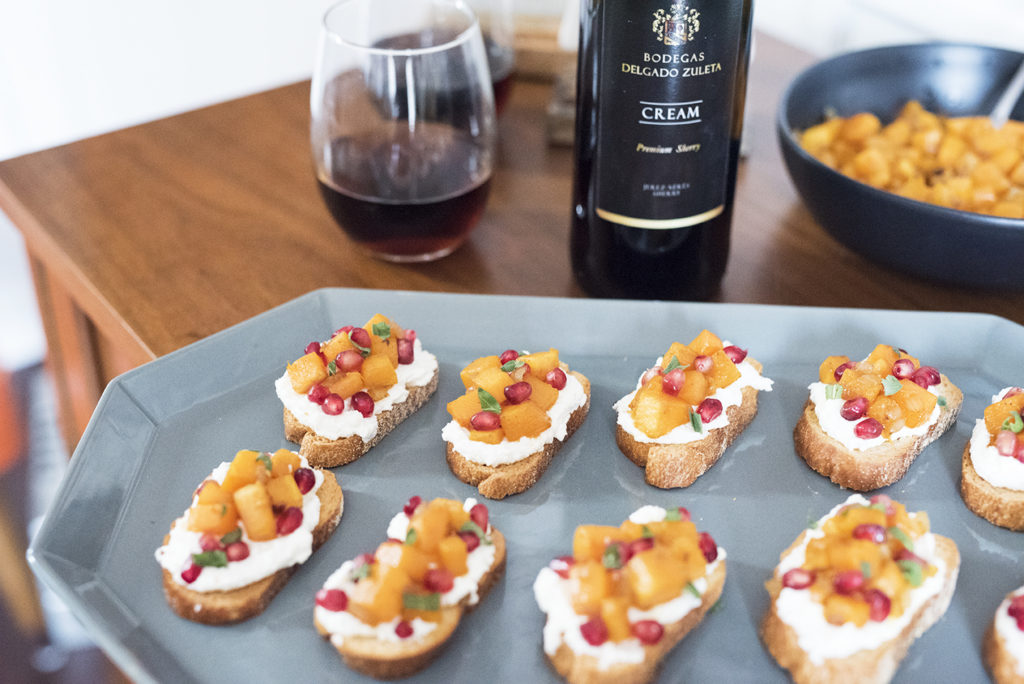 *Post sponsored by Sherry Wine. Recipe and opinions are my own :). 
Butternut Squash Crostini
By Justine Published: December 19, 2017
I love entertaining friendly dishes. When a host has out a plate of colorful appetizers and wine glasses filled, I know it is going to …
Ingredients
Instructions
Preheat oven to 375 degrees F.

Cut bread into 1/4" slices to create small toasts. Place on a baking sheet and drizzle with 1 tablespoon olive oil.

Bake 10-12 minutes or until the bread starts to turn golden brown along the edges. Remove from oven when ready and set aside to cool.

Slice pomegranate in half and scoop out all of the seeds and place the seeds into a bowl. Set aside. Chop mint leave, set aside. Chop onion, set aside. Slice off the ends of the butternut squash. Use a vegetable peeler to peel the entire squash. Then chop the squash into small bite sized cubes. Set aside.

In a large sauté pan, heat up the remaining tablespoon of olive oil over medium heat. Add in the onion and cook until the onion becomes translucent (3-5 minutes). Stir frequently so that it does burn. Once the onion starts to turn translucent, add in the butternut squash. Saute until the butternut squash is tender and can be easily pierced with a fork (15-20 minutes). Be sure to stir frequently so that the squash doesn't stick to the bottom of the pan and burn! Remove from heat and set aside once cooked through.

Prepare your toasts. Spread a spoonful of ricotta cheese on top of each toasted piece of bread. Add a spoonful of the butternut squash mixture. Sprinkle pomegranate seeds and chopped mint leaves on top. Repeat until all of the toasts have been topped.

WordPress Recipe Plugin by ReciPress