22 Feb

The Art of Perfumery: Notes from the Pros Behind Vince Camuto's New Perfume (Capri)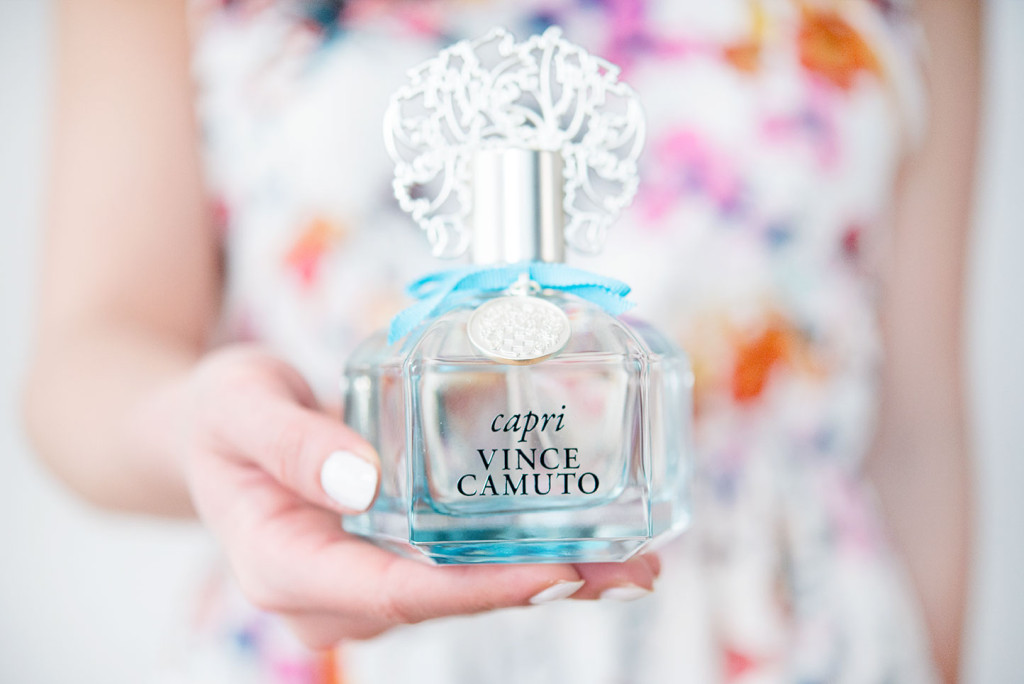 When I think of the word "ingredients" my mind wanders to cooking or baking, to chopping and sautéing, or to mixing and stirring but rarely to anything outside of the culinary world. Definitely not perfume.
However, I recently went to an event hosted by Vince Camuto where they debuted their new vibrant fragrance – Capri. Upon entering the venue I felt as if I was instantly transported to Italy. There was even a lemon tree!
They were serving all sorts of delicious Italian snacks, treats, bubbly Prosecco and refreshing cocktails. But what really caught my eye was a long table topped with dishes of raw ingredients. These were the ingredients that came together to create their newest signature scent. That table now makes me look at perfume in a different light.
At the end of the day, perfumery is an art. Similar to a how a chef must understand which ingredients taste well together, perfumers must understand the characteristics and profiles of hundreds of ingredients to know which ones work harmoniously together. Their art is being able to blend together ingredients, each with a distinct different personality, to create a fragrance that evokes a certain feeling.
After talking to the team behind Vince Camuto's newest fragrance, I learned that the ingredients in a perfume are categorized into "tiers" – top, mid, and base. When someone initially smells a fragrance they are hit with the top notes – the most volatile ingredients of the formula.
Over time, as a person wears the fragrance, the top notes fade away and the mid notes begin to emerge. The process continues through to the "drydown" phase. These are the ingredients you'll experience after wearing the fragrance for a longer period of time – the notes that have the most lasting quality and lie at the heart of the fragrance.
When I tried on Capri, the top citrus notes of juicy pear and pink grapefruit immediately invigorated me. As I continued to wear the perfume, it progressed into a beautiful floral scent with notes of peach blossom and violet until it finally revealed final notes of rich musk and vanilla. Let's just say I will definitely be spritzing this on any time I want to imagine I am walking along the coast of Italy taking in the beautiful breeze and warm sun.
It's fascinating how many different ingredients can be blended together in just the right way to create a perfect signature perfume! Any time I wear perfume now, I am more appreciative of being able to fully experience the different notes as they slowly reveal themselves over time.
What are your favorite perfume notes?
Xo Jus