21 Dec

New Year's Eve Prosecco Cupcake Tower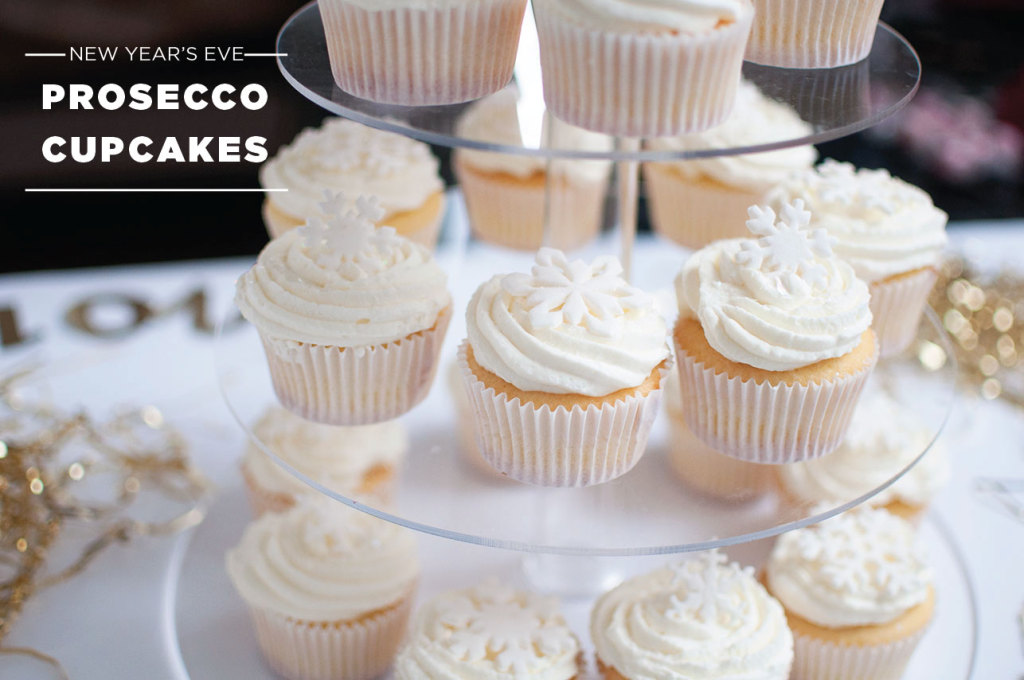 With New Year's Eve around the corner, it's time to bust out the sparklers, glitter, confetti, and Prosecco! Living in the city, it can be really hectic if you want to go out on New Years. It's always so hard to get a cab not to mention ticket prices to any venue are sky high. I love entertaining and New Year's Eve is no exception. This year I plan on inviting over a few close friends and having a cozy and sparkly night at home.
In order to prep, I've been trying out some new cupcake recipes and decided to create a recipe using Prosecco. Whenever I'm setting up decor or styling a party, I always tend to go for bright whites with splashes of color and thought that an all white cupcake would be perfect. These winter white cupcakes are topped with  edible glitter and glistening crystal snowflakes from Cakes.com.
My kitchen is always fully stocked with baking supplies because I never know when I am going to have to whip something up for a gathering or when I'm going to visit family. One of my favorite gadgets that I have is the #30 cupcake scoop from Cakes.com. It's the perfect measuring tool for cupcake batter and helps alleviate the mess of transferring batter from the bowl to the pan. This cupcake scoop holds 1.25 oz of liquid which is just shy of filling a regular size cupcake tin. For each cupcake, I usually use about 1.5 scoops from this scoop. Any tool that helps reduce clean up later gets an A+ in my book!
As for the cupcakes, I made a moist golden cake using reduced prosecco as flavoring and topped it with fresh whipped cream (also flavored with Prosecco). I first fell in love with Prosecco when I was living abroad in Florence for a few months. When it comes to adding Prosecco to baked goods, I do have to say the flavor is fairly subtle but still adds a nice touch. The flavoring in the whipped cream was very distinct when I first made it so if you plan on making these for your gathering I would suggest making the frosting the day of to ensure maximum flavor! The cupcakes however, can be made a day in advance.
I also made a second batch of the golden yellow cupcake mix and filled three 6″ in round cake tins to make the cake topper. I made this cake non-alcoholic by replacing the Prosecco flavoring with Vanilla and frosted it with plain whipped cream.
I hope you all enjoy your holidays this year and can't wait to see what everyone else is baking!
xo Jus
P.s. If you are looking for any of the tools I used, check out Cakes.com. If you wanted to display your cupcakes on a tower such as below, I ordered an acrylic cupcake tier
 from Amazon.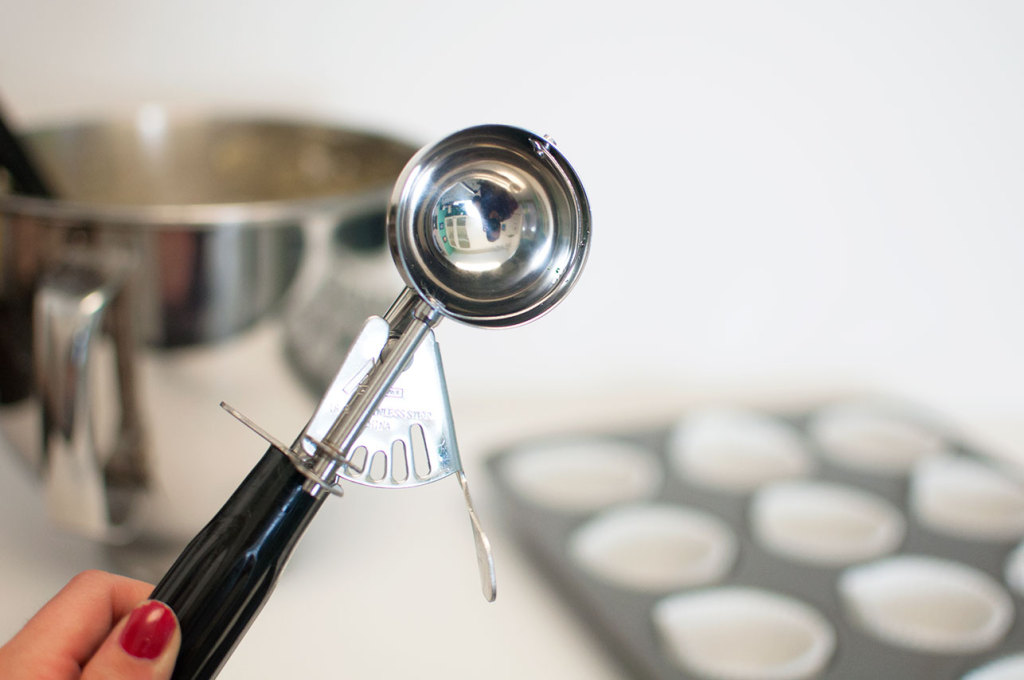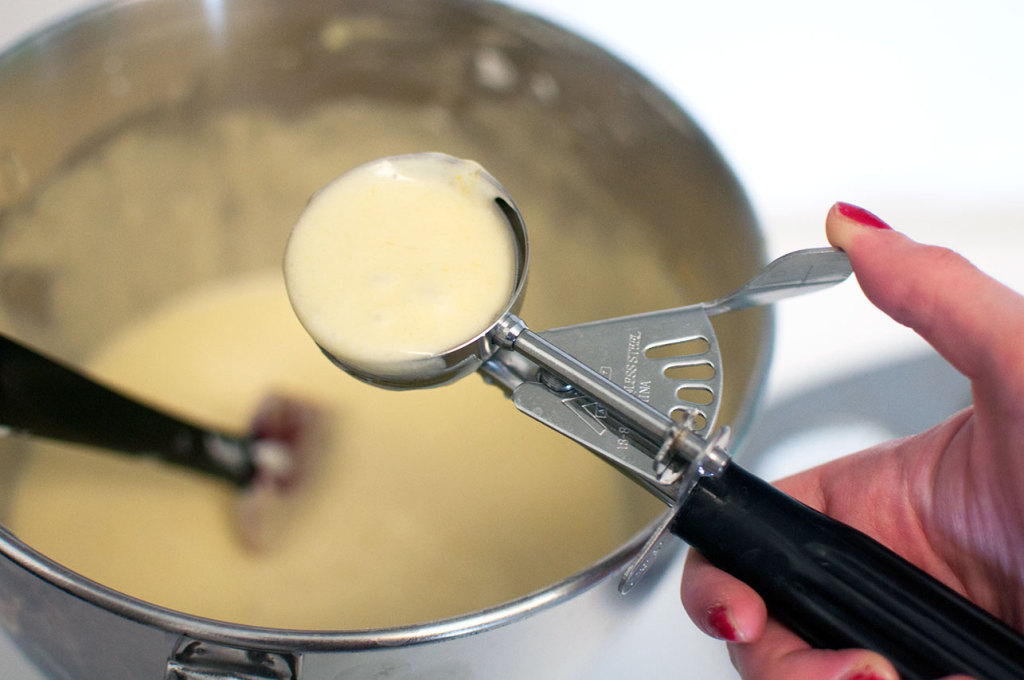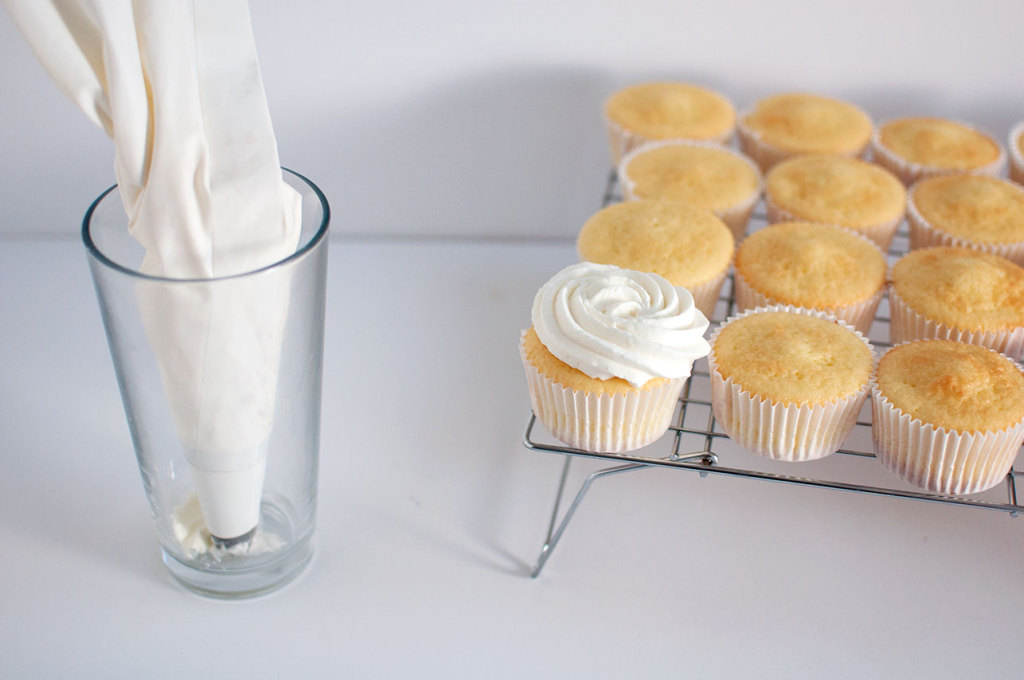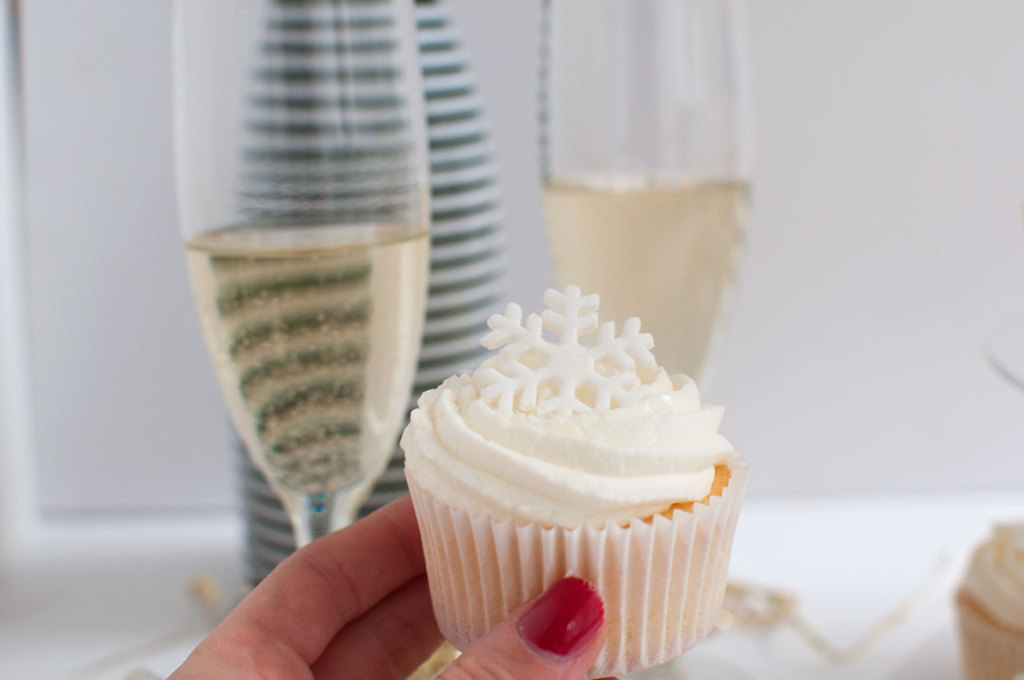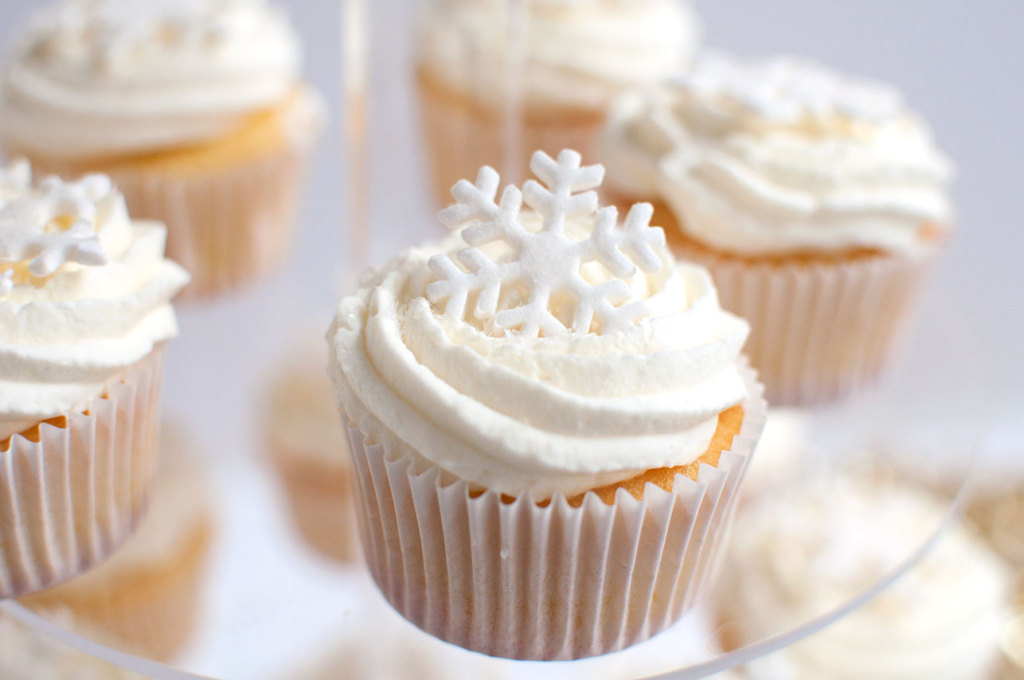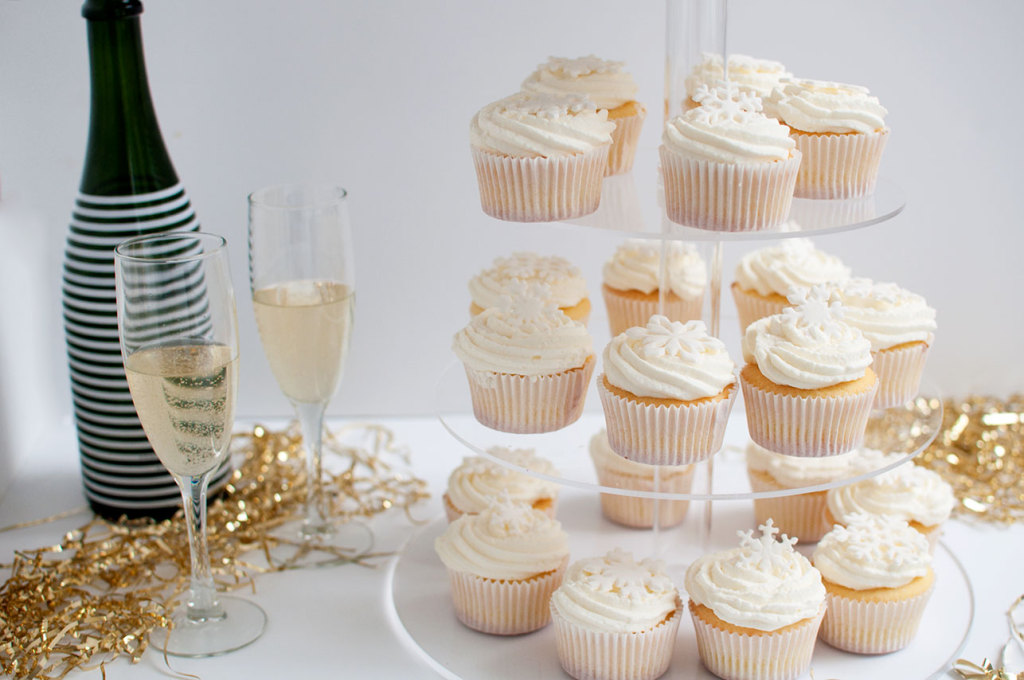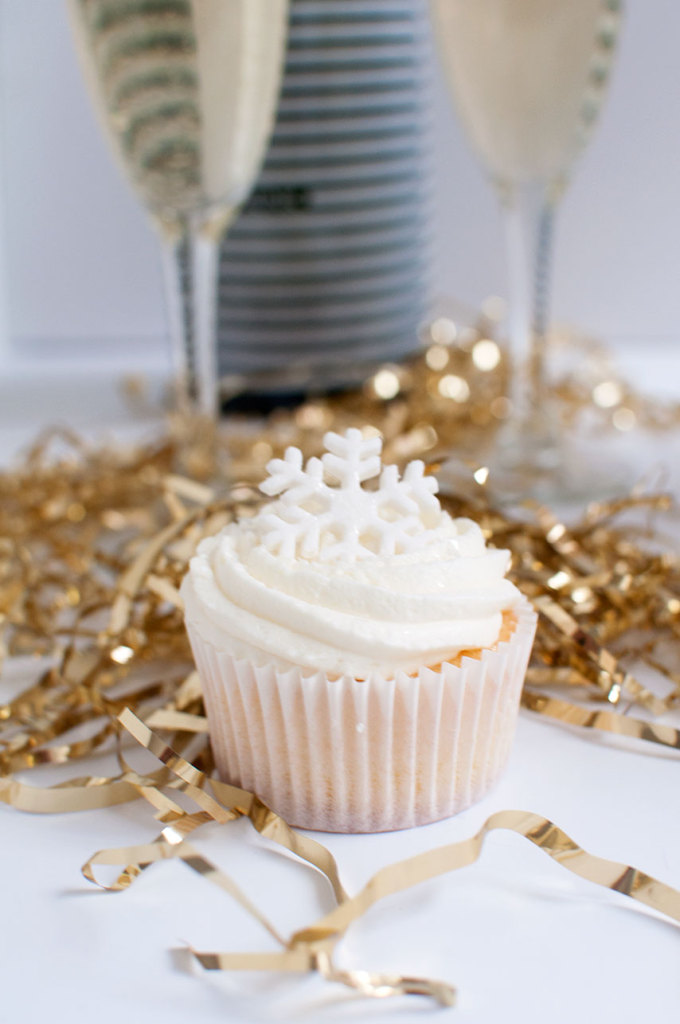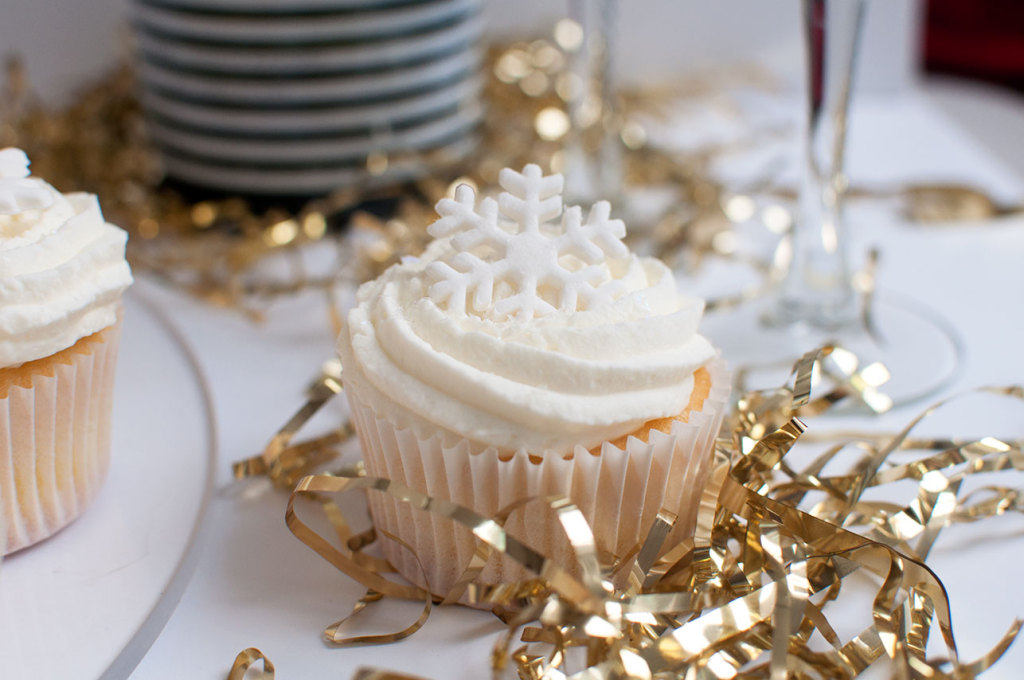 *Disclosure: Tools provided courtesy of Cakes.com. All opinions provided are my own.
Prosecco Cupcakes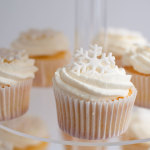 By Justine Published: December 21, 2014
Yield:

24 cupcakes (24 Servings)

Prep:

30 mins

Cook:

20 mins

Ready In:

50 mins
Adapted from the Moist Golden Cake recipe from Bakewise.
Ingredients
Instructions
Preheat oven to 350 degrees F

Heat 2 cups Prosecco in a small saucepan. You will want to simmer this until the liquid has reduced to 4 tablespoons (about 18 minutes). Once the Prosecco is reduced, set aside and let cool.

Line a cupcake tin with cupcake liners

In a medium bowl, mix cake flour and baking powder.

Place sugar in the bowl of a stand mixer.

Heat water to a simmer in a saucepan on the stove. Pour simmering water over sugar and mix until the sugar dissolves. Then beat in butter, 2 tables spoons of the reduced Prosecco (reserve remaining 2 tablespoons for frosting), and salt. Add oil and mix to blend.

Add 1/3 of the flour mixture to the sugar mixture. Blend until incorporated. Add remaining flour in batches and blend until fully incorporated.

Remove bowl from stand mixer and mix in eggs yolks by hand, one at a time. Mix in whole eggs one at a time.

Place 1/2 cup heavy cream in a clean bowl for the stand mixer. Whip on high until soft peaks begin to form.

Fold whipped cream into batter.

Pour batter into the prepared cupcake pan.

Place cupcakes in oven and bake from 20-22 minutes or until a toothpick inserted comes out clean.

Set cupcakes aside and allow to cool completely.

To make the whipped topping, add 2 cups heavy cream to the bowl of a standing mixer. Whip on high until soft peaks begin to form.

Add in confectioners sugar and 2 tables spoons of the reduced Prosecco. Continue to whip on high.

Slowly add in remaining 1/4 cup of Prosecco. Whip on high for 1-2 minutes. If a thicker consistency is desired, add in confectioners sugar.

Place whipped cream in freezer or refrigerator until you are ready to frost the cupcakes.

WordPress Recipe Plugin by ReciPress