18 Jan

Strawberry + Nutella Hand Pies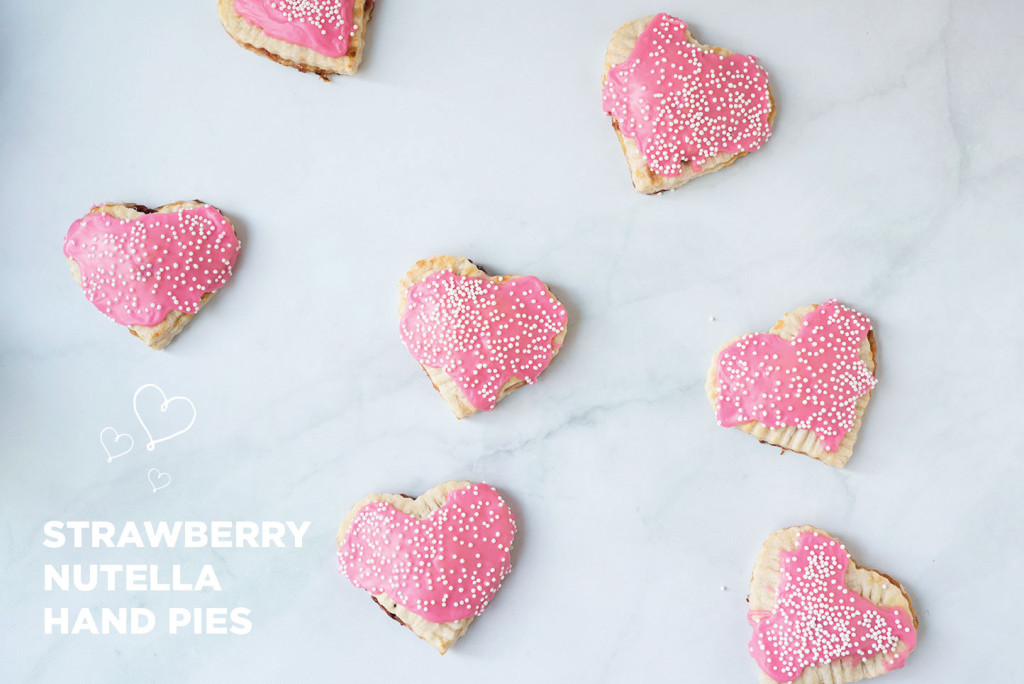 During the winter last year I enrolled in a baking class at ICE. One recipe that we learned was for a basic pie dough. I remember the dough being perfectly flaky and not too sweet. We used it to make a double crust apple pie.
We're nearing towards the end of January and with Valentine's Day coming up I decided to tweak the pie dough recipe slightly and create a fun heart shaped treat. The result = strawberry and nutella hand pies!
Before I begin baking, I always like to gather all of my ingredients. It makes the process a lot easier and helps prevent mistakes with measurements. I usually place each ingredient in a separate bowl. When making pie dough, I also like to use one large bowl to mix the ingredients in. I learned a little trick during my ICE class that when you are breaking up the butter you should use a large bowl and start with all the flour and butter on one side. Then one by one you pick up each cube of butter, smash it between your fingers to break it up and drop it on the empty side of the bowl. This helps ensure you cut up all the butter and you don't miss any!
I really like Le Creuset's multi bowls. They come in a few different sizes which is perfect for holding different volumes of ingredients. The large bowl in the set of three is also the perfect size for mixing pie dough using the separation method I mentioned before.
After making the pie dough, I stamped out heart shapes using a cookie cutter and added a teaspoon of Bonne Maman strawberry jam and a teaspoon of Nutella. For the frosting, I wanted to get a little messy and let it have that "dripping" effect where the icing starts to ooze off the side. I went with a simple confection sugar icing with strawberry flavoring and a little pink food coloring.
Enjoy!
xo Jus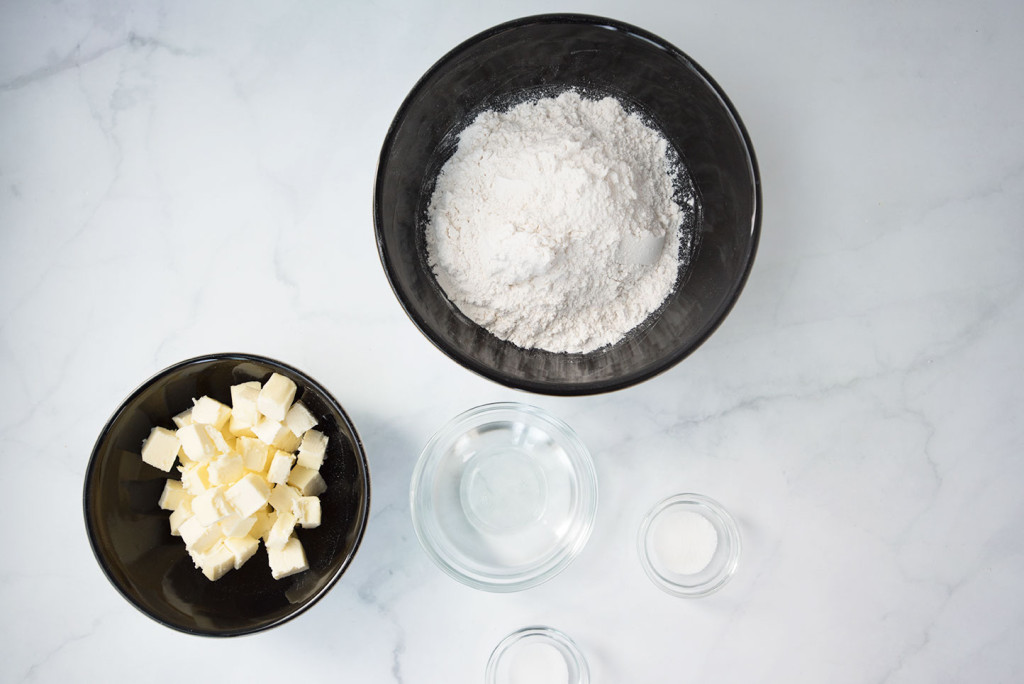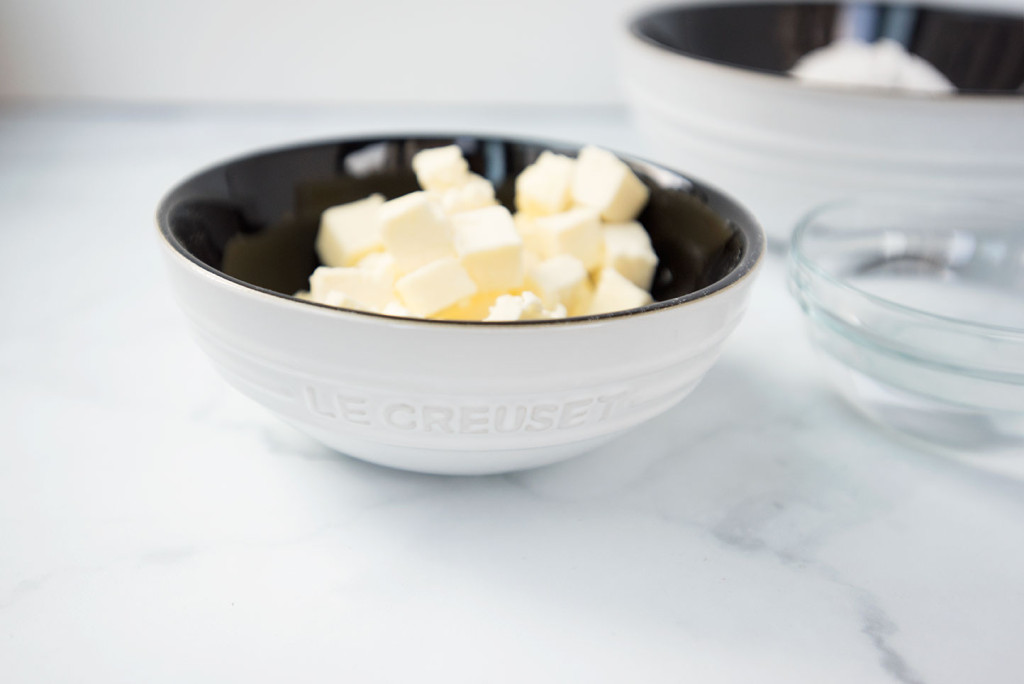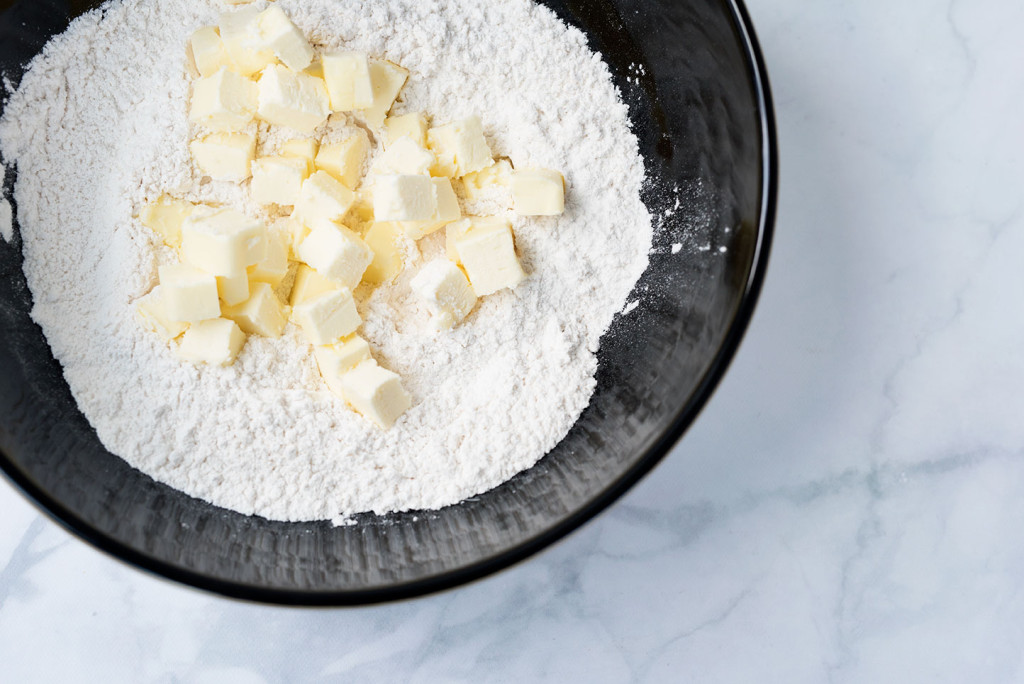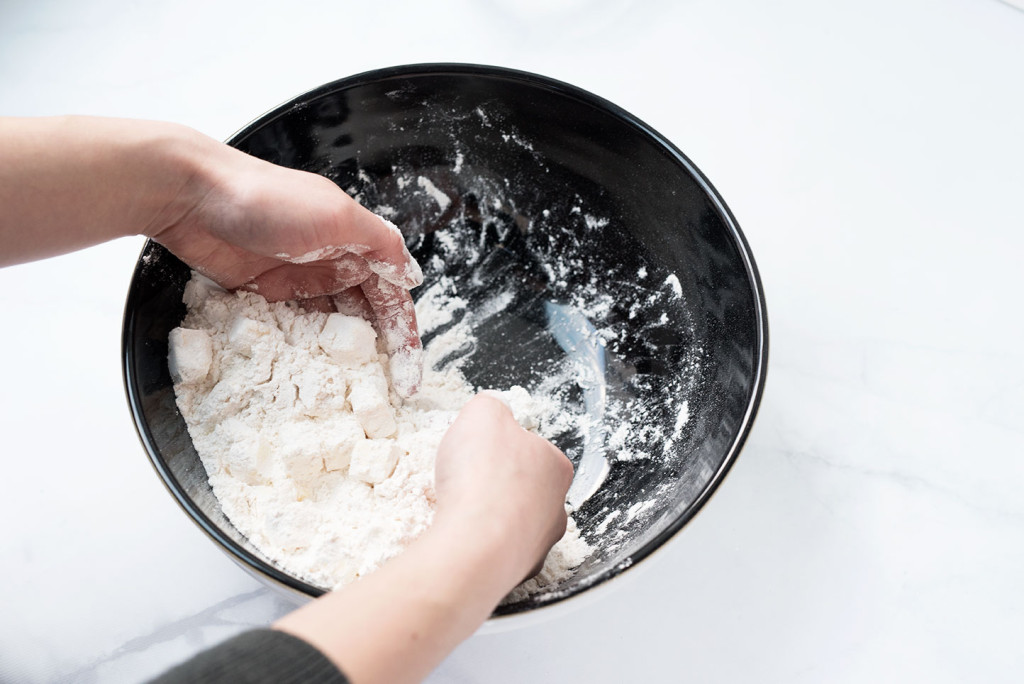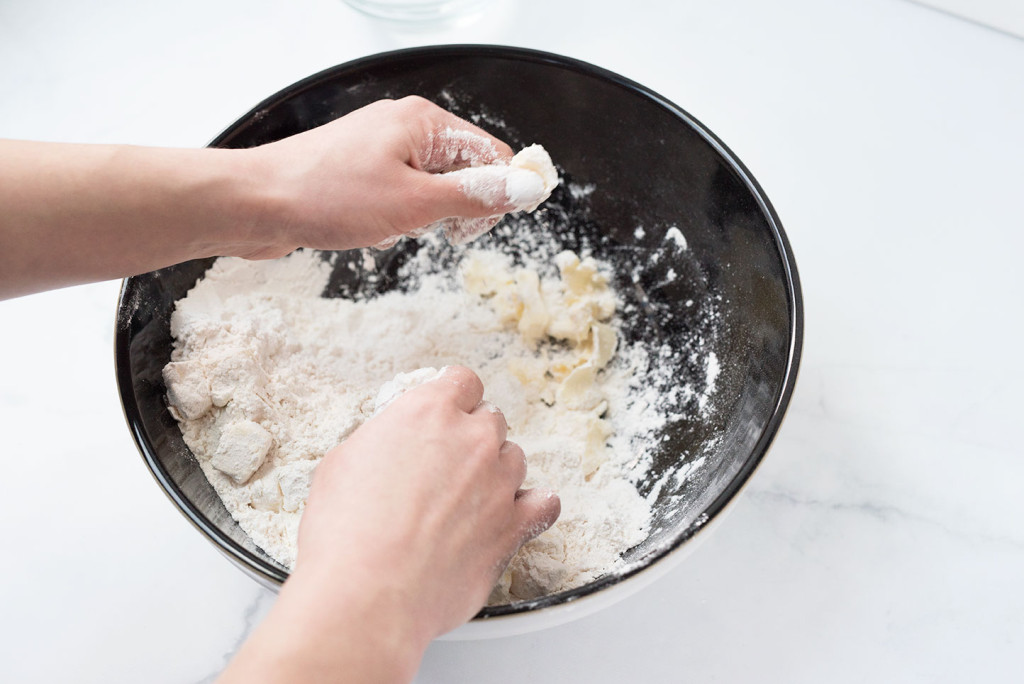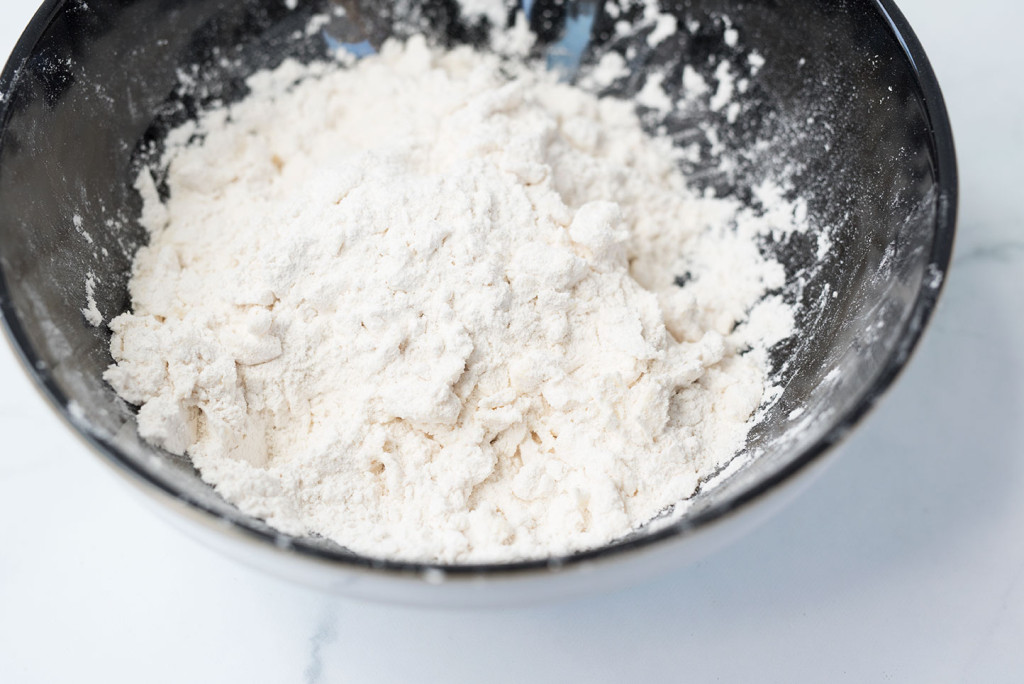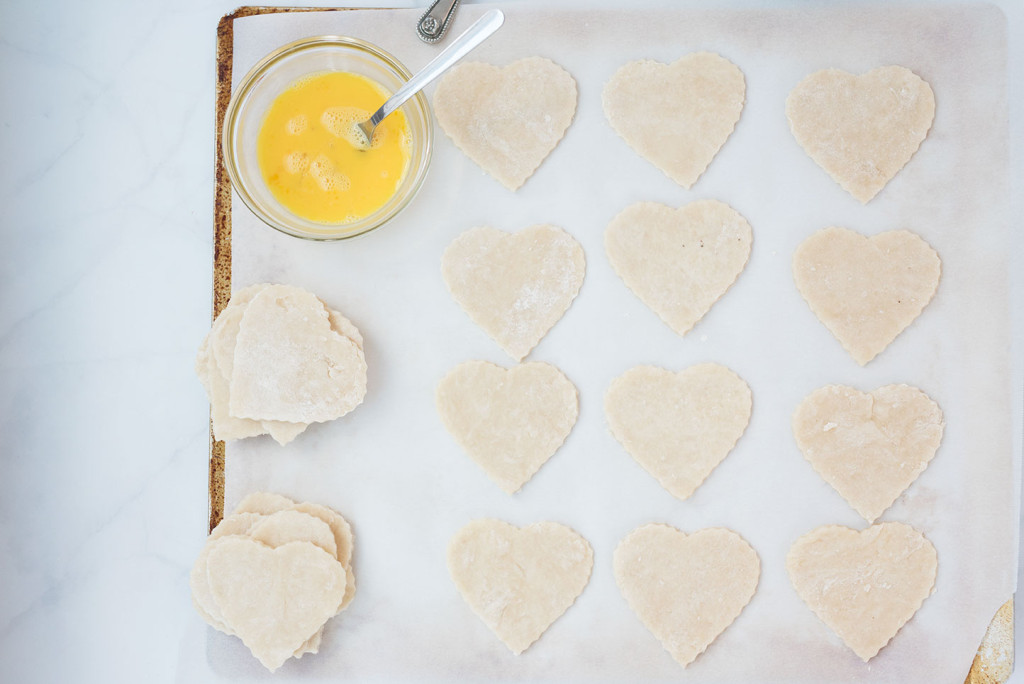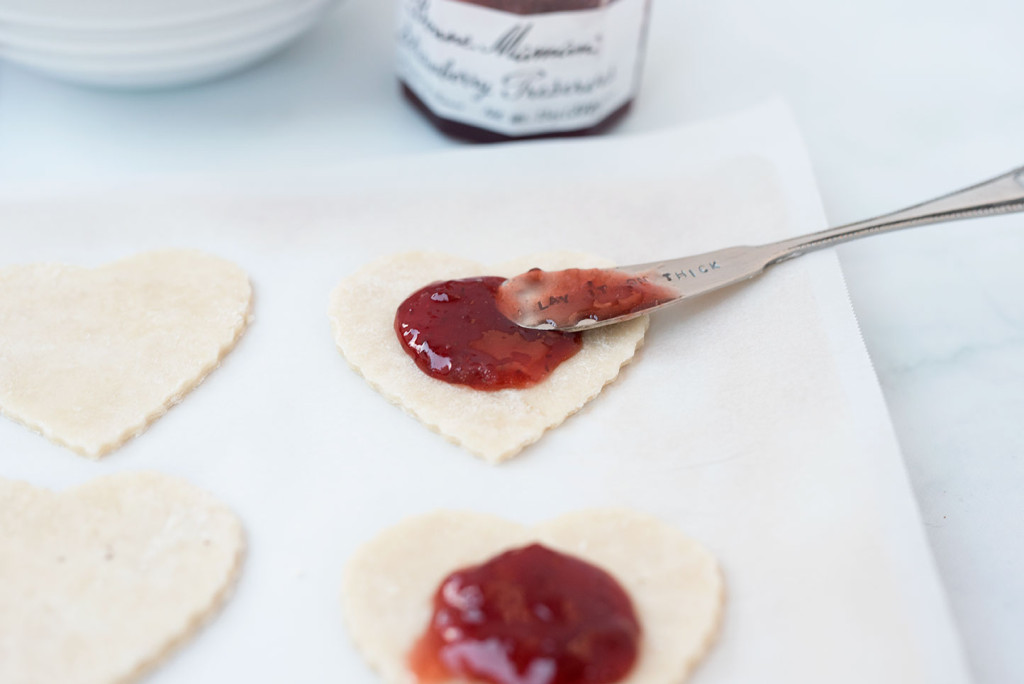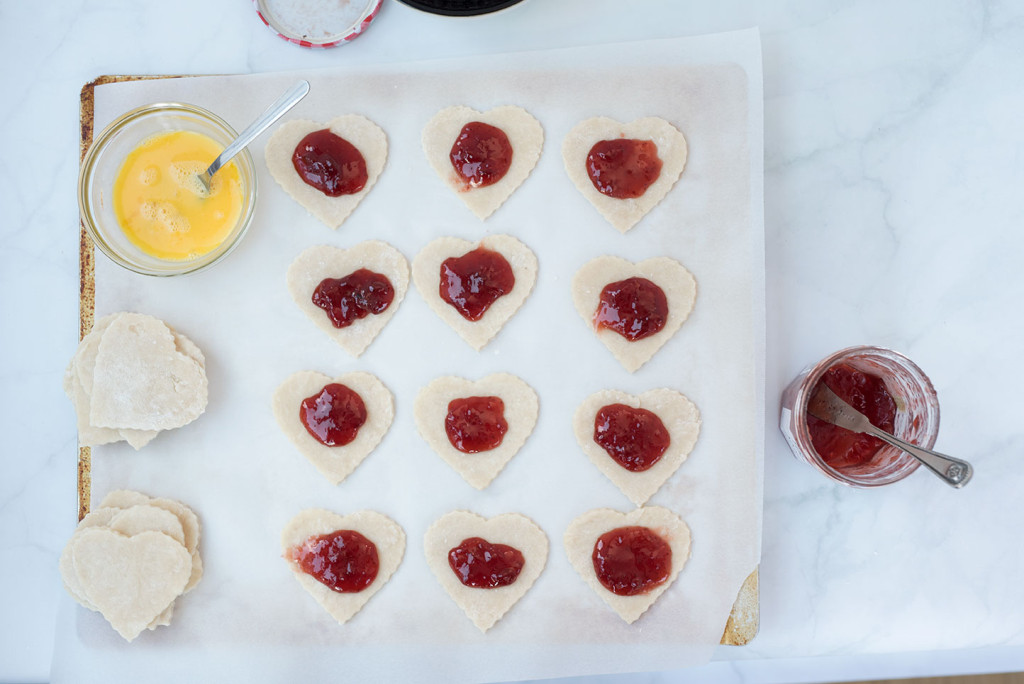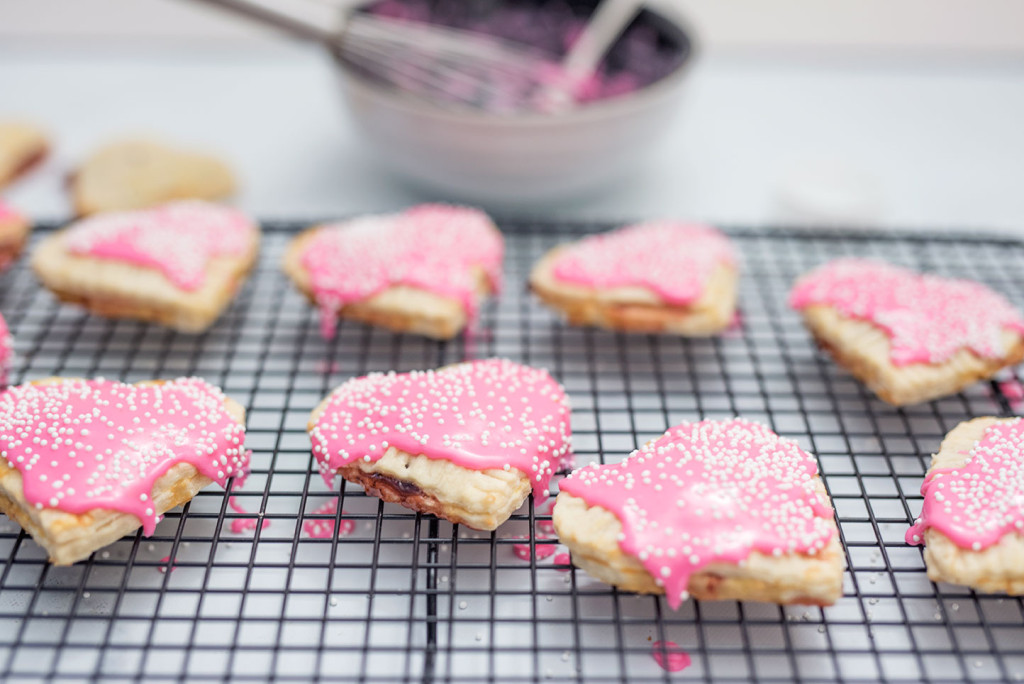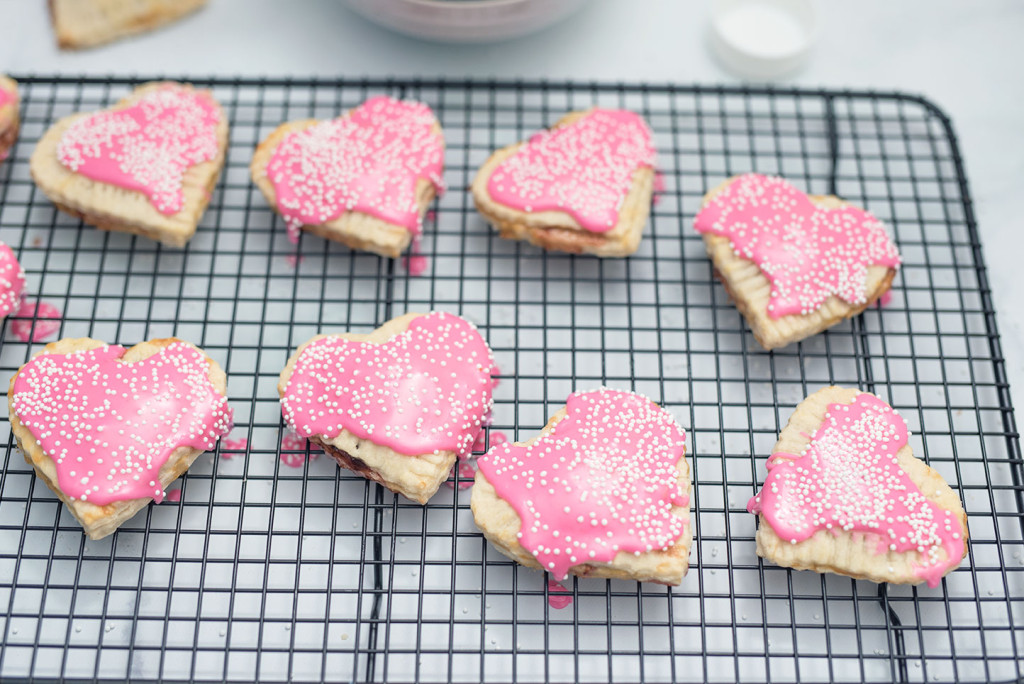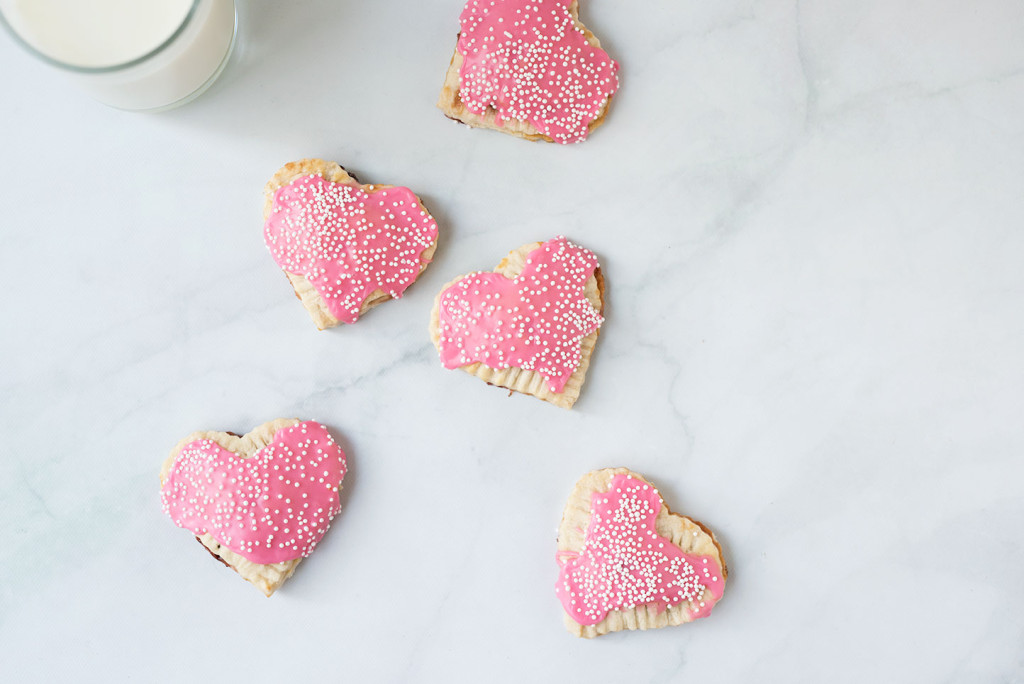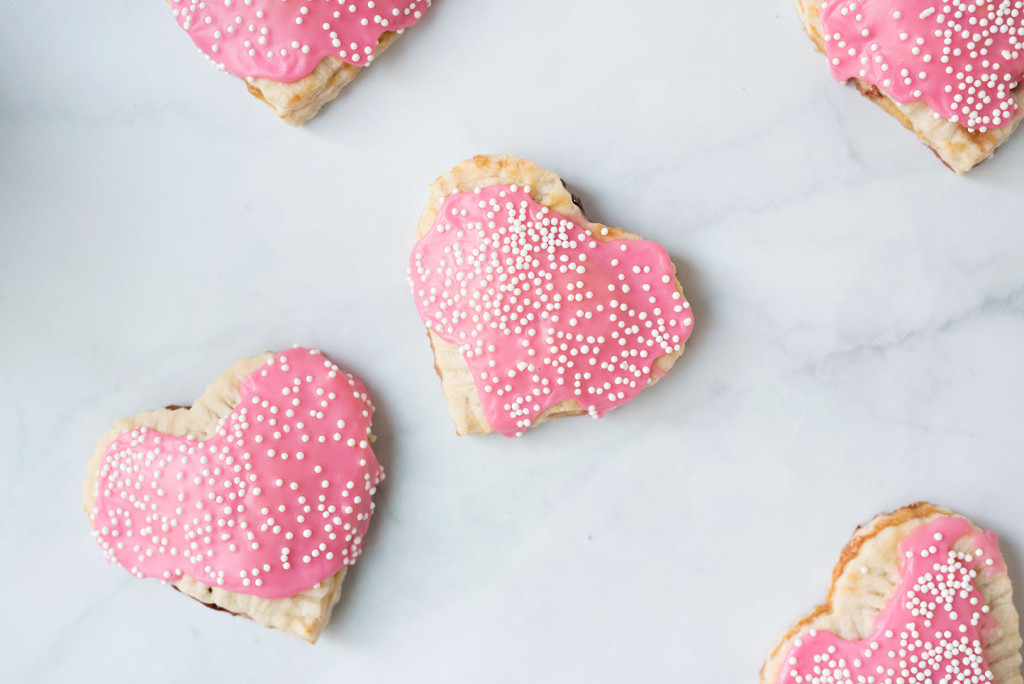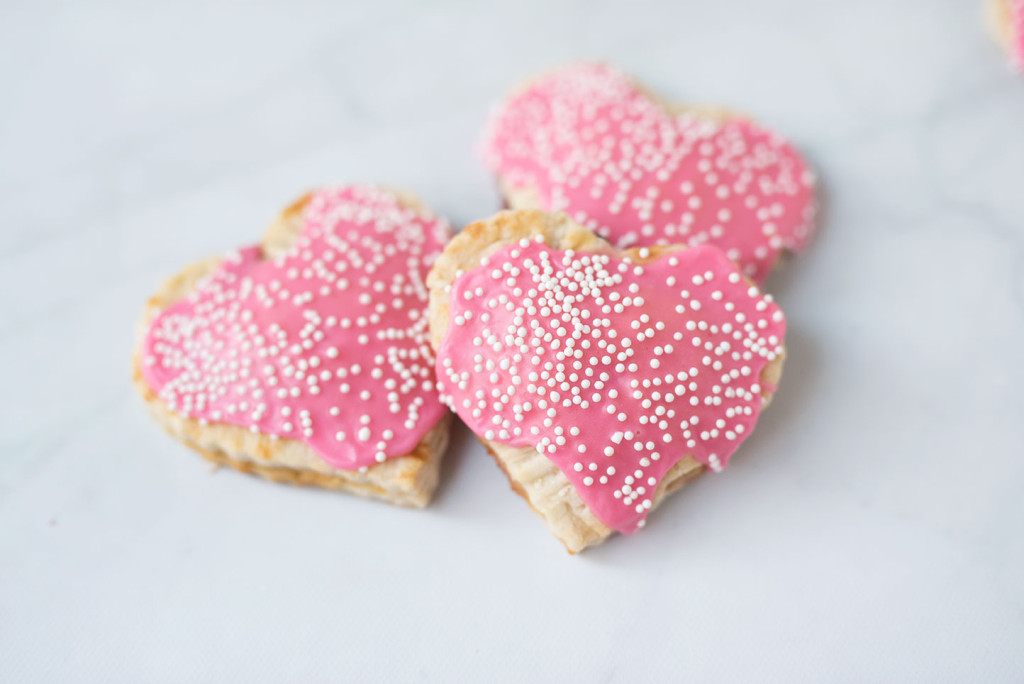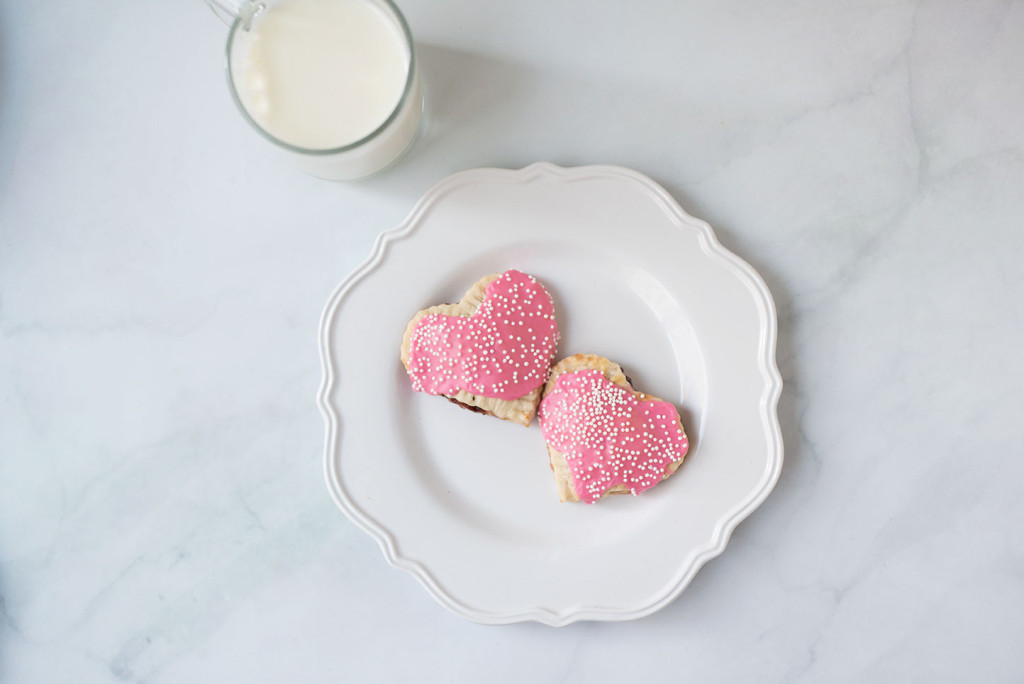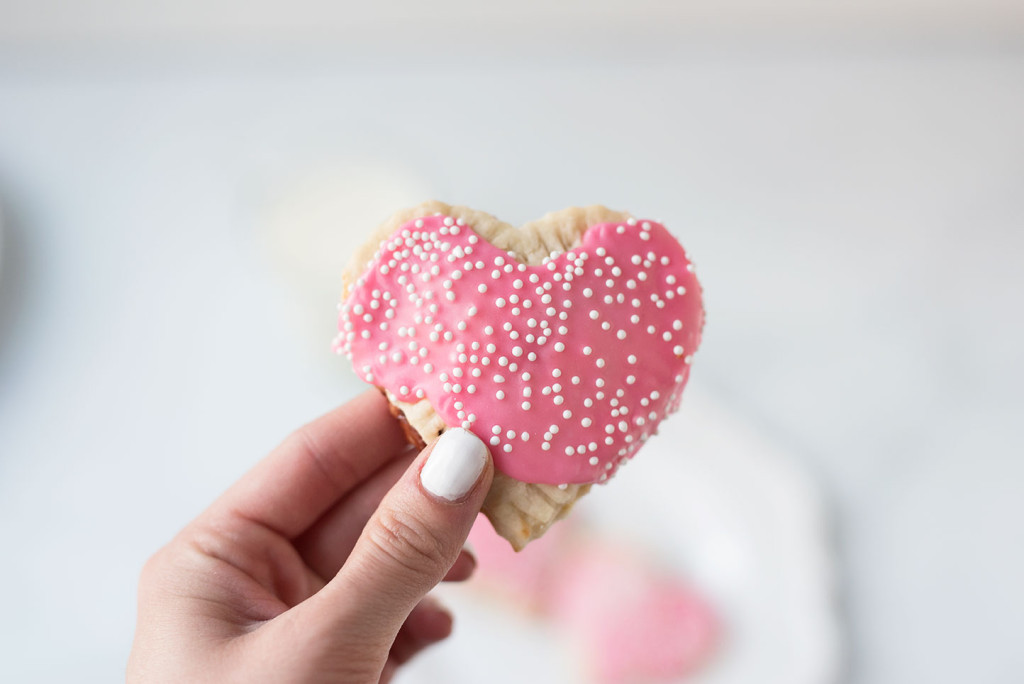 *Disclaimer: Bowls were gifted by Le Creuset, all opinions are my own. 
Strawberry + Nutella Hand Pies
By Justine Published: January 18, 2016
During the winter last year I enrolled in a baking class at ICE. One recipe that we learned was for a basic pie dough. I remember …
Ingredients
Instructions
In a large mixing bowl, whisk the flour, sugar, and salt.

Add in the butter and rub into the dry ingredients until the butter is broken up into small pieces the size of peas.

Slowly add in the water and stir until the dough comes together.

Divide the dough in half and flatten each piece to a 1 inch thick disk. Wrap in saran wrap and place in the refrigerator until firm (about 1 hour).

Once the dough has chilled and is ready to use, remove it from the refrigerator and preheat oven to 350 degrees F.

Roll out each disk so the dough is about 1/4" thick.

Use a 3" heart shaped cookie cutter to cut out 12 hearts from the dough.

Place 6 of the hearts on a baking sheet lined with parchment paper. Set the remaining 6 aside.

Spread 1 teaspoon of jam and 1 teaspoon of nutella in the middle of the hearts. Use a brush or the back of a spoon to spread egg wash on the edges of the heart (around the jam).

Place the remaining hearts of top of the hearts with jam to create mini pies. Use a fork to push down on the edges of each pie, this will help seal the filling inside.

Brush egg wash on top of each pie and place in the oven. Bake for 20-25 minutes or until the edges start to brown.

Remove from oven and let cool.

Make the frosting. In a small bowl whisk together powdered sugar, milk, food coloring, and strawberry extract.

Spread frosting on tops of each hand pie and add sprinkles if desired. Enjoy!

WordPress Recipe Plugin by ReciPress